On July 16, 1999, JFK Jr. was 38 years old when he died in a horrific plane crash — yet not everyone believes it was an accident. John F. Kennedy, Jr., his wife, Carolyn Bessette Kennedy, and her sister, Lauren Bessette, all perished in a single-engine plane crash into the Atlantic Ocean near Martha's Vineyard, Massachusetts.
When John F. Kennedy Jr. died in a plane crash in 1999, the media quickly deduced that the "Kennedy curse" was still alive and well. After all, JFK Jr.'s father, President John F. Kennedy, and uncle, Senator Robert F. Kennedy, had both been assassinated, making his death all the more ominous.
The late president's son had been scheduled to attend a family wedding on July 16, 1999. John F. Kennedy Jr. hopped into a single-engine Piper Saratoga plane with his wife, Carolyn Bessette-Kennedy, and her sister, Lauren Bessette, despite having a damaged ankle. He planned to drop Lauren off on Martha's Vineyard and then go with Carolyn to the Kennedy family property in Hyannis Port, Massachusetts, for the wedding.
The trio, however, never arrived at their destinations. Kennedy's plane, which he was piloting alone, crashed into the lake 62 minutes after taking off from the Essex County airport in New Jersey. On impact, the plane crashed, killing everyone on board. Five days later, on July 21st, their remains were discovered, marking yet another awful end for the Kennedy family.
However, the mystery surrounding JFK Jr.'s death has persisted since then. Despite the fact that his crash was officially attributed to pilot error, some have suspected that something else happened to him that night in July.
Could Kennedy have wrecked his plane on purpose due to marital and professional issues? Could he have been killed because he enquired too much about his father's assassination? Could John F. Kennedy Jr., as some conspiracy theorists think, still be alive today?
From his unexpected death in a plane crash to the myths that have persisted afterwards, here's everything you need to know about JFK Jr.'s death.
Being a President's Son, JFK Jr. Comes With Its Own Set of Challenges.
From the start, John F. Kennedy Jr. looked to have a charmed, if not cursed, life. He was born on November 25, 1960, just weeks after his father, John F. Kennedy, was elected president of the United States. As a result, JFK Jr. spent his early years in the beautiful Kennedy White House.
However, JFK Jr., affectionately known as "John-John" by the American public, experienced tragedy at an early age when his father was slain in Dallas, Texas on November 22, 1963, just three days before his third birthday. When JFK Jr. gave a touching salute to the president's coffin at the funeral three days later in Washington, D.C., he engraved himself in the hearts of Americans.
From then on, John F. Kennedy Jr. maintained a cautious balance in his life. On the one hand, he was carrying the burden of his father's heritage. On the other hand, he had a strong desire to be his own man.
According to PEOPLE, Kennedy once told a friend, "If I had to stop and think about it all, I would simply sit down and fall apart."
He went to Brown University and New York University Law School, worked as an assistant district attorney in New York after failing the bar test twice, and started his own publication, George, in 1995.
Before marrying Carolyn Bessette, a Calvin Klein spokeswoman, in 1996, the late president's son was named PEOPLE's "Sexiest Man Alive" in 1988. He had a number of high-profile celebrity romances before marrying Carolyn Bessette, a Calvin Klein PR.
But, despite having everything — a recognized name, a successful job, and a gorgeous wife — Kennedy battled in the months leading up to his death. He had a falling out with Bessette over having children, media attention, and how much time he spent working at his magazine, according to Biography.
By July, however, the couple had put their difficulties on hold to attend the wedding of Rory Kennedy, Kennedy's cousin and Robert F. Kennedy's youngest daughter. They'd never make it to the ceremony, unfortunately.
Inside story of the Death of JFK Jr.
John F. Kennedy Jr., his wife, and his sister-in-law landed at Essex County Airport near Fairfield, New Jersey, on the evening of July 16, 1999. Kennedy would be the only pilot on the mission. Despite the fact that one of his flying instructors offered to join him, he declined, saying he "wanted to do it alone."
They took off in Kennedy's single-engine Piper Saratoga plane at 8:38 p.m. They intended to fly to Martha's Vineyard first, where JFK Jr. and his wife would leave Lauren off, and then to the family compound in Hyannis Port, Massachusetts, for the wedding. Their voyage should have lasted just over an hour on the first leg, but something went wrong.
According to the Washington Post, Kennedy's plane fell to 2,500 feet about 62 minutes into the journey as it approached Martha's Vineyard airport, which was only 20 miles away. The plane then dropped 700 feet and vanished from radar in less than 30 seconds. It was never delivered.
Despite the fact that the Coast Guard and the Air Force initiated a search for the missing plane right away, most people assumed Kennedy and the other passengers were dead. One British publication cried, "The Kennedy curse strikes again." That sentiment was quickly shared by other news organizations.
On July 21st, Navy divers discovered Kennedy and the others. They were 116 feet beneath the ocean waves, eight miles from the shore. An autopsy revealed that all three had died as a result of the collision. His son was 38 years old at the time of the crash; his wife was 33; and his sister-in-law was 34.
John F. Kennedy Jr.'s uncle remarked in an impassioned eulogy for him on July 23rd at the Church of St. Thomas More in New York City, "From the first day of his life, John appeared to belong not only to our family, but to the American family." "We who have loved him since the day he was born and watched him grow into the extraordinary man he has become bid him farewell."
But how did JFK Jr. pass away? What went wrong with his plane that led it to crash?
JFK Jr.'s Death and Its Strange Aftermath
The official cause of JFK Jr.'s death is straightforward. The National Transportation Safety Board said in 2000 that JFK Jr. crashed because he was an unskilled pilot who became disoriented and lost control of his plane in the dark, cloudy night, according to the History Channel.
The Boston Globe wrote on the 20th anniversary of John F. Kennedy Jr.'s death: "The series of decisions he made that night—flying a complex aircraft without a flight plan; choosing not to have his flight instructor accompany him in marginal weather conditions; and piloting an airplane with a foot injury—have grown in significance."
When Kennedy stepped into the cockpit of his plane, he was healing from a fractured ankle, which may have hampered his ability to operate it. He'd only had his pilot's license for a little over a year at the time. He had only 300 hours of flight time under his belt and may have failed to comprehend some of his plane's more complicated technology.
According to air crash investigator Richard Bender, who talked to InTouch Weekly several years after the tragic flight, Kennedy had problems "remembering what instruments he should have been looking at."
"If you don't have that scan down while you're flying on the instruments, you can get into a lot of difficulty because your body or brain is telling you that you're in one place when you're actually in another," Bender continued. That's referred to as "spatial disorientation."
JFK Jr.'s death, in other words, had a terrible reason
Other theories have emerged over time. According to US Weekly, others feel Kennedy was a cautious, risk-averse pilot who should have been able to complete his tragic mission with ease. His abrupt death was said to have startled his classmates at the Flight Safety Academy. Many people said he was a safety freak who "passed everything with flying colors," and a federal pilot examiner branded him an "outstanding pilot" who "passed everything with flying colors."
If the official version is incorrect and Kennedy did not die in an accident, some have hypothesized that he committed himself as a result of marital or professional troubles. Some have speculated that he was killed because he was investigating his father's assassination.
For years, Kennedy was said to have been "obsessed" with uncovering the real story behind his father's death. "With his own money, he was going to reopen the probe," one reporter who covered the Kennedy family recalled, "and then he died, and that was certainly the end of it."
Some conspiracy theorists have claimed in recent years that JFK Jr. never died at all and is still hiding out in Pennsylvania.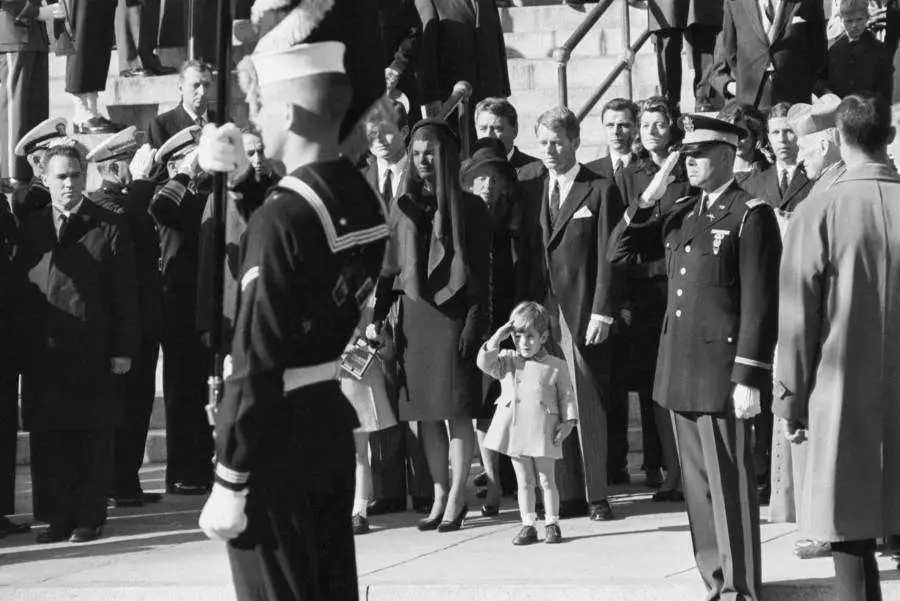 Regardless, the tragedies that defined John F. Kennedy Jr.'s life are often remembered. Regrettably, history may remember him as the young boy who saluted his father's coffin — and as the guy who died in a plane catastrophe.
---
The mechanical and navigational systems of the Piper Saratoga were confirmed to be in working order by investigators who examined the wreckage. In their final report from 2000, the National Transportation Safety Board said that the crash was caused by a new pilot who got lost in the dark and lost control.
---
Credit: Wikipedia | History All the information and photo credit goes to respective authorities. DM for removal please.
---
Read More >>> 1962 Marilyn Monroe's Death: What Really Happened?