When Kourtney Kardashian and Travis Barker were spotted making out in Malibu over the weekend, it appeared to be a sign that he was doing well after being hospitalized earlier this month. Barker was admitted to a medical facility earlier in the month.
Since Barker got out of the hospital after being treated for pancreatitis, this is one of the first times Kardashian and Barker have been seen showing affection for each other in public.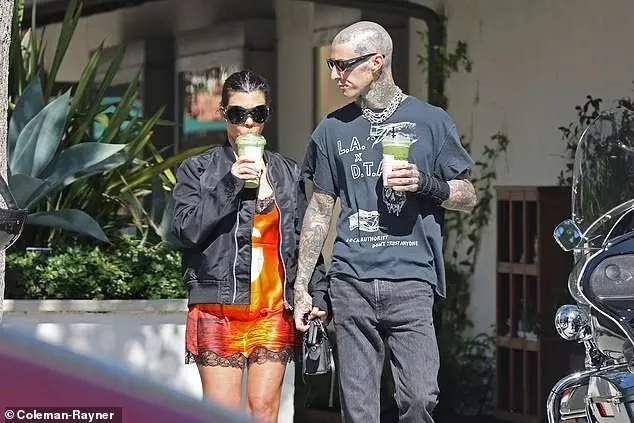 Following Barker's release from the hospital, the couple issued a statement. Barker stated, "I went in for an endoscopy on Monday feeling fantastic." However, after dinner, I began experiencing excruciating pain, and I have been admitted to the hospital ever since. During the endoscopy, a very small polyp was removed from a very sensitive area, which is typically only worked on by specialists.
Unfortunately, this caused damage to a vital pancreatic drainage tube. This led to severe pancreatitis, which threatened the patient's life. I want to express how thankful I am that the intensive treatment I've been receiving has helped me to feel so much better.
In a post on her website, Kardashian said, "Oh, what a terrifying and emotional week it has been." Even though the state of our health is of the utmost importance, we frequently fail to appreciate how rapidly it can deteriorate. Together, Travis and I went in for a routine endoscopy, and as a result, he was diagnosed with severe pancreatitis, which poses a significant risk to his life.
Because of all of your prayers for him and for us, as well as the overwhelming amount of love and support that has been shown to us, I am so thankful to God that he has healed my husband. I am humbled and grateful for your thoughtfulness.
In the middle of May, Kourtney Kardashian and Travis Barker finalized their marriage with a civil ceremony. Later that month, they traveled to Italy for a larger wedding celebration.
The week before last, a source explained to Entertainment Tonight how the group's dynamic shifted as a result of Barker's health scare. According to the source, Kourtney has "dropped everything" in her efforts to ensure that Travis will recover as quickly as possible.
Being newlyweds, they were not expecting this, but after what Travis went through and after what they went through together, it made them even stronger and more connected to one another. Kourtney put a halt to everything, including filming and work commitments, because she was adamant about staying by his side until she was certain that he would be all right.
According to the next statement made by the source, "she was only concerned with Travis's well-being." Travis and Kourtney have been together even more than they were before, including Kourtney coming to visit him at the studio because it gave her such a scare when they found out about the pregnancy. Kourtney values the time she spends with her family and friends more than she ever has before.
Travis Barker plays drums for MGK at Their Concert following the health scare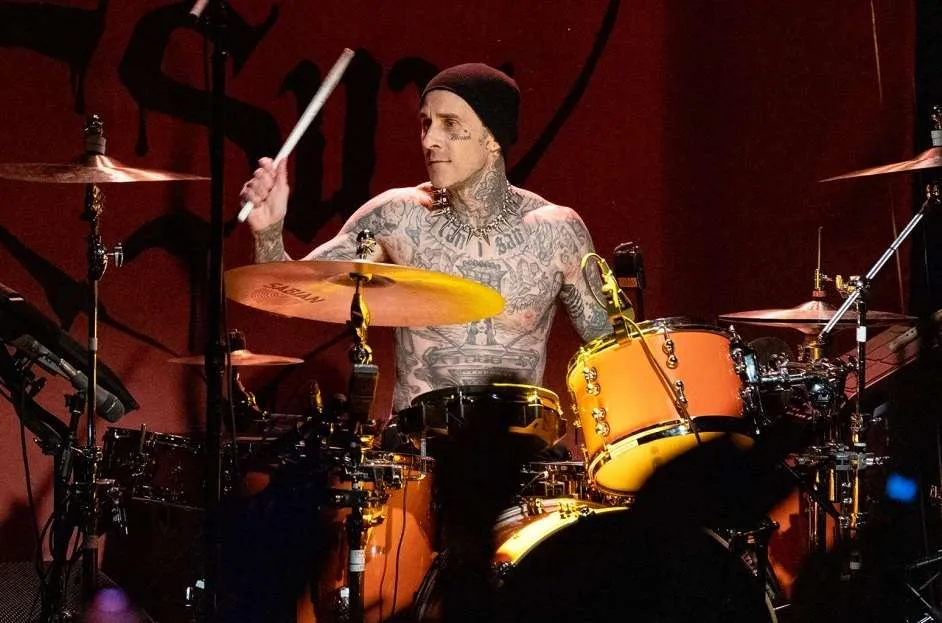 Travis Barker was hospitalized in late June with "life-threatening" pancreatitis. On Wednesday night, his first public performance since leaving the hospital, he made a triumphant return to the stage and played the drums again.
The audience was taken aback when the Blink-182 musician joined his friend Machine Gun Kelly on his Mainstream Sellout Tour. The performance took place at the Kia Forum in Los Angeles.
Kourtney Kardashian and Travis Barker was present to show her support for him. The couple were photographed together at the venue before he began his performance. Barker, 46, wore a studded, sleeveless jacket, red checkered pants, a black T-shirt, and a matching beanie, while the Kardashians star, 43, wore a plain white T-shirt with a statement dark jacket.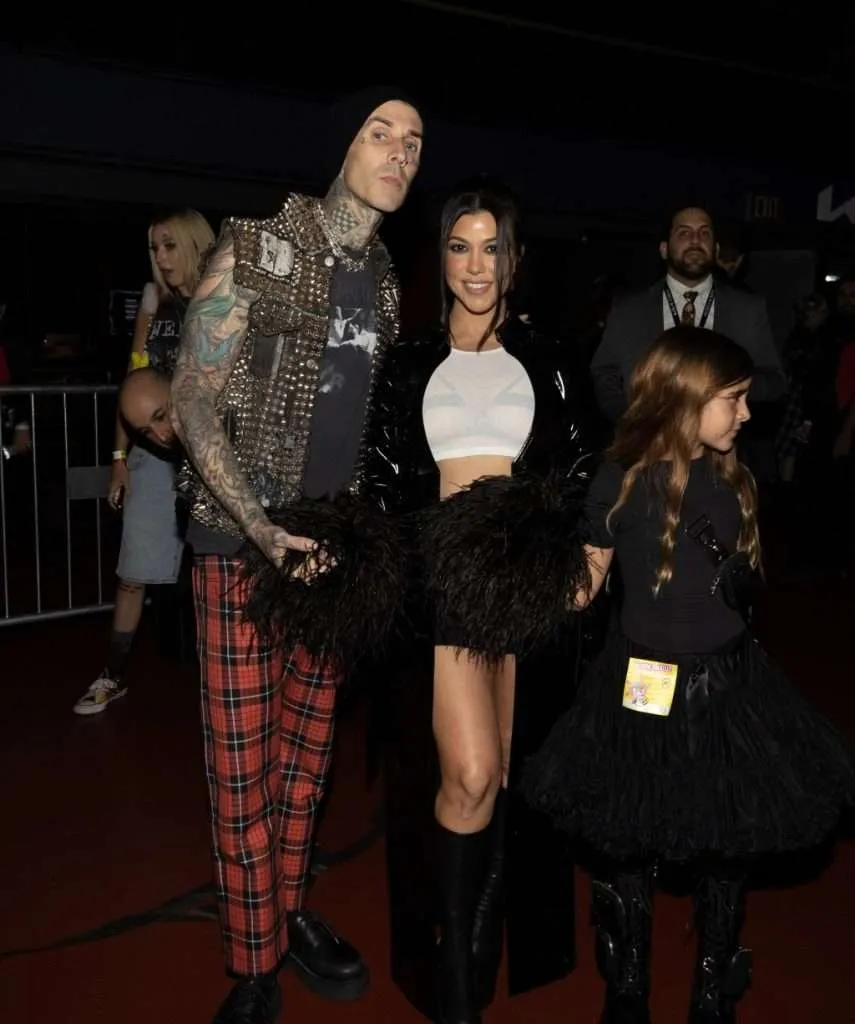 When Barker got behind the skins, it was only natural for him to remove his shirt, as he is accustomed to doing. According to videos posted online by concertgoers, he played "Bloody Valentine" and "Tickets to My Downfall," which is the title track of his album, for MGK.
According to videos posted on various social media platforms, MGK shared with audience members during his introduction that he "grew up idolizing" Barker. He expressed gratitude to the musician for having faith in him.
After some time had passed, the singer of "Emo Girl" called out to his fiancee, Megan Fox, who was present for the evening's activities as well. Lil Wayne, Avril Lavigne, and Halsey were among the other celebrities who made special appearances on stage during the concert.
Landon, Barker's son, was also present there. During the course of MGK's tour, the young artist, who is only 18 years old, has been making special appearances and performing their song "Die in California."
When Barker was hospitalized on June 28 due to pancreatitis, an inflammation of the organ that aids in digestion and regulates blood sugar, he found himself in a situation where his life and death were in the balance.
Since then, he has informed the people who follow him on Instagram that he is "much better," and he has been photographed walking outside of the recording studio he owns in Calabasas, California.
A source previously told people that Kardashian "wouldn't leave his side" during his scare, and she has continued to be an unwavering supporter throughout this ordeal.
At the beginning of this month, she expressed her thoughts about the previous week on Instagram, writing, "Oh what a terrifying and emotional week it has been." "Our health is everything, and yet there are times when we fail to appreciate just how rapidly it can shift," She also thanked their fans for their support and thanked the medical staff at Cedars. -Sina
In a follow-up Instagram Story, Kardashian wrote, "It's crazy how sometimes words can never truly express the gratitude or feelings I have inside of me." "It's crazy how sometimes words can never truly express the gratitude or feelings I have inside of me," she added.
Barker received flowers from Kourtney's sisters Kim Kardashian, Khloé Kardashian, Kendall Jenner, and Kylie Jenner, as well as from their mother, Kris Jenner. All of these women showed their support for their brother-in-law by expressing their condolences and sending flowers to him.
On his Instagram Story, he posted a picture of the flowers that his sister-in-law had given him and captioned it with "Thank you," tagging them in the post. A small black box with a bow tied around it was placed on top of the roses, and the large bouquet of flowers was placed inside of a massive vase that was matte black.
---
All the information & photo credit goes to respective authorities. DM for removal please.
---
Related: Britney Spears Tweeted "I Think I'm Gonna Cry the Rest of The Day!" After The Termination of Her Conservatorship