When World War II confronted her country, Princess Elizabeth was just a teenager. Nevertheless, she was eager to do all she could to help, and she soon became the first female member of the royal family to enroll in the British Army at the age of 19.As a member of the Auxiliary Territorial Service, she drove and maintained a variety of military vehicles during World War II, including ambulances.
---
What are 6 interesting facts about Queen Elizabeth?
Elizabeth II was born on April 21, 1926, at 2.40 a.m. 
On June 2nd, 1953, she was crowned queen. 
She had the longest reign of any British monarch. 
15 British Prime Ministers worked for her while she was Queen.
Corgis were her favorite breed of dog. 
In the UK, she was the only individual who was permitted to drive without a license.
Why do people start calling Queen Elizabeth II "Princess Auto Mechanic"?
The British Army's female division was known as the Auxiliary Territorial Service, or ATS. The British Army's female division was known as the Auxiliary Territorial Service, or ATS. Elizabeth Windsor enlisted as Elizabeth Windsor at the beginning of 1945.
Elizabeth spent months persuading her parents to approve of her decision before enlisting. No woman in the royal family had ever served in the military, as the king and queen reminded her. Elizabeth was not deterred, though. She desired to aid in the war effort.
Elizabeth left for Aldershot in March 1945 to start her training. The future queen was assigned the service number 230873 by the Army. The princess didn't get a special rank as per the king's order. Elizabeth enrolled as a second subaltern, or second lieutenant.
As the brand-new recruit, princess Elizabeth just finished a six-week auto mechanics training program and she learned how to disassemble and maintain engines during her training. She also acquired driving skills for jeeps, vehicles, and ambulances.
After the war, Collier's magazine reportedly stated, "One of her primary thrills was to gather dirt beneath her nails and grease stains on her hands, and flaunt these signs of labor to her pals."
In the ATS, Elizabeth flourished. She found freedom and a sense of solidarity while helping the war cause. During World War II, the future Queen Elizabeth II helped out in many practical ways. She was often called "Princess Auto Mechanic" because of this.
You are welcome to keep reading for the rest of the complete tale…
Princess Elizabeth was just 13 years old in 1939, the year that World War II began. She helped with the war effort in whatever manner she could during her adolescent years, and by the end of the conflict, she had even joined the British Army. During World War II, there are many surprising stories about the future Queen Elizabeth II, like how she did hard manual labor and argued with her father about what her duty was.
The first female member of the British royal family to enlist was Princess Elizabeth. The future queen learned to drive trucks and ambulances while working as a mechanic, where she disassembled engines, replaced tires, and drove vehicles.
Related: Motorcycle Queen of Miami, Bessie Stringfield, Black Women Who Rode Against Prejudice
She was called "Princess Auto Mechanic" by the media, and Elizabeth is said to have liked getting her hands filthy and showcasing her labor of love to her loved ones. She was frequently spotted driving her automobiles around her estates after the war. She had even been known to occasionally diagnose and fix the engines in her own cars.
Princess Elizabeth did not always receive preferential treatment during World War II, despite the fact that she was royalty. She was committed to serving her country in the same manner as everyone else. She then snuck out of Buckingham Palace after the Allies won the war, just like everyone else, and partied on the streets of London. The story of the future Queen Elizabeth's involvement in World War II is presented here.
Princess Elizabeth During the First World War
The royal family was very clear that they would stay in the country for the entire conflict. As the Luftwaffe bombed London, the British government convinced Queen Elizabeth the Queen Mother and her daughters Princess Elizabeth and Princess Margaret to leave for Canada.
The monarch declined. She once reportedly said, "The children won't go without me," according to Biography. "The King will not depart without me. The King won't ever leave, either.
Twenty miles outside of London, at Windsor Castle, Elizabeth and Margaret spent most of the war. The future queen, just 14 years old, made her first BBC radio transmission in 1940 as she was eager to help with the war effort. Elizabeth addressed the young people of Britain in the broadcast.
Elizabeth said, "Thousands of you have been forced to leave your homes and be separated from your fathers and mothers in our country."
Related: Annie Wilkins Amazing Story: The Ride of Her Life
"My sister Margaret Rose and I are extremely sorry for you because we understand what it's like to be separated from the people you care about the most. We want to send you our deepest condolences as you get used to your new home, and we also want to thank your friendly neighbors for opening their doors to you.
The princess said, "We are trying to do all we can to support our brave sailors, soldiers, and airmen, and we are trying, too, to bear our own share of the peril and anguish of war." during the broadcast to her country. Every single one of us is aware that everything will work out in the end.
Elizabeth yearned to accomplish more as the battle went on. She displayed her vegetable garden at Windsor Castle in 1943 in an effort to inspire the British to grow their own food and combat a food shortage. Elizabeth also told her parents when she was 18 that she intended to join the British Army.
What Was Queen Elizabeth II's Role During WWII?
On April 14, 1945, Elizabeth completed her training. The royal couple, together with Princess Margaret, paid a visit to their daughter's ATS unit that month. Elizabeth later remarked, adding, "I never thought there was nearly so much advance planning [for a royal visit]."
Elizabeth collaborated closely with other ATS recruits, but because of her royal status, she was required to accept some limitations. Elizabeth frequently had to take her meals in the mess hall for officers rather than with her peers. And she stayed at neighboring Windsor Castle rather than being permanently at the camp.
Elizabeth was promoted to Junior Commander in July 1945.
According to the princess' governess, Marion Crawford, "She took great pride in the fact that she was doing what other girls her age had to do, and aside from returning to Windsor to sleep, she kept strictly to the routine of the mess, taking her turn with the others as duty officer, doing inspections, and working extremely hard on the maintenance of cars."
The National World War II Museum claims that women in Britain under the age of 30 who were single at the time had to join the military, work on the land, or work in an industry. Due to her royal status, Elizabeth didn't expect any favors; all she wanted was to do her part.
The Queen's Life in the Years Following World War II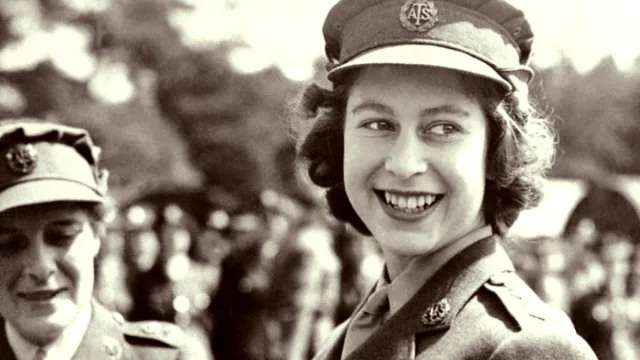 Londoners flooded the streets to celebrate the lengthy war's end as Germany submitted to the Allies in May 1945. Elizabeth and her younger sister snuck out of Buckingham Palace and joined the crowds because they didn't want to miss out on the fun. The ATS outfit helped the future queen blend in.
In a 1985 BBC interview, Queen Elizabeth said, "We were scared of being recognized—so I pulled my military cap well down over my eyes," according to Tatler.
The future queen was impressed by partying with more than 50,000 people and even joining a conga line around the Ritz. She remarked, "I believe that was one of the most unforgettable nights of my life."
At age 25, "Princess Auto Mechanic" was crowned Queen of the United Kingdom and other Commonwealth kingdoms, less than seven years after the war came to a conclusion. Queen Elizabeth's service in World War II helped her in many ways to be ready for a lifetime of dedicated service to her country. 
---
Source: Wikipedia, DW | All the information & photo credit goes to respective authorities. DM for removal please
---