Berlin Police Investigate Roger Waters' Nazi-Style Outfit and Performance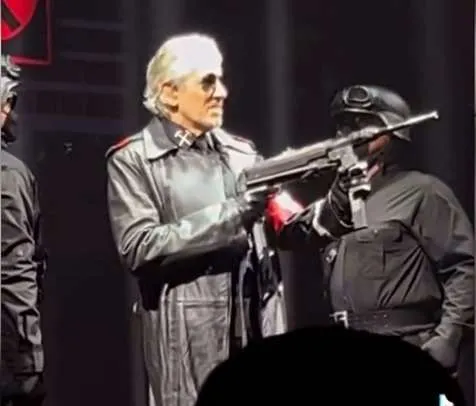 Roger Waters' Berlin gig controversy: Berlin police have initiated an investigation into Roger Waters, the renowned frontman of Pink Floyd, following a concert in Berlin where he wore a Nazi-style uniform. Images of Waters wearing a long, black coat with red armbands and brandishing an imitation World War II sub-machine gun circulated on social media, sparking public outrage.
The police suspect that the clothing worn by Waters on stage could potentially glorify or justify Nazi rule, leading to the suspicion of incitement to public hatred. Once the police investigation concludes, the case will be transferred to Berlin prosecutors for further action.
German Government's Anti-Semitism Commissioner Calls for Accountability
Felix Klein, the German government's commissioner on the fight against anti-Semitism, has called for Roger Waters to be held accountable for his controversial performance. Klein emphasizes the need for vigilance in such incidents and suggests that music venues reconsider their association with Waters.
According to Klein, concert organizers should carefully consider whether they want to provide a platform for conspiracy theorists. His statements were reported by Germany's Funke media group.
Waters Defends Himself: Accuses Critics of Political Motives
Responding to the backlash, Roger Waters took to Twitter to address the controversy surrounding his Berlin concert. He stated that the criticism against him was an attempt to smear and silence him due to disagreements over his political views.
May 26, 2023
Waters clarified that the elements of his performance, which have drawn scrutiny, are explicitly intended as a statement against fascism, injustice, and bigotry in all its forms. He further explained that portraying an unhinged fascist demagogue has been a recurring theme in his shows since Pink Floyd's 'The Wall' in 1980.
Waters affirmed his lifelong commitment to condemning authoritarianism and oppression, noting that his parents fought against the Nazis during World War II, with his father making the ultimate sacrifice.
Waters' Controversial Stances and Accusations of Anti-Semitism
Roger Waters, known for his pro-Palestinian activism, has faced accusations of holding anti-Jewish views. In past concerts, he has featured an inflatable pig with the Star of David, although he denies being anti-Semitic and clarifies that his intentions were to protest against Israeli policies rather than targeting Jewish individuals. These accusations have fueled the ongoing controversy surrounding Waters and his performances.
Waters' Provocative References During the Berlin Concert
During the Berlin concert, Roger Waters displayed the names of several deceased individuals on a large screen, including Anne Frank, the young Jewish girl who perished in a Nazi concentration camp.
Waters also included the name of Shireen Abu Akleh, a Palestinian-American Al Jazeera journalist who was killed by Israeli forces in the occupied West Bank. Abu Akleh's family has filed an official complaint with the International Criminal Court (ICC) to seek justice for her death.
Frankfurt Concert Proceeds Despite Controversy and Protests
Despite ongoing controversy and protests, Roger Waters is scheduled to perform his final concert in Frankfurt, Germany. Frankfurt city authorities attempted to ban the concert, citing concerns, but a court ruled in favor of artistic freedom and allowed the event to proceed. Protesters are planning to gather outside the venue during the concert.
By incorporating relevant Google Trends keywords and employing SEO strategies, this rewritten text aims to increase visibility on Google News by aligning with current trends and optimizing the content for search engine algorithms.
---
You may also read: Britney Spears Tweeted "I Think I'm Gonna Cry the Rest of The Day!" After The Termination of Her Conservatorship