What a touching speech...
How many times have you wished you were a famous person because their lives seemed perfect? Many people do that, and some even wonder why they don't get to live a life with all the glam and glory that comes with it. 
But what they don't know is that not every famous person was born rich and famous. Most of the people we look up to had to work very hard to get where they are now. One of our favorite comedians and TV hosts is Steve Harvey, who is also one of them.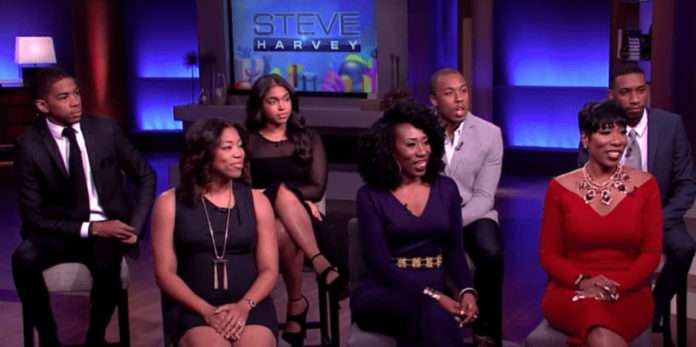 Harvey seems to have everything now, but that wasn't always the case. His father worked in a coal mine and couldn't give him a lot of things when he was growing up. Harvey himself had many jobs over the years, including being a mailman, a carpet cleaner, and even a boxer.
Eventually, he started booking stand-up comedy gigs, but he sent all the money to his ex-wife for the kids. Harvey became homeless because he had no money. "One or two jobs fell through, and all of a sudden I had nowhere to live.
I couldn't go anywhere… It was so terrible… You can really only do this for a week. He once told people, "This has been going on for three years!"
Harvey's life wasn't easy when he lived in his car for three years. He would take showers at gas stations and public pools. Harvey's luck changed when, in 1990, he competed in the "Johnnie Walker National Comedy Search" and made it to the finals.
Harvey had three weddings. He has four kids from his first two marriages, and when he married Marjorie Bridges, he adopted her three kids, making him a father of seven. His kids say he is their hero and the best dad they could ever ask for.
Steve Harvey's son recently got to tell him how much he means to them on his show
Jason said, "You took my mother, but by doing that, you got a lot more." You gave me your last name, which is just crazy. You know, my father did everything he could, but he wasn't there. And you helped me by doing that. If you only knew how much I care about you…I want you to know that right now. Dad, there's no one better than you. "You've got it."
Steve Harvey cried because of what Jason said. He couldn't keep his feelings in check after hearing what his kids thought of him and how much they loved him. Even the people in the audience couldn't hold back their tears. Everyone who saw it will remember it as a very special time.
Steve Harvey's wife said something nice about him after his kids told her how they felt. She told him, "I like the man you are and the example you set for our kids." I'm glad you love me, that you love my kids like they're yours, and that you treat my parents like they're yours. Nothing else. " 
Steve Harvey was so upset that he could hardly talk. He thanked his family and told them, "I found them four full-time jobs. so that when I'm done, you'll all remember that someone cared more about you than about him or herself. I will fight for your honor until the day I die, because I love you all. I've never had a better time than this. I'm so happy to be your dad. "
---
All the information & photo credit goes to respective authorities. DM for removal please.
---
Related: Bodybuilding Grandma Janice Lorrain Loves Young Guy, But her childrens refused it