History of Buick Streamliner
Norman E. Timbs, a mechanical engineer, designed this stunning buick streamliner in the 1940s, which was the ideal American hot rod in many aspects. Much of the project, including the unique aluminum body and steel chassis, was planned and built by him. It took him almost two years to complete, but the elegant roadster he created was featured on the cover of Motor Trend and in Mechanix Illustrated, Popular Mechanics, and Motor Life.
Until Jim Davis of California bought it in 1952, the Streamliner was exclusively utilized on the exhibition circuit. He drove it around Manhattan Beach, California, and had it photographed for a feature article by Motor Life.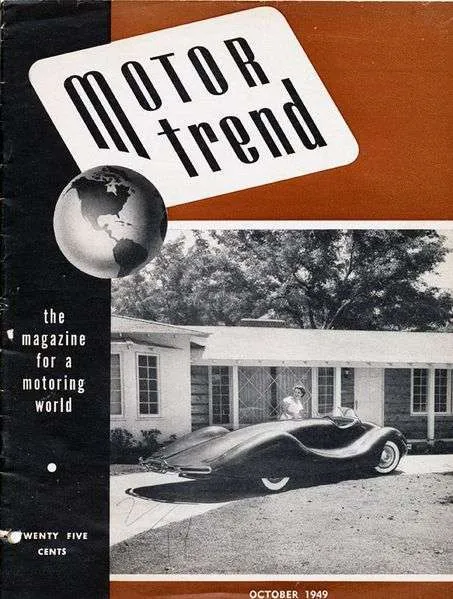 ---
Scorched with Malibu Wild Fire
When Gary Cerveny was given the opportunity to sift through the ashes after the Woolsey fire swept through parts of Malibu in November 2018, destroying his home and his collection of 76 rare and one-of-a-kind custom cars, race cars, and other vehicles, he chose to save only four: two Rolls-Royce Silver Ghosts, a belly tanker with sentimental value rather than monetary value, and a 1948 Norman Timbs buick streamliner. Cerveny's collection's showpiece, the latter, will soon rise once more, a little more than a decade after Cerveny initially restored it.
Though the entire collection along with Cerveny's 21,000-square-foot home was described as a total write-off in the aftermath of the fire, enough of the streamliner remained to be saved, even if practically the entire aluminum body melted away. Cerveny's choice to restore the streamliner was ironically influenced by the same set of causes that he blames for the buick streamliner's destruction in the first place.
The fire department never showed up, "he added, explaining that the size of the fires which burned 1,600 homes in his neighborhood—meant that the L.A. Fire Department decided to respond solely to life-threatening circumstances. His residence wasn't a priority because he and his wife, Diane, were out of town at the time. "The house was on fire for days."
Any response to the fire may have saved the house and the collection. Cerveny, on the other hand, is positive that any water sprayed on the fire after it had begun to burn the home would have crystallized and possibly twisted the chassis, rendering it useless. Instead, the remaining streamliner cooled gradually, so Cerveny plans to utilize it as the foundation for his second restoration of the car once the complete chassis Magnaflux has been tested.
Cerveny's involvement with Buick Steamliner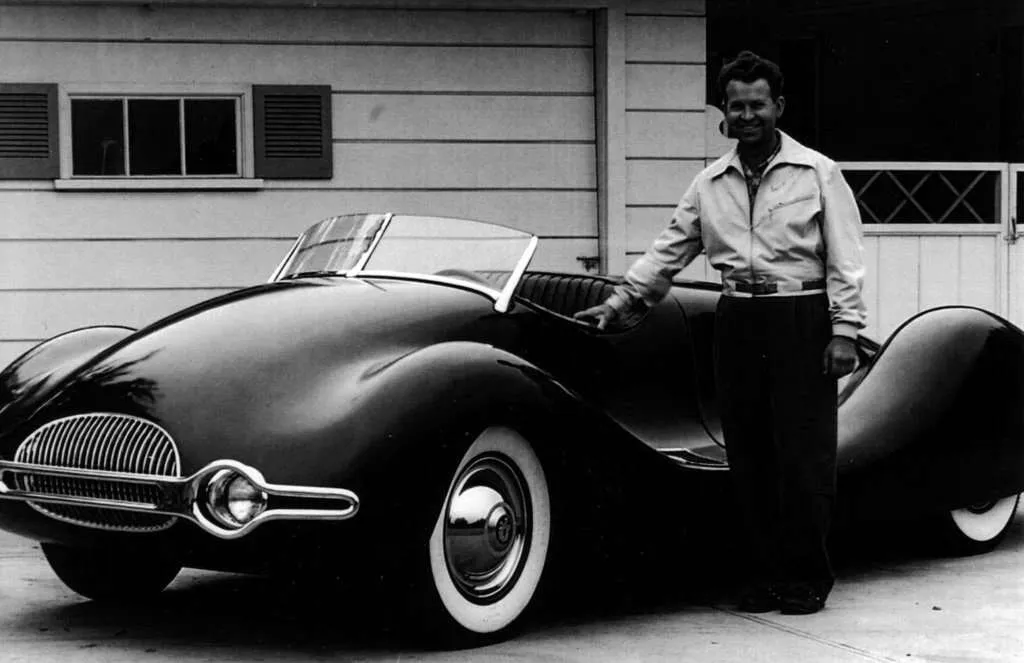 Cerveny's involvement with the Timbs buick streamliner dates back to 2002, when he went to a Barrett-Jackson auction at the Petersen Automotive Museum with the intention of purchasing a Ferrari for Diane. He happened to throw his fist in the air while waiting for the Ferrari when the buick streamliner dilapidated and abandoned rolled up on the street. At the time, he admitted, he didn't know anything about the car. "The auctioneers knew me, and I occasionally assisted them by starting the bidding on a car, so I got to talking with a buddy when they dropped the hammer, and my friend informed me that it appeared like I had purchased the car."
He paid a little more than $17,000 for it and planned to conduct a short restoration and drive it around to automobile and coffee events. However, upon further investigation, he learned that he was in possession of a car that "should be one of the most important automobiles in the hobby… It was a total one-off by an enormously important guy who didn't get the exposure he deserved during his lifetime."
A prolific engineer, Timbs is perhaps best remembered for his work on the Blue Crown Spark Plug Specials, which won the Indianapolis 500 for three consecutive years.
As Ken Gross wrote in the streamliner judges' book, Timbs had a varied career. He worked as a junior engineer for Preston Tucker; he designed much of the Halibrand catalog, including the company's famed quick-change rear axle; he worked on the Davis three-wheeler; and he pioneered the use of negative pressure underneath race cars, which we now refer to as "ground effects."
In the mid-to late 1940s, he began work on the streamliner for his own benefit, with no intention of commercializing the idea. He began by welding the chassis together using four-inch chromoly tubing and installing the 1947 Buick straight-eight in the centre of the 117-inch-wheelbase chassis. The front suspension was a basic Ford beam axle, while the rear suspension was a Timbs-designed independent swing axle with a rigid-mount Packard middle section.
Inspired by the Auto Union streamliners, Timbs then built a wooden buck for a two-seat roadster body that he envisioned would have few to no discontinuities in its body lines. There are no doors, separate fenders, or even a hood or roof. The two-piece fuselage had a fixed front section with a cockpit and a rear section that raised on a single hydraulic piston to access the straight eight and spare tire. Timbs only allowed a basic roadster windshield, step plates, chrome bumpers, and a simple grille.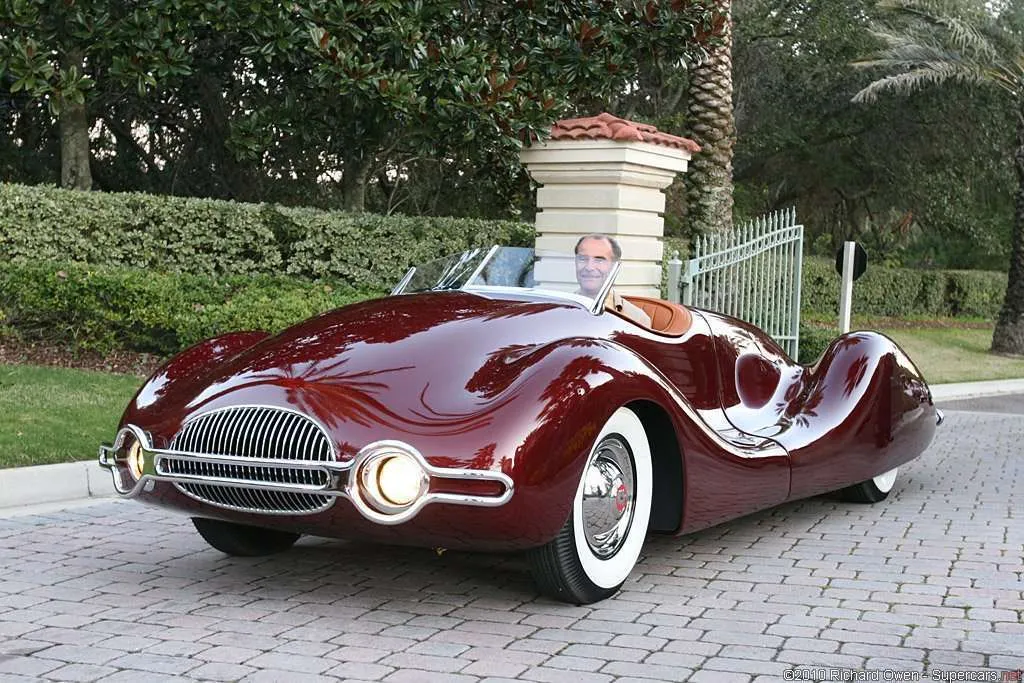 The Timbs buick streamliner "must have looked like a car from outer space," according to Gross, with a 17.5-foot-long body hammered out of aluminum (in 107 distinct pieces, then welded together) by Emil Diedt, then painted in gold-flaked maroon with a tan leather interior. It first appeared in black and white on the cover of Motor Trend's second issue, as well as in a few other late 1940s and early 1950s periodicals.
However, by the time it arrived at Cerveny, it didn't appear to be much. It had been displayed or stored outside in California for many years, and while it still rested on its original chassis, several hard-to-find parts had vanished. Fortunately, Cerveny was able to track down Timbs' son, who had a scrapbook of articles and photos of the streamliner, which helped to inform the buick streamliner's subsequent seven-year restoration, which culminated in its debut at the Amelia Island Concours d'Elegance in 2010, followed by appearances at the Pebble Beach Concours d'Elegance in 2012, and inclusion in multiple Gross-curated art museum exhibitions.
According to Cerveny's assessment, the streamliner is in far worse form this time. Custom Auto in Loveland, Colorado, which undertook the restoration work, has now closed its doors. And he'll have to track down many of the hard-to-find missing pieces, such as the hubcaps and the 8,000-rpm Stewart-Warner tachometer that were only made for race cars in the first place.
Cerveny, on the other hand, has enlisted the help of Rex Rogers, a Custom Auto employee who worked on the car's initial restoration, to work on the buick streamliner's second restoration. Although Timbs destroyed the original wood bucks for the body after the car was finished, Cerveny did make a lot of laser maps of the car's body during the first restoration.
According to Cerveny, the Timbs-designed independent rear suspension, for example, should be able to be reused for the repair, despite the fact that some sections of it may be merged into a new body. The one bright spot in the aftermath of the fire, according to Cerveny, was Hagerty's quick reaction to his claim; he said the insurer was able to write a check within 10 days. If I did the car once, I can do it again, "Cerveny remarked."
Photo Collection of Buick Steamliner
Old photo collection
Re Built Process of Buick Streamliner
Norman's old masterpiece, as it sat before being auctioned off in 2002.

Gary Cerveny started the car's restoration on his own.

The wheel wells, grille opening, and drive train were all fixed by Gary.

The Buick Special at Custom Auto in Loveland, Colorado

August 2009, the refurbished chassis | Photo – Rex Rogers

Ready for paint, August 2009 | Photo – Rex Rogers

Photo – Rex Rogers

September 2009, the car is being reassembled after being painted at Custom Auto in Loveland |Photo – Rex Rogers

Photo – Rex Rogers

Photo – Rex Rogers

Photo – Rex Rogers

Photo – Rex Rogers
After rebuilt of Buick Streamliner
All the information and photo credit goes to original authors. DM for any removal please.
Source: supercars.net | kustomrama.com
Read More >>>
Top Vintage Cars of All Time-20 Best Classic Cars To Drive
"Three Million Mile Volvo Man" Irv Gordon's Amazing Story
What made Louis Chevrolet famous? Amazing Inspirational story
93 Aged Florida Woman Reached 567,000 Miles In Her 1964 Mercury Classic Car
Why Female Rider Vivian Bales Called The Enthusiast Girl?