Twiggy's unmistakable presence will always be felt. With her gamine look, which embodied mod femininity, the British model revolutionized women's fashion. She was the first model to be truly celebrated for her androgynous appearance, and she quickly inspired a fashion world-wide movement toward fluidity. Her affinity for '60s mod clothing, vibrant color blocking, and glamorous makeup has remained with her.
There are too many highlights in her career to list. Twiggy has done it all, from magazine covers to launching her own clothing line with Marks & Spencers. The model is still regarded as fashion (and British) royalty at the age of 71. Learn more about Twiggy by learning some surprising facts about her hectic life.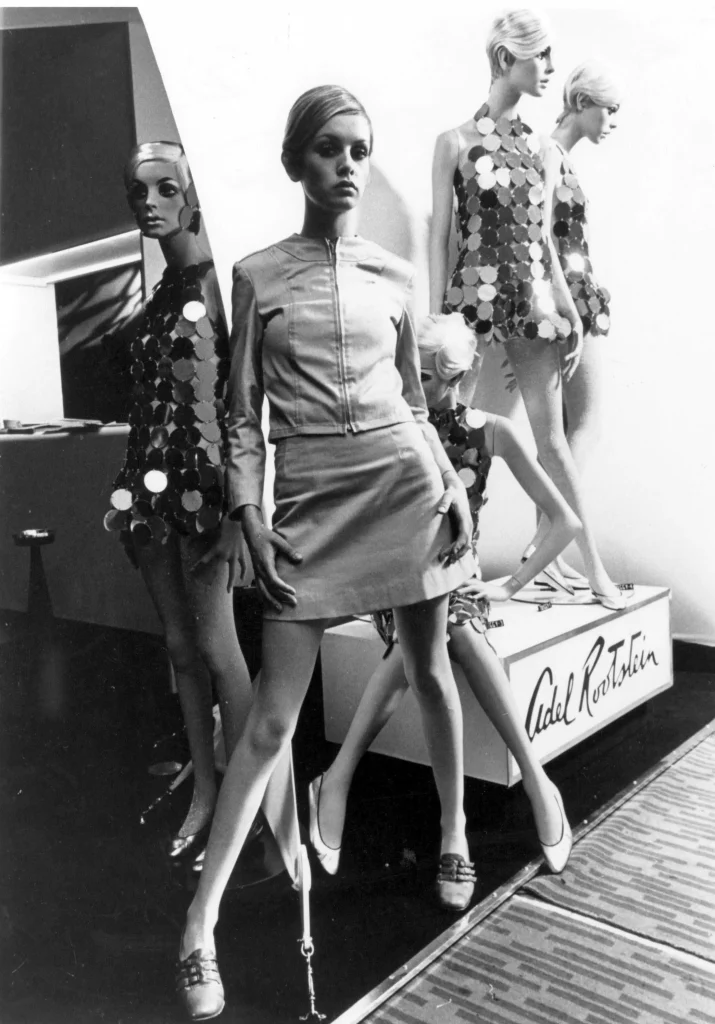 The Union Jack, a cup of tea, the Royal Family, and, of course, Twiggy usually come to mind when one thinks of quintessentially British things. Twiggy (real name Lesley Hornby) made her modeling debut in the late 1960s, when she was only 16 years old, and an English newspaper named her "the Face of 1966." (via The Guardian).
According to CBS News, the elfin beauty was discovered by chance when she skipped school one day to have her hair styled by a high-end London salon. When the Daily Express' fashion editor saw the photograph later, she immediately demanded to work with the teen with the unusual blonde pixie haircut. "It was a ten million to ten billion-to-one chance that this funny, skinny, little kid would become a world-famous supermodel," Twiggy told the outlet. Nonetheless, this is exactly what happened, and as the Evening Standard points out, Twiggy is widely regarded as the world's first supermodel.
Twiggy's modeling career lasted only four years, but that doesn't mean she hasn't been busy in the decades since. Her artistic pursuits have actually continued to this day. Let's delve deeper into the mystery of Twiggy's disappearance.
TWIGGY RETIRED FROM MODELING IN 1970
Twiggy's name is instantly associated with modeling, but her career was remarkably brief. In fact, the short-haired blonde only took four years to realize she wanted to do something else with her life. Twiggy revealed in a 1970 interview with AP that she changed careers due to her growing disinterest in modeling. The Neasden native explained that she had nothing left to accomplish because she had already achieved great success working with well-known photographers. "I want to make a movie," the icon of the 1960s declared.
Twiggy admitted that she had no acting experience, but that she had starred in an American commercial that piqued her interest. Fortunately, the former model didn't need any lessons before stepping into the spotlight, and her first film role in 1971's "The Boy Friend" was a hit, earning the budding actor two Golden Globe nominations.
Twiggy revealed how she got the part in the comedy musical in a 2019 interview with Showstudio's "Subjective" in a 2019 interview with Showstudio's "Subjective." She was already friends with the film's director, Ken Russell, whom she first met when she was 18 years old. Twiggy explained how hooked she was on the story after seeing the West End musical "The Boy Friend" and later shared her excitement with Russell over dinner. After a few too many glasses of champagne that night, the director abruptly announced that he would make his own film adaptation, starring his young friend. Filming officially began a year later.
BROADWAY IS HER "MOST PROUD" PROFESSIONAL SUCCESS.
Twiggy's career, which has spanned nearly six decades, has been filled with numerous projects. The British model, who began her career as a supermodel, has also dabbled in acting, singing, writing, and launching her own product lines, among other endeavors (via Britannica). Despite all of this, it's surprising to find out what she thinks is her biggest professional achievement.
Twiggy reflected on her illustrious career in an interview with the Evening Standard in 2018, shortly after receiving a damehood for her contributions as a pop culture icon (yet another feat to be proud of, no less). "If I had to choose one [career highlight], it would be performing in 'My One and Only' on Broadway." When asked why, the former model explained that it was simply because she was trying something new, such as singing and dancing in front of 2,000 people every night.
So, how did the chance to star in the 1983 musical come to be? It's straightforward: Tommy Tune, the director, called her and inquired. Twiggy told Good Housekeeping that while she had previously performed in public (for her film debut in the musical "The Boy Friend" in 1971), the prospect of doing so for a live play terrified her. As Twiggy recalled, Tune, on the other hand, was unyielding, declaring, "There's no such word as can't; pack your bag and get out to New York," as Twiggy recalled. That's exactly what she did.
Finance Major who lacks social skills and was ignorant to the importance of networking

I have a ton of fantastic friends and normally get along well with the folks that I work with in school. However, I consider myself to be fairly awkward in a social sense and don't have a great degree of confidence in my social abilities and ability… Read More >>
HER FILM DEBUT HELPED TWIGGY GET A RECORDING CONTRACT.
Twiggy made her film debut in Ken Russell's comedy "The Boy Friend," released in 1971. It required the star to not only showcase her promising acting abilities but also to dance and sing, the latter of which piqued the interest of record executives. Twiggy told Showstudio's "Subjective" that she got a recording contract because it was a musical.
"Twiggy," her debut album, was released in 1976. Despite the fact that she didn't sell a large number of copies, Rolling Stone gave it a positive review, calling it "more than just a pleasant surprise." During the 1970s, the woman who used to be a model kept on performing. She even went on TV with Bing Crosby and Bryan Ferry (via BBC).
Twiggy's love of singing, it turns out, never faded. "Music is such an important part of my life and career," she told the BBC in 2011 to promote the release of her new album, "Romantically Yours." The singer included her daughter, Carly, as a guest vocalist this time around.
SHE WORKED WITH DAVID BOWIE
Twiggy did not become an A-list model until the late 1960s, but she had been working towards it for years. In a 2012 interview with The Guardian, photographer Justin de Villeneuve revealed that he began dating the British icon in 1965. Villeneuve revealed that she had modeling ambitions even before they met, though many magazine editors turned her down because she didn't look old enough.
When Twiggy finally broke through, Villeneuve became her manager, a position he held until the 1970s, when the two were no longer together. The late David Bowie's sixth studio album, "Aladdin Sane," was released in 1973, and included the song "Drive-in Saturday." The line "Twig the Wonder Kid" was a favorite of Villeneuve's and Twiggy's, according to The Guardian. Villeneuve suggested that The Starman join Twiggy on the cover of Vogue after meeting him on several occasions. "He was charming," the former model told Showstudio's "Subjective" series. "I was very nervous, but he was really sweet."
Surprisingly, Villeneuve's first shot of the pop culture duo was exactly what he was looking for. After seeing it, Bowie asked if he could use it instead as the cover for his upcoming album, "Pin Ups." Despite Villeneuve's protests, Bowie was unyielding, and Villeneuve returned to Vogue empty-handed. He told The Guardian, "I knew I had made the right decision," even though the fashion magazine never asked him to collaborate again.
IN 2012, SHE RELEASED A FASHION COLLECTION WITH MARKS & SPENCER.
Twiggy returned to her fashion roots in 2012 with her first collection for Marks & Spencer, despite being busy pursuing other creative avenues after retiring from modeling, such as film and music. Woman & Home says that she has continued to work with the British store over the years on essential basics that every wardrobe needs.
Twiggy was famous for her incredibly slender figure during the height of her modeling career, which irritated her detractors. According to The Guardian, Twiggy, like fellow model Kate Moss, has been chastized for promoting unrealistic beauty standards, which the blonde dismisses. She told the outlet, "I don't think the high fashion industry will ever completely abandon slimness." Regardless of what the fashion industry prefers, Twiggy insists that her Marks & Spencer collections are inclusive; she makes a point of having a UK sizing range up to 22 (US 18).
Twiggy told Today in 2010 for a smaller collection on the Home Shopping Network, "I've always had the strong belief that fashion should be for everyone, not just for wealthy people," adding, "Lots of people can't afford to spend a lot of money on clothes, and they should have nice things, too."
FRAN DRESCHER CONNECTION OF TWIGGY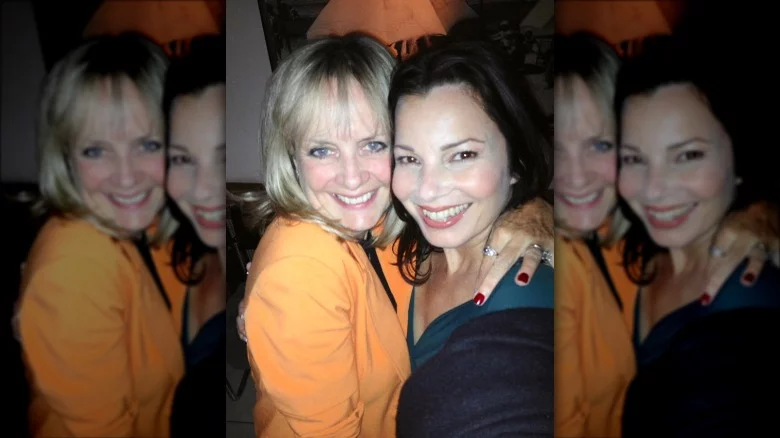 Twiggy starred in the short-lived American sitcom "Princesses" in 1991. The comedy series only lasted six months, according to the Tampa Bay Times. But it brought the former model and her co-star Fran Drescher closer together and had a big effect on her.
Following the cancellation of "Princesses," Drescher relocated to France, where she lived with a family with two children and a nanny (via "The Haunted Smile: The Story of Jewish Comedians in America"). Following that, the comedian traveled to England to see Twiggy, who was living with her husband, Leigh Lawson, and their children. Drescher then had an idea for a show about a Jewish woman from Queens (where she was born) who gets a job as a nanny on the spur of the moment. This concept was later developed into the highly successful CBS sitcom "The Nanny," which premiered in 1993. Lawson, it turned out, was the inspiration for the character Maxwell Sheffield, the widower who hires Drescher's character.
Drescher discussed her visit to Twiggy with Orange Coast Magazine in 1994, after "The Nanny" had already begun airing. "I felt completely out of place in that setting. Everything was so proper and English. I felt like a rowdy New Yorker—rough, blue-collar, and Jewish. "
SHE APPEARED ON AMERICA'S NEXT TOP MODEL AS A JUDGE.
Twiggy was involved in a controversy in 2009 after appearing in an ad campaign for Olay's Definity eye illuminator, which boasted the model's endorsement as her "secret to brighter-looking eyes" (via BBC). Things got hairy after over 700 people complained that the campaign photograph was airbrushed, leading to the ad's being banned by the Advertising Standards Authority. While the product's maker, Procter & Gamble, admitted to slightly retouching the image, they dismissed accusations that this was reckless or unethical.
What about the person behind the advertisements? Twiggy denied having any involvement in the editing process after her photo was taken in a conversation with The Guardian in 2020. I'm going to work. "It has nothing to do with me if they take it away and do the stuff," she declared, quickly changing the subject and defending herself.
Surprisingly, the concept of aging does not appear to bother the first model; in fact, she is quick to point out that it is something she does not even consider. "As long as you have your health, that's the most important thing," she told The Scotsman in 2018.
TWIGGY REFLECTED ON HER 1960S CAREER IN 2018.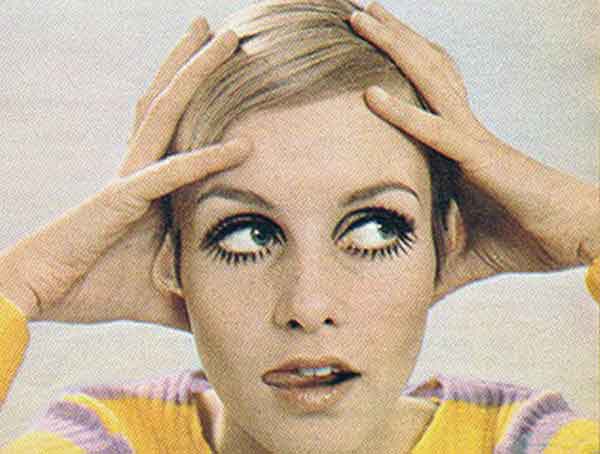 Twiggy grew up in a humble home, far from the glamorous modeling world she was thrust into at the age of 16. As she told The Guardian, her protective upbringing meant she avoided drugs and alcohol as a teen, joking that in her small town, people only drank tea. When she was discovered in 1966, everything changed. She said she loved it; it was brilliant. She added that her strict upbringing ensured she never ventured into the dark world of adolescent A-listers.
In an interview with The Scotsman in 2018, Twiggy was asked how the modeling industry and young women have changed since she got her big break. The model concluded that today's 16-year-olds exude a confidence that she lacked as a child. As far as I know, I was the first working-class model; prior to that, only girls from upper-class or middle-class families were considered models. I had no intention of becoming famous.
Twiggy, on the other hand, will applaud how model standards have evolved since the 1960s. She praised the show for allowing women of all shapes and sizes to compete when she was interviewed by People about her job as a judge on "America's Next Top Model" in 2005. Twiggy explained that her height of 5 feet 6 inches was unusual for a model, who usually stood at 6 feet.
SAW TWIGGY WILL RELEASE HER OWN PODCAST IN 2020.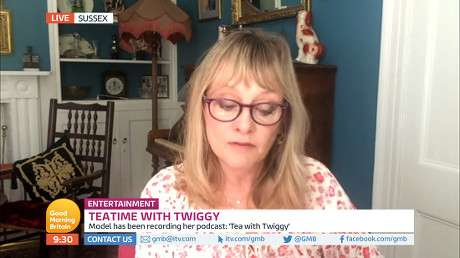 Twiggy added podcast host to her resume in 2020 when she launched "Tea with Twiggy," a series in which the former model chats with industry friends over a cup of tea. Rita Wilson, who is an actress, and Molly Ringwald, who was in "The Breakfast Club," have both been among her guests.
So, what prompted her to create her own podcast? The COVID-19 pandemic, she explained to Good Housekeeping, was the catalyst for everything. She explained that the start of the coronavirus was extremely isolating and, by extension, frightening for her and her husband, who are both in their golden years. Twiggy was able to turn her negative emotions into something positive by talking with her podcast guests. "I wanted people who could tell lovely stories and be funny," she told The Guardian. "There are so many horrible stories in the news."
But it's not just Twiggy's guests who have interesting stories to tell; as Lorraine Kelly revealed in an interview with the '60s icon on "Lorraine," the former model has her own fascinating stories to tell. "I believe it is beneficial for all of us to [be more adventurous]. "You just have to have the courage to do it," she told Good Housekeeping about it.
LEIGH LAWSON HAS BEEN HER HUSBAND SINCE 1988.
Twiggy was married twice in her life, the first time to actor Michael Whitney in 1977 and the second time to him in 1983, before the couple divorced. Thankfully, the 1960s icon fell in love again two years later, marrying Leigh Lawson in 1988. According to The Guardian, the happy couple is still together after successfully blending their previous marriages' families. Twiggy revealed to the publication that she became a stepmother to Leigh's son Jason, while her new beau welcomed her daughter Carly into his life. "[Our children] are now as close as any brother and sister," she shared with delight.
Twiggy's family happiness grew even more when she became a grandmother. In an interview with Yours in 2022, the former model discussed her two grandchildren, Joni and Solomon, who are Carly and Jason's children, respectively. Twiggy made a sweet remark about how becoming a grandmother has brought her closer to her daughter. "We've always had a special bond, but Joni has given us a reason to spend more time together, which is fantastic."
Twiggy appears to be concentrating on her family now that she is essentially retired. In an interview with Express in 2018, she revealed that her top priority is being a babysitter for her adorable grandchildren.
Source : BBC | Grunge | The Garden | Whalegrows
All the information and photo credit goes to respective authorities. DM for removal please.
Read More>>>
Letter in the wallet – A happy ending for a love affair
Dorothy Counts Her Story & Apology
Martin Laurello The Human Owl, Story of The Revolving Head Sideshow Performer