Wooden pallets are a versatile and affordable material that can be used to create a variety of projects, from furniture to decorative pieces. Whether you're a DIY enthusiast or looking for ways to save money on home decor, here are some wood pallet ideas to inspire your next project.
Wood Pallet Projects: Furniture
One of the most popular uses for wooden pallets is to create furniture. From coffee tables to outdoor lounges, there are endless possibilities when it comes to pallet furniture. Here are a few ideas:
Pallet Coffee Table
A pallet coffee table is a simple and rustic addition to any living room. To make one, all you need is a pallet, some sandpaper, and a few coats of paint or stain. Add casters to the bottom for easy movement.
Pallet Sofa
A pallet sofa is a great way to create a cozy seating area in your home or backyard. Stack two or three pallets on top of each other, add some cushions, and you're ready to relax.
Pallet Bed
For a unique and affordable bed frame, consider using wooden pallets. Stack them on top of each other and secure them with screws or brackets. Add a mattress and some bedding, and you have a stylish and comfortable bed.
Wooden Pallet DIY Ideas: Decor
In addition to furniture, wooden pallets can also be used to create decorative pieces for your home. Here are a few ideas:
Pallet Wall Art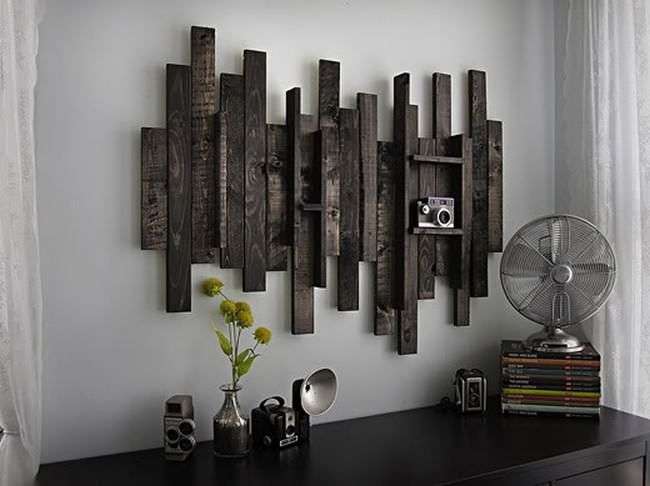 Transform a plain wall into a work of art with a pallet wall hanging. Paint or stain a pallet in your desired color, then add some artwork or a quote using stencils or vinyl lettering.
Pallet Planter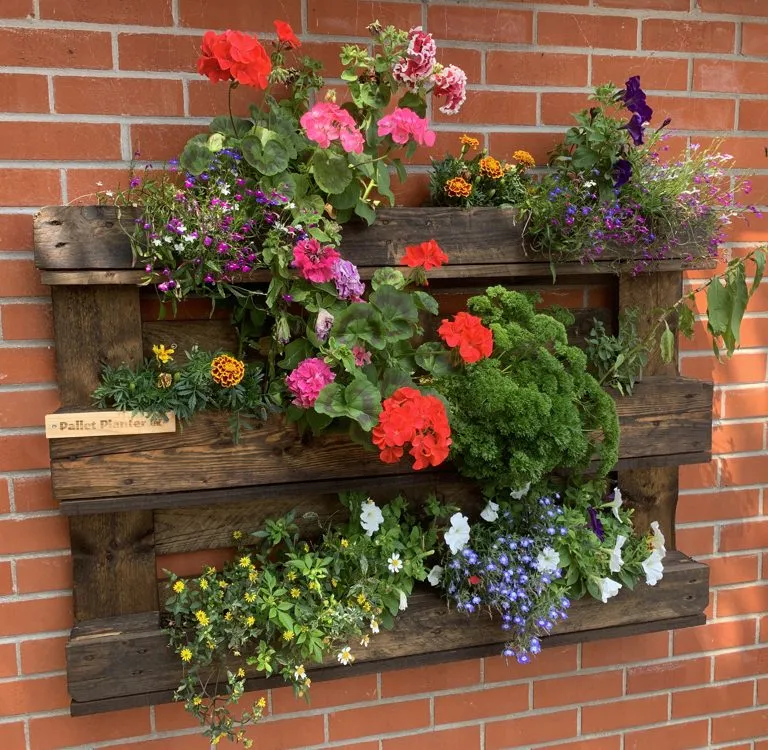 Create a unique planter for your indoor or outdoor plants using a wooden pallet. Simply line the pallet with landscaping fabric and fill it with soil and plants.
Pallet Shelves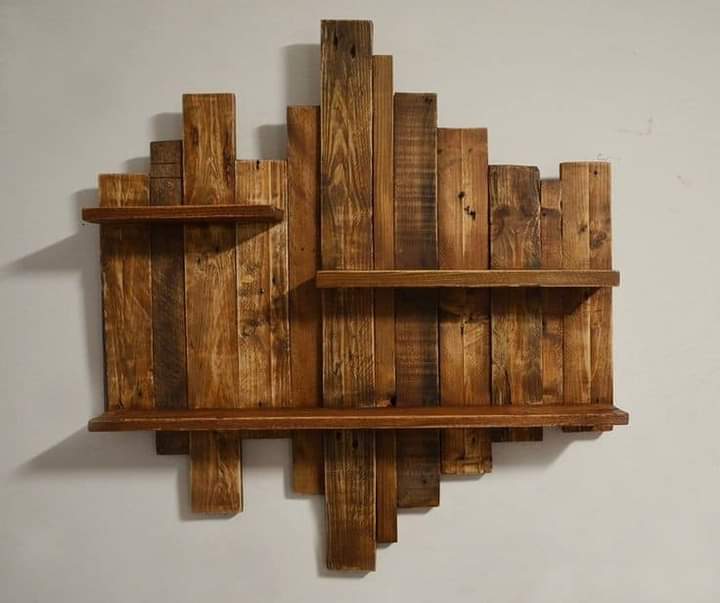 For a simple and rustic way to display your favorite items, consider using wooden pallets as shelves. Cut the pallets to the desired size, sand them down, and add brackets to the wall for support.
Wooden Pallet Ideas for Your Garden: Creative Ways to Upcycle Pallets
If you have a garden or outdoor space, you know how important it is to have functional and beautiful pieces to enhance the area. Luckily, wooden pallets can be easily transformed into unique and useful garden items. Here are some wooden pallet ideas for your garden:
Pallet Garden Fence
A garden fence made out of wooden pallets is not only functional but also adds a rustic charm to your outdoor space. Simply stack the pallets and secure them with screws or brackets. You can leave them natural or paint them to match your outdoor decor.
Pallet Planters
Pallet planters are an easy and affordable way to add greenery to your garden. You can make a vertical pallet planter by adding shelves or planting directly into the pallet boards. You can also make a simple box planter by attaching four pallet boards together and adding a bottom.
Pallet Compost Bin
A compost bin made from wooden pallets is a great way to turn your kitchen scraps and garden waste into nutrient-rich soil for your plants. Simply create a square or rectangular frame with the pallets, and secure them together with screws or brackets.
Pallet Garden Bench
A wooden pallet garden bench is an easy and affordable way to add seating to your outdoor space. Simply stack and secure the pallets together, add some cushions or pillows, and enjoy a comfortable place to sit and relax.
Pallet Garden Tool Rack
Organize your garden tools with a pallet tool rack. Simply attach the pallet to the wall or a fence, and add hooks or nails to hold your tools.
---
More wood pallet craft ideas…
---
---
Conclusion
Wooden pallets are a versatile and affordable material that can be used to create a variety of projects. From furniture to decor, the possibilities are endless. With these wood pallet ideas and projects, you can transform your home into a stylish and unique space.
FAQs
Why is it called a pallet?
The term "pallet" comes from the Middle French word "palette," which originally referred to a small shovel used for moving and handling grain. Over time, the word came to refer to the flat platform used for transporting goods, and it eventually evolved into the modern term "pallet."
Where is the best place to get free pallets?
You can often find free pallets at businesses that receive shipments, such as grocery stores, hardware stores, and warehouses. Check with local businesses in your area and ask if they have any extra pallets that they're willing to give away.
How much is a pallet wooden and Why are pallet prices so high?
The cost of wooden pallets can vary depending on the size, quality, and availability of the pallets. On average, a standard-sized pallet can cost anywhere from $10 to $30. In recent years, pallet prices have increased due to a combination of factors, including rising lumber prices, supply chain disruptions, and increased demand for pallets due to e-commerce growth.
Is pallet wood good to use?
Pallet wood can be a good option for DIY projects, as it is often affordable and widely available. However, it's important to note that pallet wood may not always be of high quality, and it may be treated with chemicals or other substances that can be harmful if not handled properly.
What is the size of pallet?
The size of a standard pallet is typically 48 inches by 40 inches. However, pallets can come in a variety of sizes and shapes depending on their intended use.
What are the advantages of pallets?
Pallets offer several advantages, including:
They provide a stable base for transporting and storing goods.
They make it easier to move heavy items with a forklift or pallet jack.
They can be reused and recycled, reducing waste and costs.
They can be designed to fit specific product dimensions, improving efficiency and reducing damage during transit.
Is pallet wood real wood?
Yes, pallet wood is real wood. It is typically made from hardwood or softwood, and it may be treated or untreated depending on its intended use.
How strong is pallet wood?
The strength of pallet wood can vary depending on the type and quality of the wood used, as well as the construction of the pallet itself. In general, pallets are designed to withstand the weight and stress of heavy loads, and they are tested to ensure their durability and strength.
How long do wood pallets last?
The lifespan of a wooden pallet can vary depending on its use and storage conditions. A well-maintained pallet that is used for lighter loads and kept in a dry environment can last for several years. However, pallets that are exposed to moisture, extreme temperatures, or heavy use may have a shorter lifespan.
What is the problem with wooden pallets?
One of the main problems with wooden pallets is that they can be a source of wood waste and environmental pollution if not properly recycled or disposed of. Additionally, pallets that are not properly maintained or cleaned can pose a health and safety risk to workers who handle them.
---
Related: 16 Different Types of Best Lawn Tools for Small Gardens