What Leads to Face Redness?
Rosacea is a common skin condition that affects many people in the USA. It typically causes redness and inflammation on the face, including the cheeks, chin, forehead, and nose. The redness can be accompanied by visible blood vessels and acne-like bumps.
Even though the redness may seem minor at first and easy to cover up with makeup, the problem could get worse if it is ignored.
While altering your hair color will make your skin look better, it won't go to the root of the problem. Red pops out whether it's used all over or in patches, and does not represent serenity.
Best Hair Color to minimize redness in the face
You've surely seen that fair-skinned people frequently appear washed out when they wear pale clothing. Your wardrobe can appear dull if you don't make a contrast with your clothing and match it too closely to your skin tone.
Finding a hair color that complements the undertones of your skin can help you to minimize the appearance of reddish skin and make your skin look healthy and bright.
As a general rule, pick a tone that contrasts with the undertones of your complexion. For instance, people with warm undertones can go with a cooler hair color, whereas people with cool undertones can choose a warmer hair color. Most likely, all skin tones will appear well on you if you think your complexion is neutral.
If you frequently have red patches on your skin, choose soft, warm colors that will hide them and not draw attention to them. The blue and green in the base hue of cool tones with green bases, such as ash blonds, may make your skin's redness stand out more.

Best hair color for a red-faced person
If you have a light or very light complexion, you are either a spring or winter type. We'll let you know which hair colors look best on you:
Colors for spring
You have blonde, brown, or red hair; a pale complexion with a golden undertone; and a propensity for freckles.
Golden blonde, honey blonde, strawberry blonde, golden-red, and medium brown are the correct tones.
Colors for winter
Your skin is extremely pale and has a chilly, bluish undertone. Your hair is naturally a dark to medium-dark brown to black tone.
Aubergine, mahogany, and black with a bluish shine are the correct tones.
Which hair hues can either reduce or exacerbate facial redness? How should I choose a hue to prevent facial redness?
You should stay away from chilly colors and shades with a tint of green, as well as gray undertones with a hint of olive, like dark blonde. The blue and green hues provide a hair color that intensifies the redness of your skin.
Pick a color with a neutral, orange, or golden (yellow) base tone. Avert using colors that are excessively light or dark. They always stay three levels away from their basic color.
If they use a neutral base color to lighten the shade, which they can do if their original hue is a dark brown, part of the redness will fade, but an even darker shade will make the red in their skin tone stand out.
A similar thing might happen if you over light your hair; in this case, the redness stands out even more.
You ought to pick a hue that complements your natural hair color. By stepping outside into the sunshine with a mirror and attentively examining your hair in the sunlight, you may determine the predominant color of your hair and choose the best choice.
Your hair's primary color can be determined by the overall tone of the "shimmer." Generally speaking, these are: neutral, green, blue, violet, red-violet, yellow, gold, yellow-orange, orange, red, red-orange, or yellow-orange (no recognizable primary color).
Learn about the levels of hair color.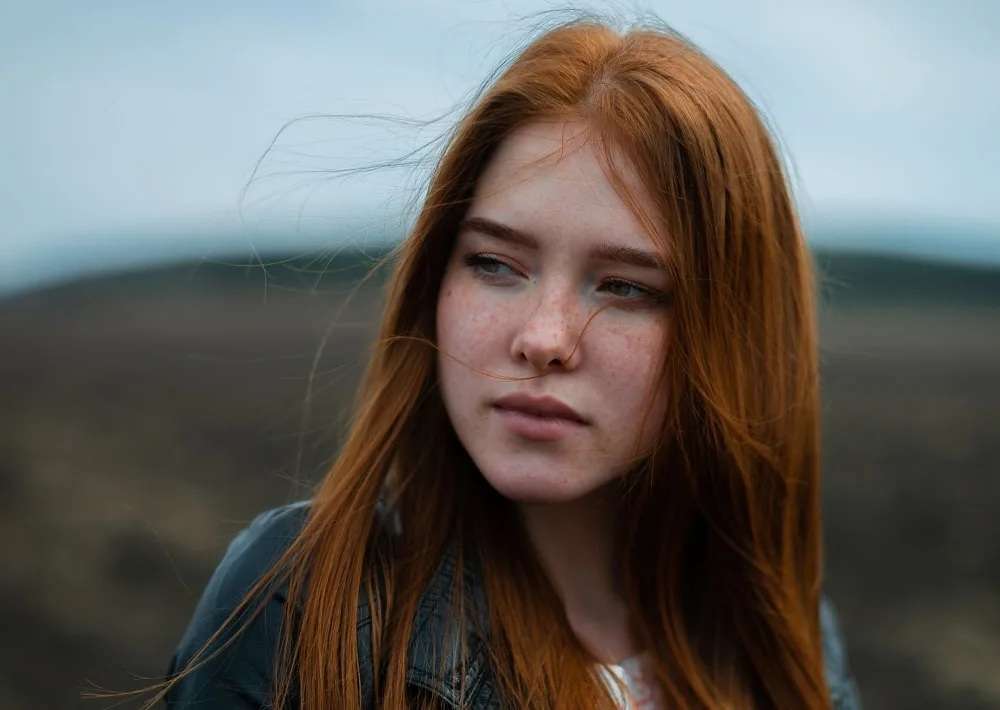 The term "level" describes the relative lightness or darkening of hair. Whether it is your natural hair color or something entirely different, every hair color has a degree.
On a scale of 1 to 10, with 1 being the darkest color and 10 being the lightest blond, normal hair color levels are established. Colorists are used to this scale, which they use with many different brands and formulas.
The common levels of hair color are as follows: 

•           Level 1: Black
•           Level 2: The darkest, almost black, brown
•           Level 3: Very dark brown
•           Level 4: Dark brown
•           Level 5: Brown
•           Level 6: Light brown
•           Level 7: Dark blond
•           Level 8: Medium blond
•           Level 9: Blond
•           Level 10: Light blond
The lightest tones of platinum blonde are generally referred to as 11, 12, or 13.
Learn about hair color tones.
Choosing the shade of your ideal hair color typically takes the least amount of time. We frequently already know whether we want to dye our hair blonde or brown.
The tone is where the actual effort is, though. Warm, cool, and neutral hair color tones are the three categories.
Tones are frequently mixed in hair color formulations to produce a wide variety of colors. For instance, auburn can be created by mixing warm or neutral tones with red tones, and cool-toned, red hair can be formed by adding violet tones to the recipe. Colorists frequently combine different tones to create the ideal color composition.
You'll notice that hair color tones are typically indicated with a letter when talking about your hair color with your stylist or looking through a swatch book. 

Cool Tones:
•           A: Ash
•           B: Beige
•           B: Blue
•           G: Green
•           V: Violet
Warm Tones:
•           C: Copper
•           G: Gold
•           O: Orange
•           R: Red
•           W: Warm
•           RB: Red/Brown
•           RO: Red/Orange
Neutral Tone:
•           N: Neutral, not warm or cool
You've probably noticed that technical nomenclature for hair colors typically contains a letter and a number. Their volume and tone are indicated by the technical designation. For instance, light warm blond is represented by 9W, and light copper brown by 6C.
Choose the best hair color level and tone.
As we already discussed, the first step is to ascertain the level of hair color. Although your perspective of what level best suits you may differ from someone else's, levels are frequently evident and ought to require the least amount of effort to understand. Most people make mistakes with their hair color because they want it to match their skin tone.
Understanding that hair color is not flat and straightforward is, of course, the most important step. This complicated mix of different intensities, depths, and temperatures will either make your skin less red or make your features stand out more, or it will do the exact opposite. 
FAQs
What hair colour is best for red face?
A cooler-toned hair colour such as ash brown or cool blonde can help balance out a red face.
What colour reduces redness in the face?
Green is the complementary colour to red, so using a green-tinted primer or colour-correcting product can help reduce the appearance of redness on the face.
What hair colour cancels out red in the skin?
Green-based hair colours, such as forest green or emerald green, can help cancel out redness in the skin.
What hair colour is best for rosacea?
A cooler-toned hair colour, such as ash blonde or light brown, can help reduce the appearance of redness associated with rosacea.
Why does my hair colour make my face look red?
If the hair colour has warm or reddish undertones, it can reflect onto the skin and make it appear more red or flushed.
What colour neutralizes red?
Green is the colour that neutralizes red, as it is its complementary colour on the colour wheel.
---