Travis Scott is one of the most popular US musicians and a rapper. His amazing ability to commercialize practically anything has allowed him to transcend music and fashion.
The ultimate king of hip-hop at the moment is Kendrick Lamar, whom Travis Scott accompanied on his massive Damn tour, but the rapper is unquestionably in charge of the genre's fashion scene.
Although his concerts became crowded and his music has received many platinum certifications, what he accomplishes outside of the recording studio propels him to new heights. Unlike any rapper before him, Scott has enlivened the business sector.
He is not the first rapper to turn his popularity in the music industry into a lucrative job, but he is one of the few who collaborates with a brand. Finding an artist with the financial savvy of Travis Scott would be challenging. Kanye West, his mentor and contemporary, is the only one that even comes close, which is a credit to La Flame, who is only 29 years old.
Travis Scott already had a US number one album under his belt when he launched one of the most eagerly awaited albums. The main reason for this is Scott's public relationship with Kylie Jenner, who is the youngest self-made billionaire in history. His obvious and growing sense of style has also helped him become successful in the fashion industry.
Travis Scott jewelry, Travis Scott hair style, Travis Scott sneakers, watch, and Travis Scott clothing line are as amazing as his list of endorsements, and we have the breakdown. We're confident Travis can do the same for you if he can make products like General Mills, McDonald's, and Byredo candles cool.
A fixture in fashion week's front rows As the face of Saint Laurent's SS17 campaign, Scott also worked with Helmut Lang and the London-based brand Maharishi (the guy does love a good cargo pant, and Maharishi practically invented the style).
There are a lot of issues in Houston, but Travis Scott is not one of them. He is not only the most famous hip-hop artist to come out of the city, but also one of the most stylish.
Check out some of the cultural superstars' best looks with a full description of each in our Style Guide: How to Dress Like Travis Scott
Travis Scott style | Travis Scott Best Outfits
What, then, about Travis Scott's sense of style has drawn so much attention from global fashion designers? Aside from being a huge part of youth culture (he has more than 48.8 million Instagram followers), he also has a unique take on streetwear that makes him look good almost everywhere.
As with the previously stated cargo pants that display his grunge leanings, a plaid overshirt is a surefire go-to. When you do see Scott wearing a blazer, it will likely feature some rock and roll stylings, such as a tight cinch at the waist and some gold buttons, since he doesn't favor traditional tailoring. Travis Scott prefers to wear high tops or a pair of Vans on his feet, always with the laces untied.
La Flamin' Flannels
Thanks only to La Flame, the flannel t-shirt has been a mainstay of fashion over the years. While his retro image is undoubtedly established at this point, what really sets him apart is his ability to rock modern songs by artists like Needles, Gosha, and Natasha Zinko.
Do your research and wear a graphic t-shirt underneath if you want to rock the Travis Scott flannel style. In terms of pants, it's all up to you, but Travis would surely suggest a pair with numerous pockets. The likes of Raf Simons, Needles, Gosha Rubchinsky, Undercover, and Natasha Zinko are among the flannels that Mr. Lit likes to wear.
Foreman of Flannel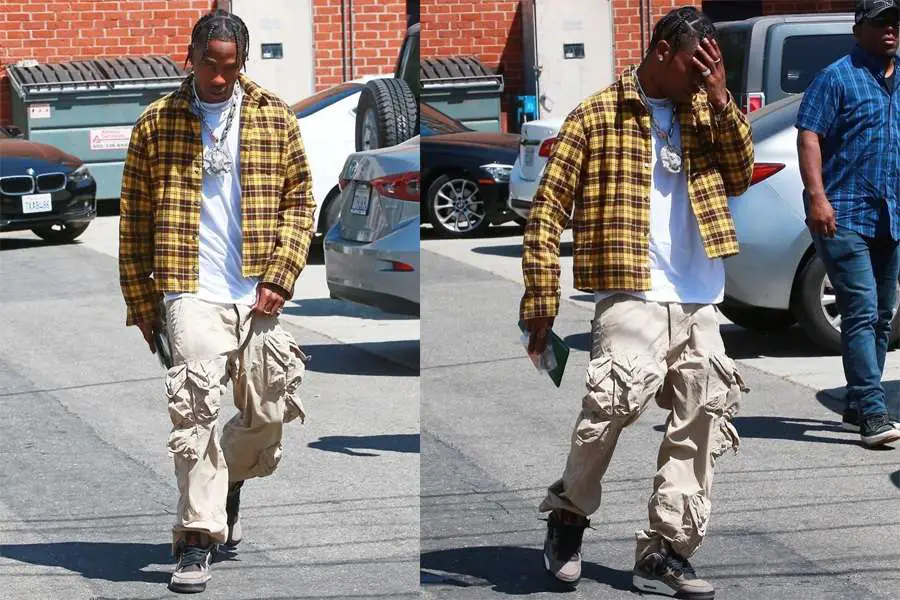 Travis Scott Best Outfits – One of Travis' many Japanese influences The vintage Ralph cargos fit well over the Undercover flannel. A really ordinary ensemble—until you take into account the Friends and Family Jordan 4 "Mocha."
High Fashion Aesthetics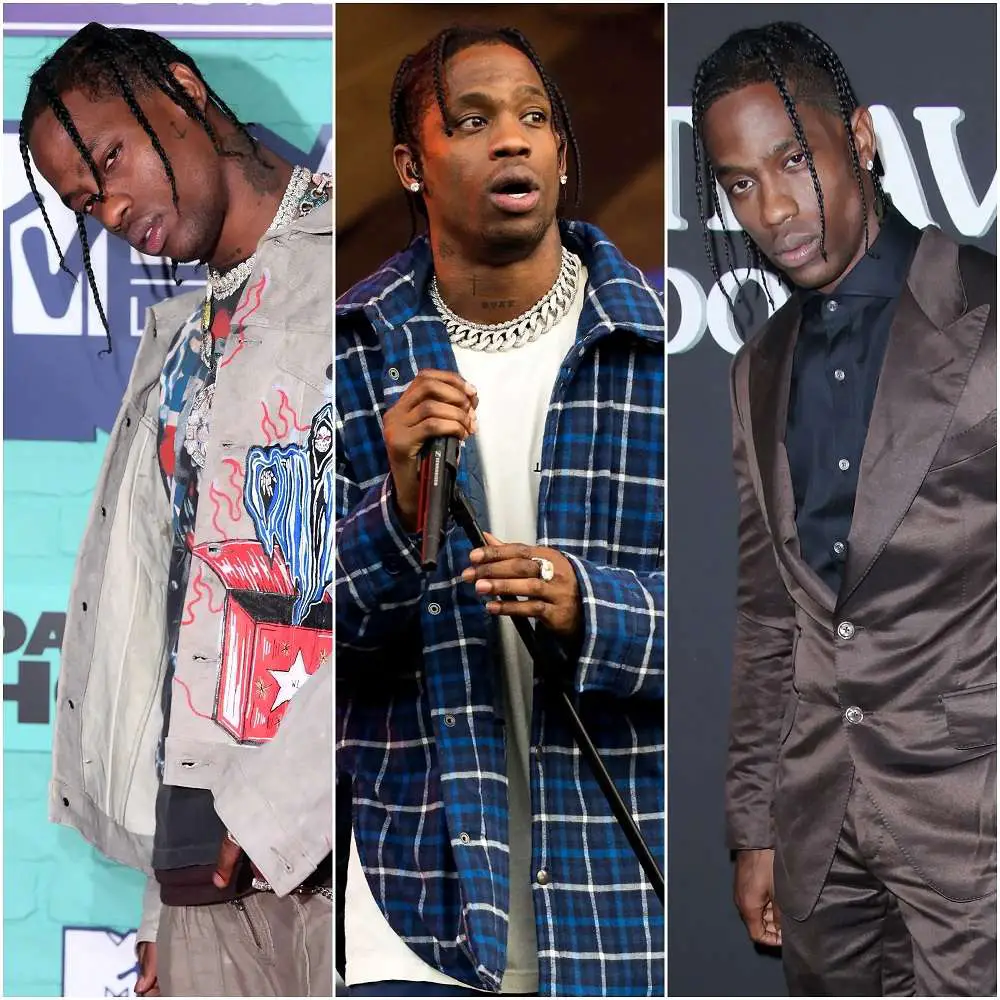 The "highest in the room" footwear, according to Mr. Maison Margiela blunts, is always going to be the Louboutin double cups. Trav not only partakes in high fashion but also lives it. The "high fashion" rapper occasionally displays some of the most expensive and uncommon clothing.
He masters high fashion and is skilled at matching unique things without brands or tags. This type of curation represents the pinnacle of fashion; you demonstrate your knowledge yet pique the interest of the uninitiated. Consider this S/S 2011 Celine Silk Shirt, which is so uncommon it doesn't have a care tag.
General Scott
This is a modest Travis Scott Best Outfits compared to others on the guest list that night for the MET gala, when he made his red carpet debut alongside Kylie Jenner (Black Panther star Chadwick Boseman wore a papal cloak).
We therefore admire the straight and elegant cut without a single unattractive bunch and the utility belt slung on over the shoulder to break up the all-black outfit, even though we don't anticipate anyone roaming around the shopping center in the gothic space captain's appearance anytime soon.
Super Blue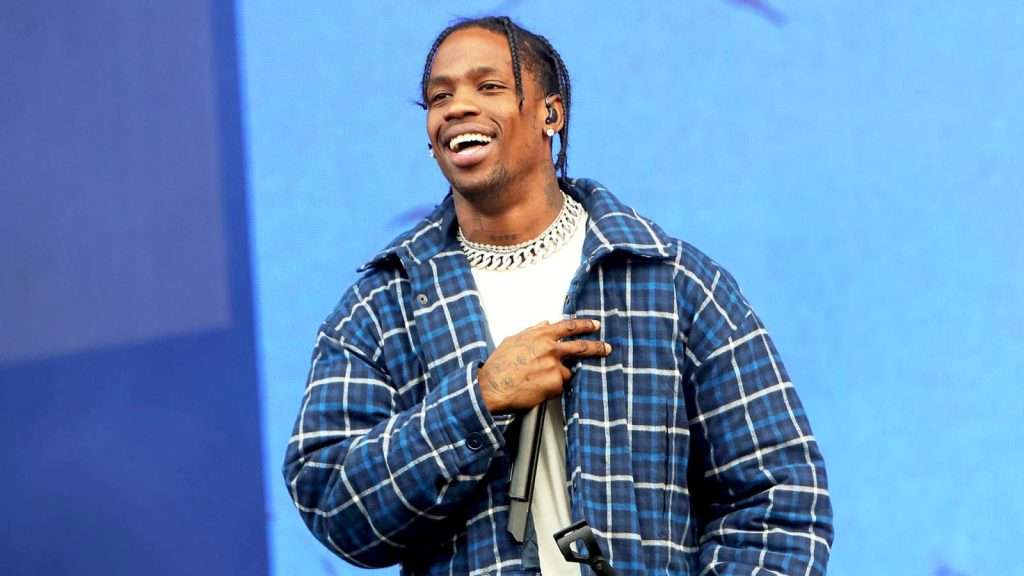 More evidence that the classic color combination of white and blue. When wearing flannel or plaid, it's important that the layer underneath provides some contrast. It looks even better if the tee is trimmed to match the length of your over shirt, as Scott has done in this instance. If you don't tuck in a loose top, it will look messy, especially if you wear casual pants underneath.
Travel Loungewear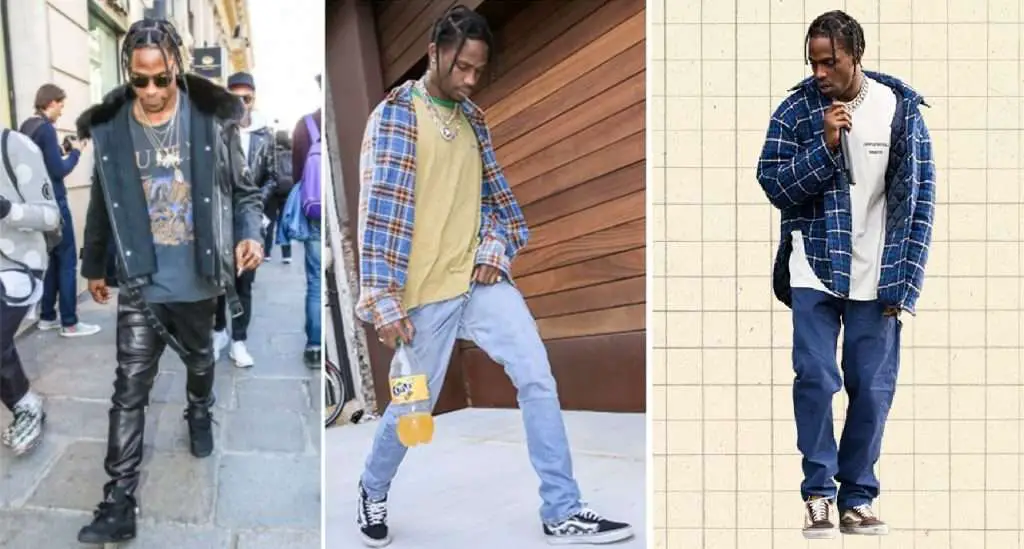 Make sure your clothing is comfortable if you anticipate being crammed into a flying seat for more than a few seconds. A sweatshirt is a good bet regardless of whether you're in first class or economy. Because the tin is a neutral color, the food that will inevitably spill out won't stand out as much if there is turbulence in the air.
Travis Scott sneakers
Travis Scott is known for his love of sneakers, and has collaborated with several major sneaker brands on limited edition releases, such as Nike and Jordan Brand. Some examples of Travis Scott sneakers include:
Nike Air Force 1 "Cactus Jack"
Jordan 1 Retro High Travis Scott
Air Jordan 6 Retro "British Khaki"
Air Jordan 4 Retro "Olive"
Air Jordan 4 Retro "Purple"
These sneakers are highly sought after by sneaker enthusiasts and fans of Travis Scott, and are often released in limited quantities, causing them to sell out quickly and sometimes fetch high prices on the resale market.
How to Dress Like Travis Scott! (VERY SIMPLE) – Mens Fashion Inspiration
Conclusion
For all the style heads, Travis Scott is such an icon. In both the fashion and hip-hop industries, he paved his own path and created an empire. This personality may teach you a lot, and it can also serve as an inspiration.
We greatly appreciate Travis Scott and are aware of how devoted his supporters are. If you're one of them, share your favorite Travis Scott outfits with us in the comments.
Additionally, feel free to post any questions or recommendations in the comments section below.
Q & A About Travis Scott's Style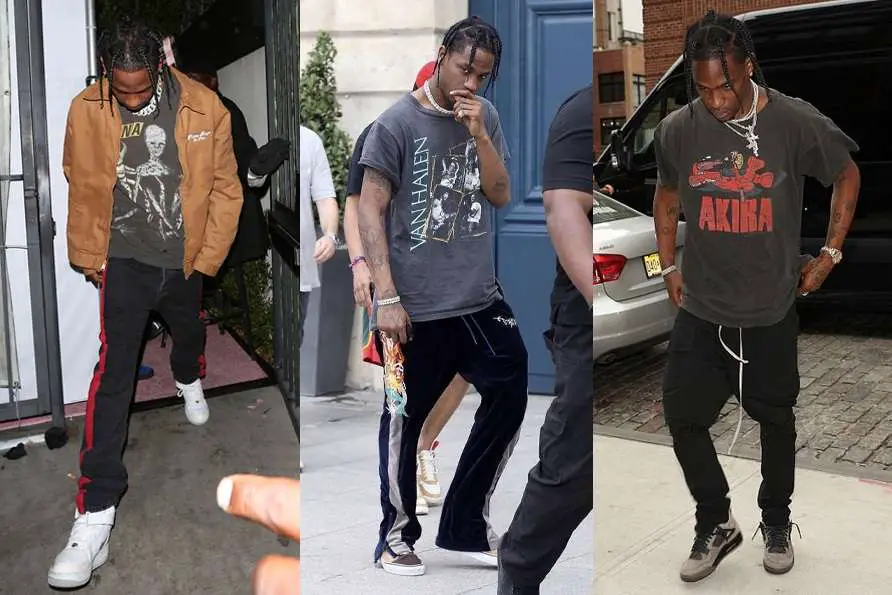 1. What brands of clothing does Travis Scott wear?
When he first started to gain notoriety, Travis Scott had a favorite brand: Bait. Later, he donned Supreme and Vans. He now favors high-end brands like Nike, Louis Vuitton, Balenciaga, etc.
2. Is Travis Scott a fashion leader?
Yes, Travis Scott is among the hip-hop artists with the nicest wardrobes. He has his own sense of flair and executes it brilliantly. Every time he releases a new album, his style is altered. In spite of that, he knows how to use style to make his efforts more successful.
3. How can I get Travis Scott's style?
Start with the fundamentals of street wear fit. Put on more Jordans, Vans, and Supreme. Start combining high fashion with street clothes gradually by using your imagination. Explore other luxury labels like Louis Vuitton, Nike, and Balenciaga if you can.
4. What is Travis Scott's net worth?
Travis Scott's net worth is estimated to be around $40million, however, these figures comes prior to his recent contracts with the Sony Playstation and McDonalds, so expect that to be much higher than this numbers.
---
All the information & photo credit goes to respective authorities. DM for removal please.
---
Related: Amy Winehouse's Death & Life Story