Who was Davy Crockett, and what did he do?
Do you know who Davy Crockett is? Many of you, I'm sure, will say yes. Many of the stories you've heard recently are true legends. Did you know he wasn't even named Davy? David was his name. Throughout the years, his life story has been told many times. So, who was the "King of the Wild Frontier" in real life?
David Crockett was born in East Tennessee on August 17, 1786. His family did not have a lot of money. As a child, David had to assist in paying off his father's debts. In the 1700s and 1800s, this was a common occurrence. They also moved around a lot in search of a way to make money.
He did not have the opportunity to attend school as you do today. He was occasionally tutored by a neighbor. Today, it wouldn't even be considered a full school year. He spent the majority of his time exploring, hunting, and working at various jobs. David was able to achieve great things despite not attending school. Living on the frontier taught him valuable lessons that he would use in the future.
In 1813, he joined the local militia as a scout because of his knowledge of the area. Until 1815, he served in the Creek War. For his hunting abilities, he was well-liked by his fellow soldiers. He was also known for his ability to tell a good story. He relocated to Lawrence County after the war. That's when he became interested in government as a means of assisting others.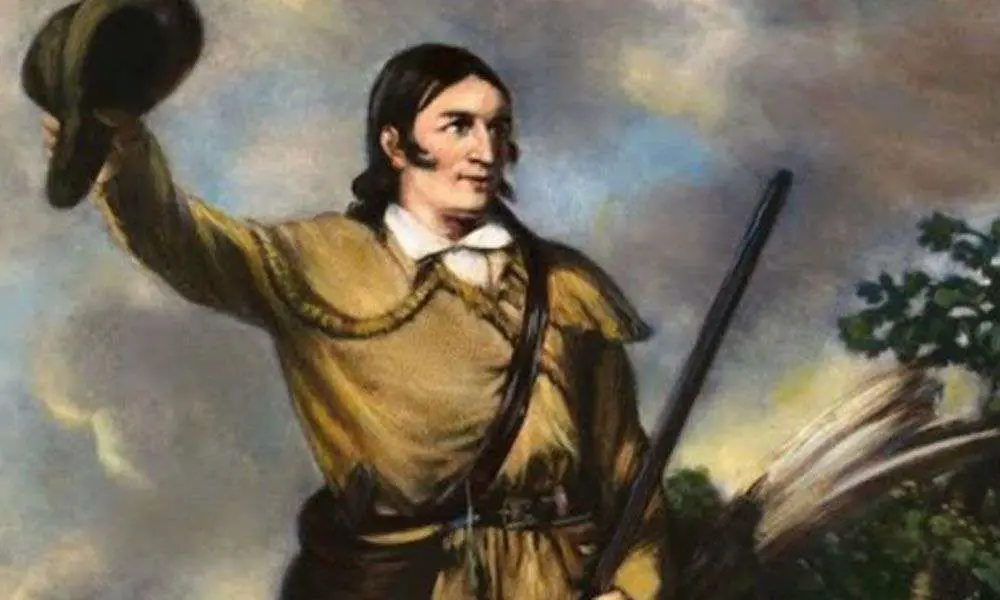 David was elected to the General Assembly of Tennessee in 1821. He told crowds of people about his frontier adventures during his campaign. He quickly rose to prominence as a spokesman for the frontier people. In 1827, he was elected to the United States Congress. He fought for ordinary people's rights, not the rights of the wealthy. As a congressman, David frequently clashed with President Andrew Jackson, another Tennessean. The Indian Removal Act was one issue with which he disagreed. Native Americans were forced to leave their lands as a result of this. David's opinions did not endear him to many people. He made the decision to leave politics and travel west.
He left the country in 1835 and moved to Texas. Texas used to be a part of Mexico. He enlisted in the Texas war against Mexico with a troop of Tennessee volunteers. He moved to San Antonio, Texas, in February of 1836. He aided in the defense of the Alamo with over 100 men. They fought hundreds of Mexican troops led by General Antonio López de Santa Anna. The Alamo was taken by the Mexican army. During the battle, David Crockett was killed. On March 6, 1836, he passed away.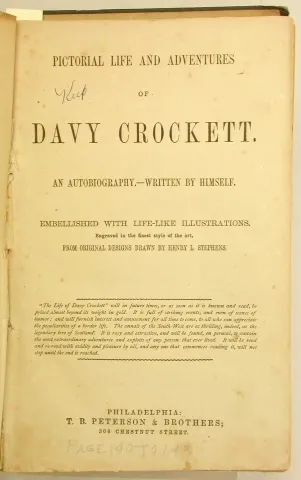 David was a brave soldier and frontiersman. It was published in 1834. The book grew his legend. In the 1950s, he had a TV show. Kids started wearing his coonskin caps from the show. There was also a hit song called "Davy Crockett's Ballad". David Crockett is still a Tennessee legend over 180 years later.
Davy Crockett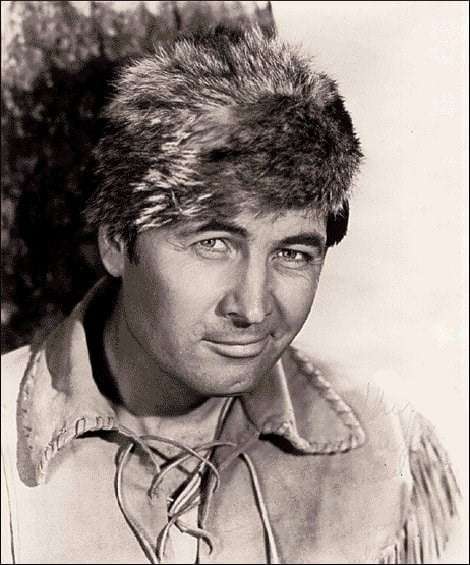 Dr. Davy Crockett was a famous storyteller and frontiersman. His exploits, both real and fictional, made him a folk hero in America.
Birthplace
On August 17, 1786, David Crockett was born in eastern Tennessee, the ninth child of pioneer parents John and Rebecca (Hawkins) Crockett. Crockett's family moved several times during his childhood because John struggled to make ends meet. Davy was frequently hired to assist in the repayment of his family's debts.
Crockett did not receive any formal education. His teacher was the frontier for much of his adolescence, where he learned to be a skilled woodsman, scout, and hunter.
Children
Crockett married Mary (Polly) Finley on August 14, 1806, after being dumped by his first fiancée. Crockett named his farm "Kentuck" in Franklin County, Tennessee, after the couple had three children.
Crockett married widow Elizabeth Patton after Polly died in 1815. Crockett and Elizabeth had three more children together after Elizabeth brought two children to the marriage.
Life in Politics
Crockett was elected public commissioner of Lawrence County in 1817. He was elected justice of the peace later that year and later became a lieutenant colonel in the Tennessee militia. After resigning from those positions, he was elected to the Tennessee General Assembly to represent Lawrence and Hickman counties, where he fought for poor settlers' tax and land rights while honing his oratory skills.
Davy moved to Carroll County after his businesses were flooded and was re-elected to the General Assembly in 1823. In 1825, he ran for Congress but lost and went back to work in the private sector.
In 1827 and 1829, he ran for Congress again and won a seat in the United States House of Representatives, lost in 1830, won again in 1833, and lost his final bid in 1834. He was a vocal opponent of President Andrew Jackson's political platform, despite initially supporting him.
Crockett made a name for himself in Congress as a gifted storyteller and the "gentleman from the cane," a snobbish reference to his upbringing in the country. He was also the subject of a play and a series of books and almanacs that included tall tales about his bear-hunting exploits.
Crockett wrote an autobiography and went on tour to promote it, hoping to correct the record about the reality of his life and change his folk hero reputation. "I told the people of my district that I would serve them faithfully as I had done; but if not, they might go to hell, and I will go to Texas," he famously said when he returned and lost his seat in Congress. And he succeeded.
At the Alamo, Crockett
During the Texas War for Independence, Crockett and a 30-man armed brigade arrived in Nacogdoches, Texas, in January 1836. In exchange for land, Crockett swore allegiance to the Provisional Government of Texas and arrived in San Antonio in February at the Alamo Mission.
On February 23, President General Santa Anna and thousands of his troops laid siege to the Alamo, despite the fact that only 200 Texas volunteer soldiers, including Crockett and his men, were present. Their sharpshooting skills and long rifles proved invaluable in the battle.
Despite Texas commander Sam Houston's advice to abandon San Antonio, the Alamo defenders dug in and held out for 13 days until Mexican soldiers overran and killed them all on March 6.
Crockett is thought to have died defending the Alamo, but according to some accounts, he survived the battle and was captured with a small group of men (against Santa Anna's orders not to take any hostages) and executed.
The Myth and Legend of David Crockett
One of the most well-known figures associated with the Alamo is David Crockett. He is so important to the story that there is a persistent myth that he was the commander of a contingent known as the "Tennessee Mounted Volunteers" who accompanied him from Tennessee to Texas. Crockett, who arrived in Texas with a few friends and a nephew, reportedly stated that he would be content to serve Texas as a "high private." Crockett enlisted as a private in the Volunteer Auxiliary Corps for a six-month term in early January 1836, and prepared to march to Matamoros as part of Johnson and Grant's ill-fated expedition. However, it was clear that he wanted to resurrect his political career, telling his family that he hoped to be elected a delegate to the upcoming constitutional convention in Washington-on-the-Brazos. He was sent to San Antonio de Béxar after failing in that endeavor due to questions about his eligibility. Crockett joined Captain William B. Harrison's volunteer company after arriving on February 8th. His status as a former Congressman and Tennessee militia colonel, on the other hand, ensured that his fellow volunteers gave him a special place in the garrison.
Legacy
Crockett's death at the Battle of the Alamo enhanced his heroism and solidified his legendary status.
In 1954, Walt Disney released Davy Crockett, a television series based on Crockett's life, starring Fess Parker as Crockett. The series introduced the world to George Bruns and Thomas W. Blackburn's famous song "The Ballad of Davy Crockett," as well as the still-popular image of a patriotic Crockett holding a long rifle while dressed in frontier garb and wearing a coonskin cap.
Crockett's likeness and exploits were depicted in plays, novels, comic books, and films throughout the twentieth century and beyond, including the 1960 film The Alamo, starring John Wayne as Davy Crockett.
Davy Crockett National Forest in Texas, David Crockett State Park in Tennessee, and the Davy Crockett Nuke, a nuclear weapons system developed by the US Army during the Cold War, are just a few of the places named after Crockett.
You Can Buy Book Here -:
Journal of Jonathan Belcher the First-Known American-Born Freemason
Source :
Read More>>
11 tips to manage taxes and finances for parents
Hot Lips Houlihan in "M*A*S*H," Sally Kellerman died at the age of 84
1962 Marilyn Monroe's Death: What Really Happened?
Chuck Norris Retired From Hollywood After Giving Up His Fame To Care For His Sick Wife