Dangerous places in the world – It is a fact that most of the people are love to travel around the world. specially most of travel destinations in the world are easy to reach and enjoy. But some of travelers are willingly seek highly adventurable, unknown and dangerous travel destinations. with this article we love to talk about most dangerous places in the world for traveling not even advisable to reach at least.
If you are still love to experience some serious adventures, you can add them in to your bucket list for the next travel planning.
07 Most Dangerous Places In The World
Snake Island
Death Road Road
Lake Natron
Oymyakon
Gates Of Hell
Death Valley
Skeleton Coast
Snake Island – Brazil
This amazing island is known as Ilha da Queimada Grande located about 25 miles away from the coast of Brazil. There are no humans allowed to visit Snake Island for reasonable factors. There's at least one deadly snake per square foot on it. Most of Golden lancehead snakes (species of pit viper and deadliest serpent in the world) are living there.
Death Road – Bolivia
La Carretera de los Yungas A.K.A Death Road famous as most dangerous road in the world. It covers 69 kilometers between La Paz and Coroico, in the Yungas region of Bolivia. Normally one vehicle can travel at once on this road and there is no guardrail to protect you from falls in to 2000 feet down. Nearly 200-300 people who traveling on this Death Road, died in each year.
Lake Natron – Tanzania
Lake Natron located in Arusha Region, Tanzania. it is a salt or alkaline lake that turns wildlife to stone. This lake just three meters deep and 22 km wide. PH ratio is more than 12 and it causes pores in the eyes and skin of humans. It's a famous as a breeding ground for flamingos.
Oymyakon Town – Russia
The Coldest Town on Earth located at Oymyakon, Sakha Republic of Russia. Nearly 500 residents are living here with the endurance of frigid temperature. Recorded Highest temperature of this town is 88.8 degrees Fahrenheit. It is exist as one of dangerous places in the world.
Gates of Hell – Turkmenistan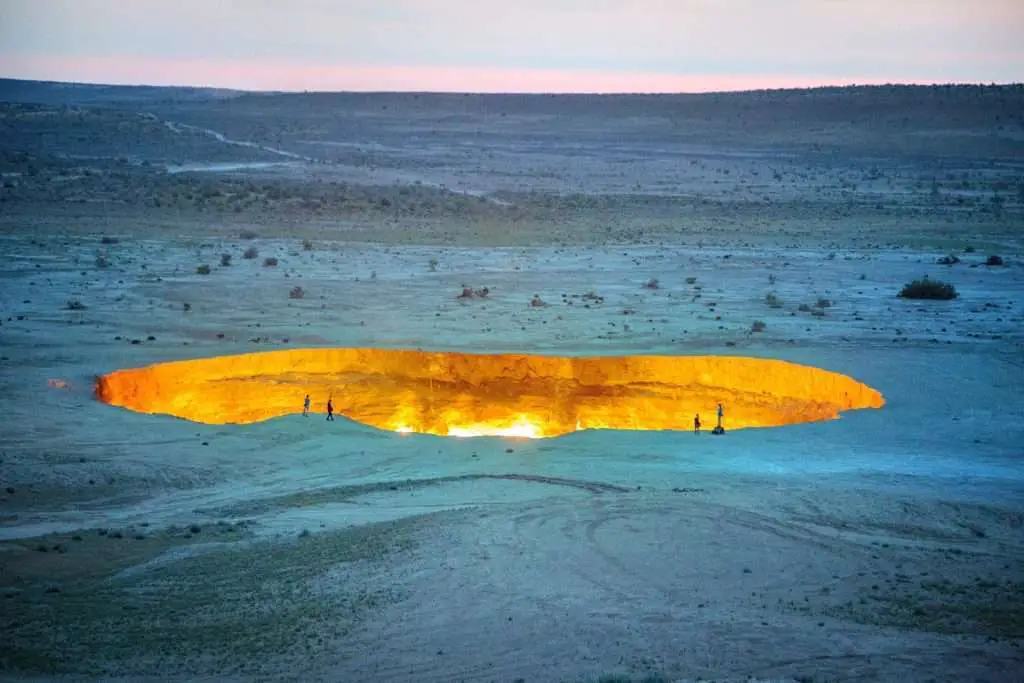 The Darvaza gas crater located in Turkmenistan. It is also known as the Gates of Hell or Door to Hell. This is a natural gas field collapsed into a cavern. Hole of the gas crater, 230 feet wide that has been on fire for over 50 years. fiery glow of this gas crater can be seen for miles away.
Death Valley – USA
Death Valley is a desert located in Eastern California. In the summer season, it is one of the hottest places on Earth which is higher than the deserts in the Middle East and the Sahara.
Skeleton Coast – Namibia
The Skeleton Coast is located at the northern part of the Atlantic coast of Namibia.  People use to say it as "end of the earth". There are no any man-made things other than isolated parts of shipwrecks, whale and seal bones.
Photo and Information credit goes to all the original creators.