The anticipation for Taylor Swift concert at MetLife Stadium reached an all-time high, as Google Trends showed a surge in fan interest and ticket sales. Fans had been eagerly counting down the days since tickets went on sale six months ago, causing a frenzy that nearly overwhelmed Ticketmaster's servers.
A Glittering Affair at MetLife Stadium
A the gates of MetLife Stadium opened for Friday night's Taylor Swift concert, a wave of excitement, adorned with sparkly sequins, engulfed the venue. Fans could hardly contain their enthusiasm. "I have literally waited my whole life for this," expressed one ecstatic fan, while another likened the experience to "our Super Bowl."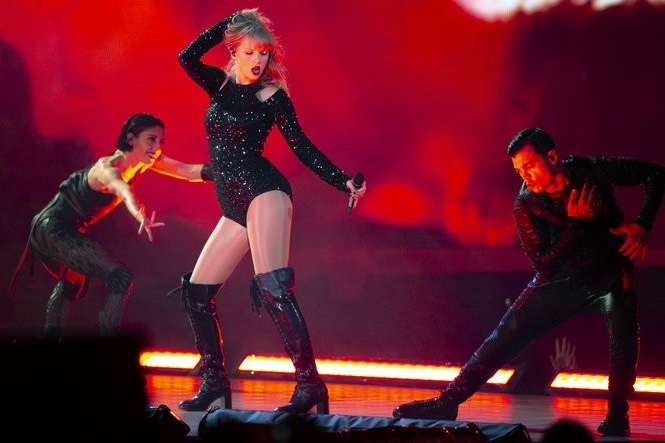 A Massive Turnout for the Eras Tour
More than 60,000 Swift fans from all over the country made their way to New Jersey to witness the pop superstar's Eras Tour. The concert attracted fans of all ages, including aspiring singers who looked up to Swift as an inspiration. "She's a really good singer, and I aspire to be like her when I grow up," shared a young fan, reflecting the admiration felt by many.
A Glittery Odyssey to "Taylor-gate"
NJ TRANSIT trains were packed with enthusiastic fans, and the parking lots around the stadium were brimming with excitement, creating a vibrant atmosphere akin to "Taylor-gate." Sonali Kalvala, a ticketholder, described the scene, saying, "Lots of people in sparkles, in crowds. You don't know where to go." The dedication of the fans was evident, with some sharing their stories of persistence in securing tickets. "I had like four laptops. I was in a work meeting. Sorry to my boss. I was listening, but I was determined to get it, and I'm so happy we did," exclaimed one elated fan.
Challenges Faced by Some Fans
However, not all fans had the opportunity to purchase tickets in advance. Ali Errington from Florida revealed, "We paid a little over $8,000 for three tickets," underscoring the high demand and scarcity of available tickets. Additionally, a group from Maryland decided to attend the concert despite not having tickets. "We're just gonna stay outside and listen," said one determined fan, highlighting the dedication and love for Taylor Swift's music.
Instances of Ticket Scams
Unfortunately, amidst the excitement, there were incidents of ticket scams reported. CBS2 discovered one woman who had been turned away at the entrance with counterfeit tickets. Marisella Lafata shared her heartbreaking experience, stating, "I booked a flight from Florida to New York with my 2- and 1-year-old — I'm getting emotional — and literally got scammed for $300 dollars a ticket."
Enhanced Security Measures
To ensure the safety of concertgoers, New Jersey State Police implemented robust security measures. "Our special operations units are here, our K-9 units, aviation units," assured Capt. Dante Rucco, emphasizing their commitment to maintaining a secure environment throughout the event.
A Memorable Experience for Swift's Fans
Regardless of the obstacles faced, the fans' dedication was unwavering. They recognized that attending the concert was a once-in-a-lifetime opportunity. "It's a once-in-a-lifetime opportunity, and we owe it to her.
She fought for us," expressed a grateful fan. The excitement and anticipation for the remaining two concerts over the weekend were palpable, as fans cherished their moments in the presence of their beloved artist.
---
You may also read: Britney Spears Lost Her Baby Early In Pregnancy.