A Kansas primary school has made headlines once more after half of its teachers gave birth in a span of eight months.
---
In the last eight months of 2019, seven of the 15 teachers at Kansas' Oak Street Elementary School gave birth to eight babies.
The school made news in March when it announced that all of the teachers were pregnant at the same time.
In the Oak Street Elementary foyer, the mothers gathered with all eight of the babies for a group photograph.
The mothers are now exchanging tips, guidance, and even baby clothes.
The teachers insist they didn't intend for it to turn out this way.
---
Pregnant Teacher's Story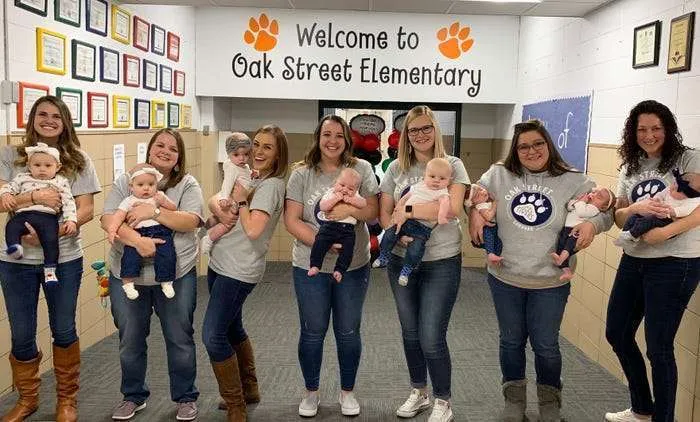 Principal Ashley Miller says she's never seen anything like it in her two decades at Goddard's Oak Street School. "No one drinks our water anymore," Miller added, "and that is a running joke throughout the district." Because one of the teachers was expecting twins, there were eight babies by October, and the school announced in November that the ladies had welcomed a total of eight healthy newborns.
The majority of the women returned to work after maternity leave, and they reunited the six girls and two boys for the first time.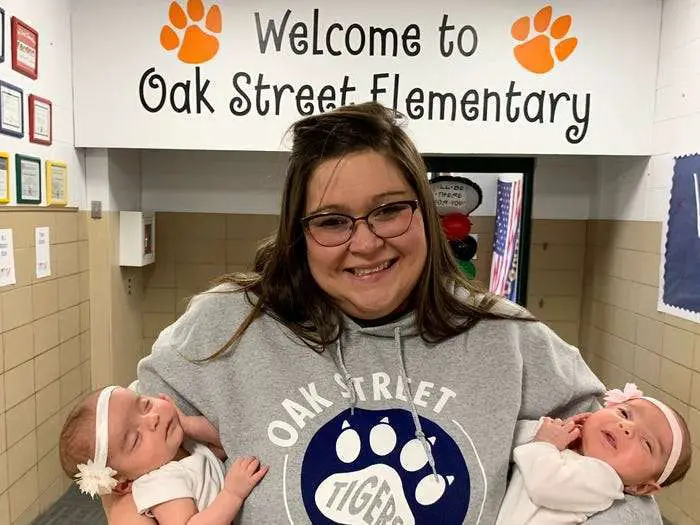 Kelli Jo Sheahon, one of the teachers who gave birth to twins in September, stated, "We always felt that Oak Street Elementary was like a little family." However, this only adds to the complexity. We're genuinely sharing our personal families, communicating with one another, and assisting one another. With our coworkers, we're sharing a more personal aspect of our lives. "
The mothers stated they have a group conversation where they share suggestions and guidance with one another.
"We are the first people we look to when we need guidance," Tara Johnson, another teacher who gave birth to a child in March, said.
Some of the other mothers, according to Sheahon, even handed her baby clothes when their children outgrew them.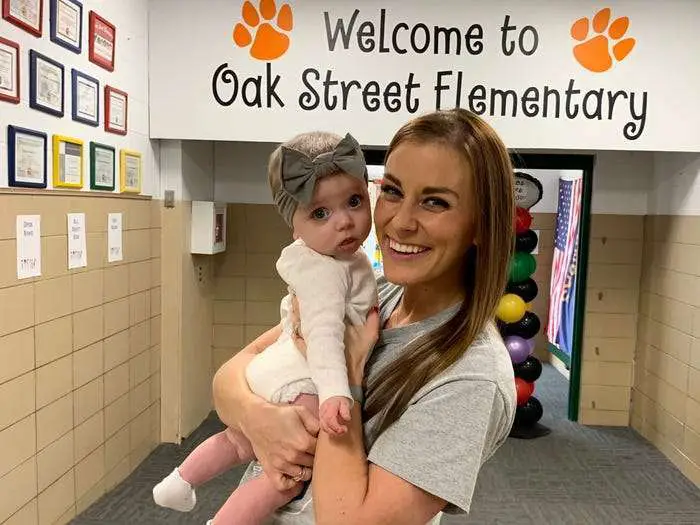 Principal Ashley Miller has been planning maternity leave behind the scenes for several months, bringing in retired teachers and principals to fill in for the mothers. Miller was working on a master plan for the school that accommodates teachers who need to breastfeed during the day.
Miller said it's been a "crazy ride," but she's glad it all worked out.
"When the last babies were born and were healthy, I breathed a sigh of relief," Miller told Insider. "We were really fortunate that all of the mothers and babies were in good health."
The women said they are focusing on raising their children and looking forward to the future, despite the fact that the teachers have become celebrities in their neighborhood, known as the "Oak Street mommas."
"I think it'll be really lovely to watch them grow up together in a few years when they all start school," Miller added.
---
Pregnant wives of firemen
Meanwhile, the wives of seven Salisbury Fire Department firefighters in North Carolina are all expecting babies at the same time.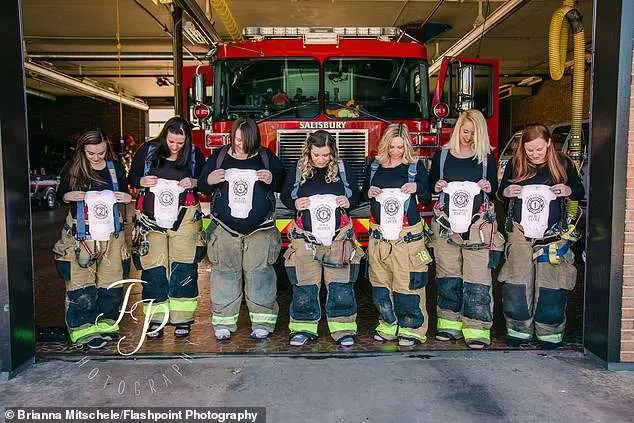 The women are due to give birth at various times between now and September.
The moms-to-be posed together in their husbands' uniforms for a picture shoot coordinated by photographer Brianna Mitschele.
Mitschele designed a onesie for each woman with the baby's name and the station's number on it.
We took a number of fun group photographs during the session, and right as we were wrapping up, the rescue truck received a medical call and left with their lights flashing and the air horn blaring, "Mitschele said on her blog.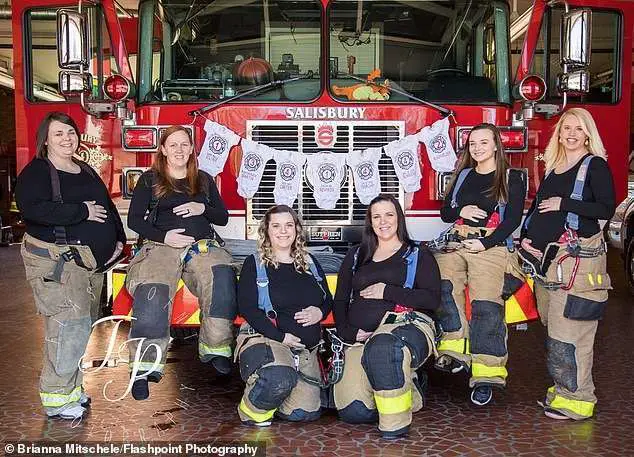 She stated that two firemen at the station welcomed babies in December and February, respectively, and that the next "little fireman recruits" is due any day now.
April, May, June, August, and September are the months when the remaining infants are due. Six of the seven women, according to Mitschele, are first-time mothers.
---
Pregnant Nurses
A hospital in Maine is currently dealing with a similar surge, with nine of its labor and delivery nurses expecting babies in the coming months.
The good news was publicized in a Facebook post by Maine Medical Center, which included a photo of eight of the nine nurses and their bumps.
The infants army is due to arrive between April and July.
---
Read More>>>
The Story Of The Youngest Mother In The World: Lina Medina
How do you explain empathy to a child? Use these 4 steps
Women gives birth to 14 lbs giant baby
Funny dad helps his daughter to dress up every day to inspire children's imagination