Who was Annie Wilkins?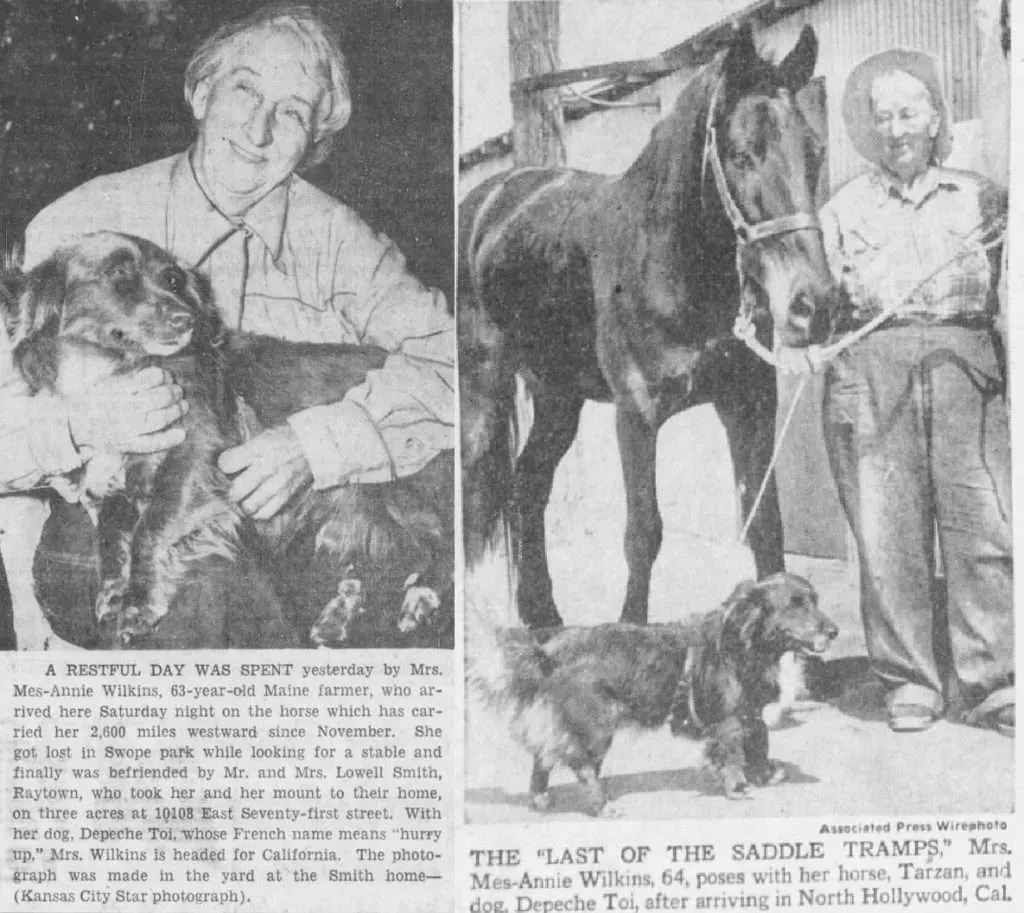 Annie Wilkins, a sixty-three-year-old Maine farmer, embarked on a challenging journey in 1954. Despite facing multiple hardships, including failed marriages, the recent loss of her brother and father, financial difficulties, and the loss of her farm, Annie had a dream to visit the Pacific Ocean before her life expectancy of two years, as confirmed by her doctor due to a recent recovery from pneumonia. Her desire to fulfill her late mother's wish to see the Pacific Ocean also motivated her.
Annie Wilkins: Defying the Odds and Following Her Own Path
Rather than following her doctor's advice to seek assistance from a state charity, Annie took matters into her own hands. She sold homemade pickles and mortgaged her house to gather funds for her cross-country trip.
Annie Wilkins dog, Depeche Toi and AnnieWilkins Tarzan
She acquired a cast-off brown gelding named Tarzan, Annie Wilkins dog, "Depeche Toi" whose French name means "hurry up," dressed in men's dungarees, and set off in mid-November, determined to beat the snow.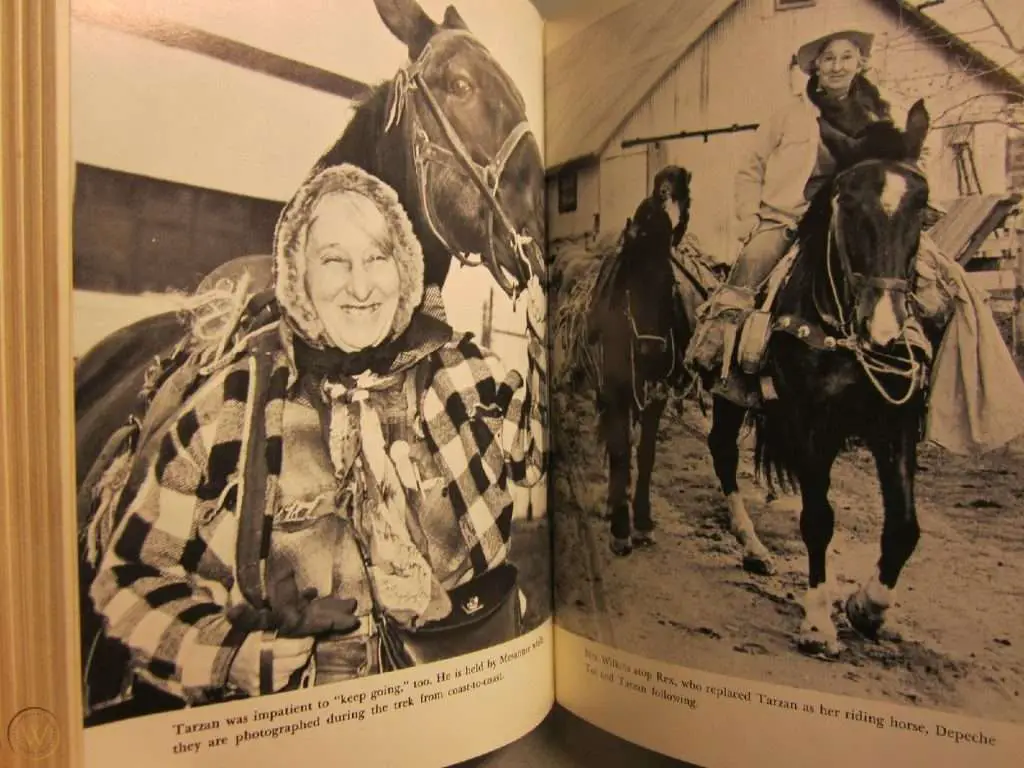 ---
Annie's Brave Journey: Encounters, Generosity, and Unexpected Opportunities
---
Annie embarked on this brave journey without a map, unaware of what lay beyond the rural crossroads. However, she had her trusty horse and her faithful pot, along with an unwavering belief that Americans would treat a stranger like her with kindness.
During her journey, Annie encountered ordinary people and country celebrities, including Andrew White (the artist behind Tarzan's sketch), Art Linkletter, and Groucho Marx.
She received numerous gifts and even received an offer of a permanent home at a riding studio in New Jersey from generous Americans.
Along the way, she found employment at a rural Kentucky gas station and received a marriage proposal from a Wyoming farmer.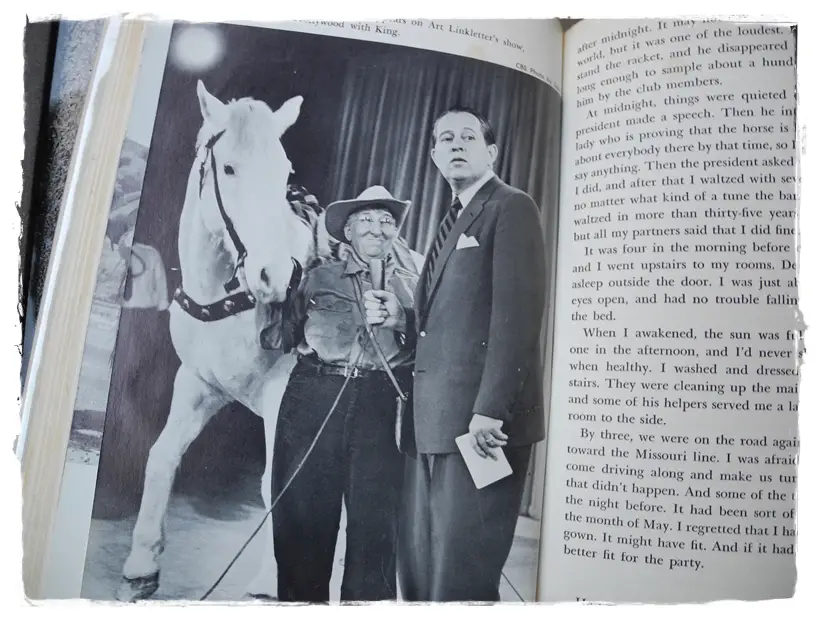 ---
Annie Wilkins: Spreading Hope and Adventure in the Changing Landscape of the 1950s
---
Annie and her fellow travelers brought hope to their neighbors in a rapidly changing world. The 1950s saw a significant rise in car ownership, the expanding influence of television, and a growing culture of frequent excursions.
Andrew Wyeth, a well-known resident of Chadds Ford and Maine, paid a visit to Annie Wilkins and celebrated their meeting with a drink. Annie had the opportunity to collect many such special experiences during her journey.
---
From Prison Stays to Acts of Kindness: Annie Wilkins' Remarkable Journey as a 'Tramp of Fate'
---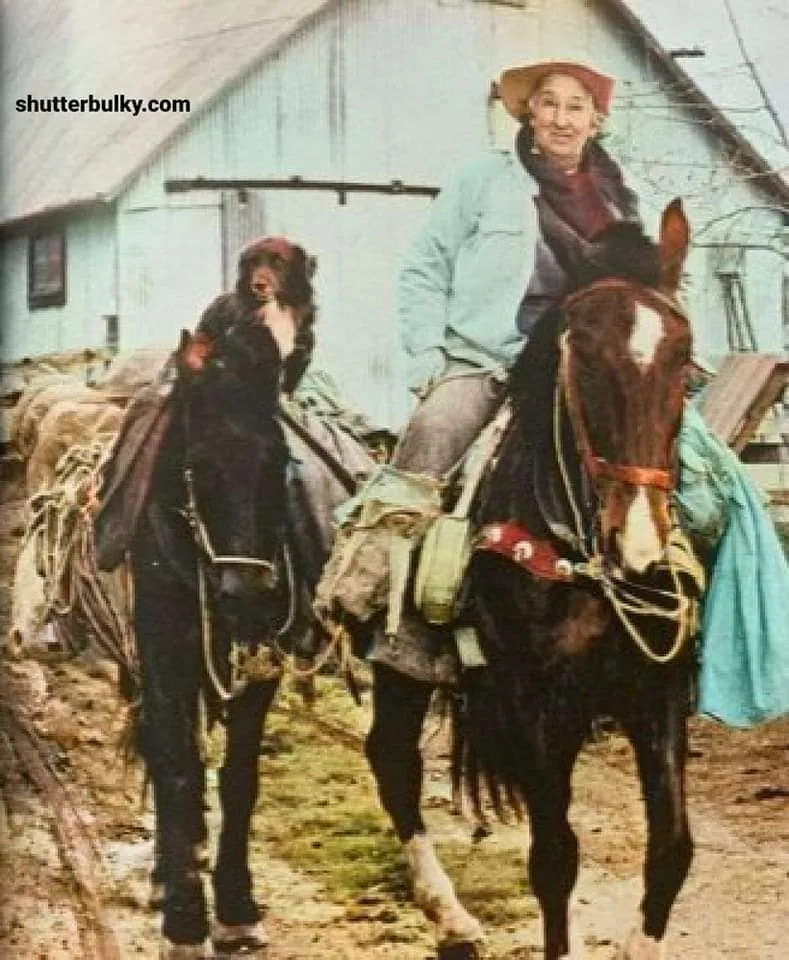 She kept her friend in Minot updated about her trip through letters. In her correspondence, she mentioned taking an extra horse and her pet dog along.
During her stay in Waverley, Tennessee, she shared stories of sleeping in prisons and hotels, emphasizing the great kindness and generosity she experienced from the people she encountered. She also expressed pride in her new life as a "tramp of fate."
As news of Annie's remarkable journey spread across the United States, she often received police protection while traveling to different cities. Journalists sought her out for interviews in parking lots.
In May 1955, according to letters to her friend, Annie was interviewed on two radio and television channels in Missouri. She also visited a local school to share her journey. During her travels, she sold self-portraits and postcards to raise money for her expenses.
In August 1955, she reached Cheyenne, Wyoming, where she witnessed the annual Frontier Days, a renowned rodeo event.
Throughout her voyage, Annie, accompanied by Tarzan, Rex, and Depeche-Toi, braved challenges such as crossing snowy mountains, avoiding poisonous snakes, and surviving flash floods while traversing Idaho.
---
Annie's Incredible Journey Comes to an End: Reflections, Curiosity, and the People of Minot
---
By December 1956, Annie completed her journey. In articles detailing her return home, she reflected on what the people of Minot would think of her. She wondered if she would ever see Minot again and expressed curiosity about how many people considered her truly crazy.
Annie Wilkins traveled for nearly two years, arriving in Reading, California, in mid-December. She experienced winter while staying in California and explored various locations in the state, finally witnessing the Pacific Ocean for the first time—an unforgettable moment in her life.
What happened to Annie Wilkins Horse?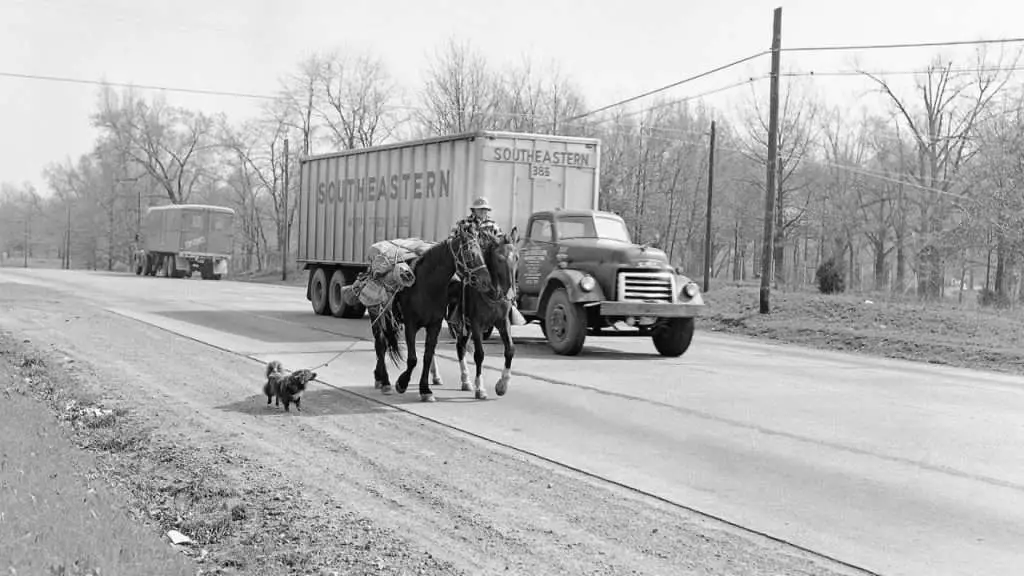 Shortly before her planned journey to Hollywood to make an appearance on "Art Linkletter Show," tragedy struck Annie Wilkins. Her packhorse, Rex, accidentally stepped on a rusty nail, resulting in a fatal case of tetanus, and sadly passed away on March 1, 1956. Despite this setback, Annie remained in California for at least another year before eventually returning to her hometown in Maine in 1957.
---
What happened to Annie Wilkins?
---
Following her memorable journey to California, Annie Wilkins returned to her beloved home state of Maine. While she did visit her hometown of Minot, her permanent residence found a new place in Lincoln County town of Whitefield, Maine, where she resided with her dear friend, Mina Titus Sawyer.
Annie Wilkins kept a diary of all her experiences on this trip, and in the mid-1960s, she teamed up with journalist Mina Titus Sawyer to write a book about her adventures. It was published in 1967 as "The Last of the Saddle Tramps"
You Can Buy Book Here : Last of the Saddle Tramps
Surpassing her initial prognosis of only two years, Annie lived an additional 24 years. It took her 12 years after returning to gather the courage to transform her diary and photographs into a remarkable book.
Annie Wilkins Grave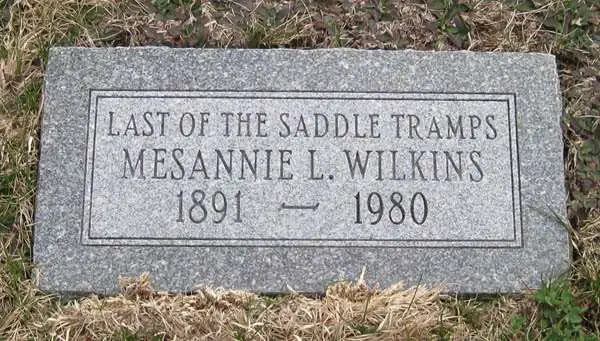 Annie Wilkins, aged 88, passed away on Tuesday, February 19, 1980, in Whitefield, Maine. She was laid to rest in the Libby family plot at Maple Grove Cemetery in Minot, ME where her gravestone bears the inscription "the last of the saddle tramps."
---
Books Published about Annie Wilkins Story
---
The Ride of Her Life: The True Story of a Woman, Her Horse, and Their Last-Chance Journey Across America – Elizabeth Letts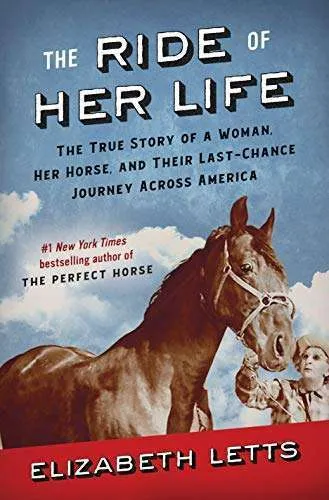 ---
Last of the Saddle Tramps: One Woman's Seven Thousand Mile Equestrian Odyssey – Mesannie Wilkins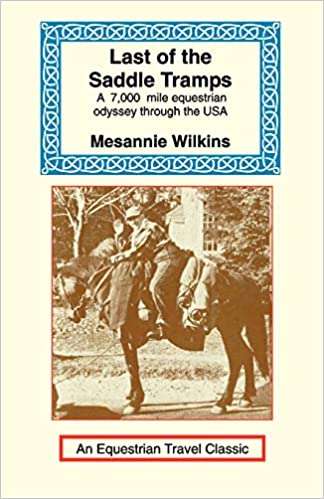 ---
Annie Wilkins Images
---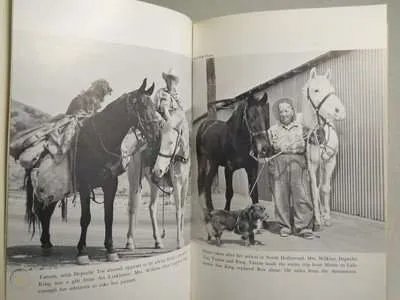 ---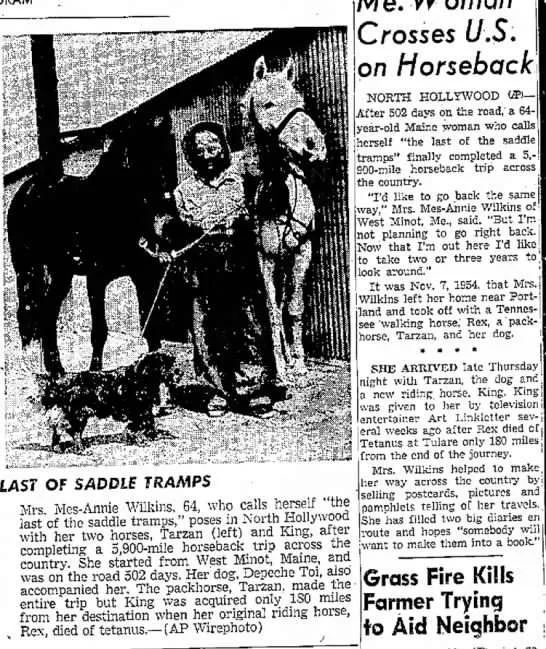 ---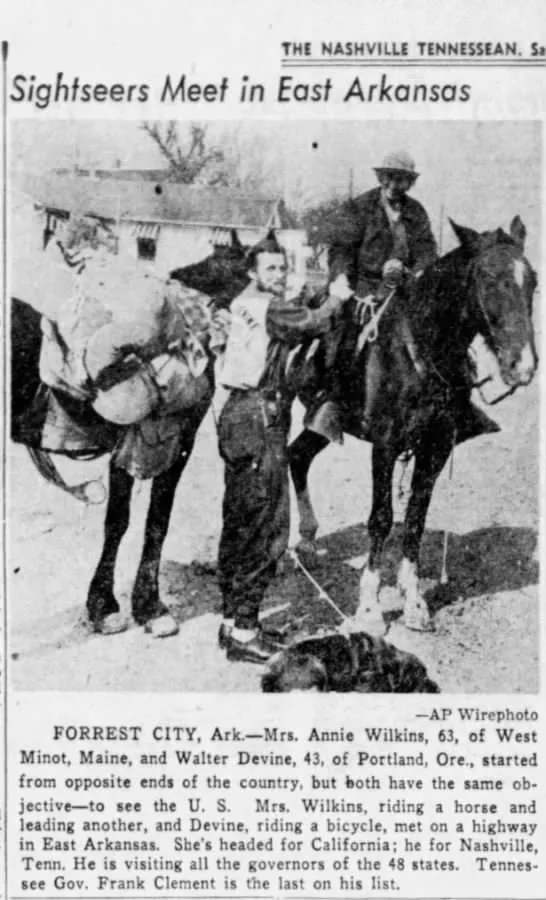 ---
All the information and photo credit goes to respective owners. DM for any removal please
---
Read >>>