The 1981 Lamborghini Countach is one of just 321 ever built; it may be worth up to $395,000 at this point.
The Ferrari 308, a 308 GTS Targa, had its wheels stolen, yet it is still worth $90k in restored condition.
There is a very good reason the cars are there, and they might be sold if the proper offer is made.
---
This might be the year's best barn find
Two classic supercars from the 1980s that had been sitting in her grandmother's garage for 20 years were found by an American student who then posted the discovery on Reddit. She is a reddit user named u/eriegin.
A 1981 Lamborghini Countach that would be worth about £350,000 if it were in mint condition and a Ferrari 308 that would be worth £80,000 if it were in flawless operational order were both coated in dust and garage clutter.
So, from where did the autos originate? And why were they allowed to deteriorate for such a long time? It may be explained quite simply.
Even though it's not clear where in the US the cars were found, Reddit user eriegin wrote about the amazing find.
She originally posted a picture of the white Lamborghini with the caption: "Despite the rust and dust, grandma's 1981 Lamborghini Countach is the coolest."
Not surprisingly, her post got a lot of requests for more pictures and information about why her grandmother keeps two very rare supercars in her garage and hasn't moved them in 20 years.
---
She then explained in a response on the thread: My late grandpa bought it for his exotic car rental business in 1989, but after insurance costs became too high for him to operate the company, he kept the car (and many others including the Ferrari 308 in front of the Lambo) outside/in leaky garages for 20+ years instead of selling them. Don't ask me why, I have no clue.
---
While the poster acknowledged that "this kind of car abuse hurts my soul," she also acknowledged that it was "incredible" and "rare" to see something so beautiful and valuable in such condition, and that the cars' sorry state distinguished them from other vehicles that have been polished and prepped by collectors.
She later said that she isn't the best person to get both cars back on the road because she is broke and doesn't know much about cars, but she hoped that someone in the family would inherit them and bring them back to their former glory.
She did, however, add that her Grandma was hoping to get rid of the cars soon and that, although they weren't for sale, she might be open to offers.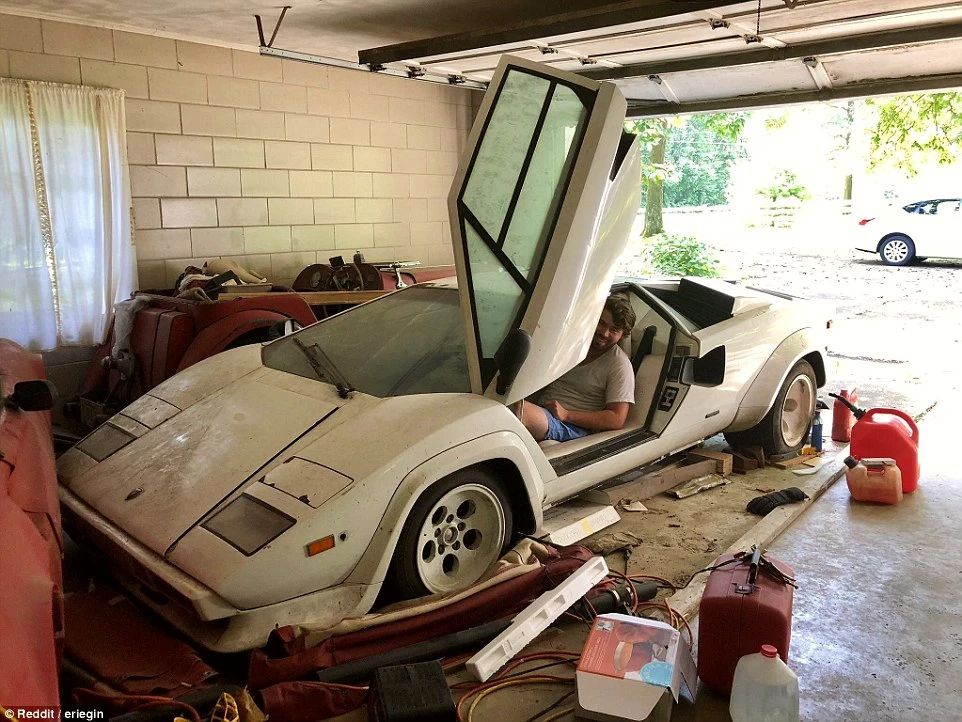 ---
Eriegin answered some questions about a boy in her photos
Let's clear some things up: these aren't my cars and probably never will be, they're not for sale (yet), they've been in this garage for less than 15 years and everyone's known they were there, so not really a "barn find." Also, to correct Lawrence Adams' linked article and for anyone else who's wondering, u/eriegin is a female. She.
And the guy in the pic just happens to be my very lucky boyfriend who came to see the Countach and assess it's condition/sit in it and make engine noises.
I'm glad this picture has elicited so much amazement and joy from the people of the internet, and that was my sole objective in sharing it. My grandma isn't senile, lives a quiet life, stays busy, and once again, these cars are not mine, so no. You can't interview either of us for your classic car magazine/website/newsletter/whatever else. Sorry. And thanks for your interest.
---
So, if someone were ready to put in the time and money to finance a restoration operation, how much might the pair be worth?
The white Lamborghini, which appeared in the 2013 movie The Wolf of Wall Street, is exceptionally uncommon.
It looks to be a limited-edition LP500 S, one of only 321 produced by the Italian firm, and built without the massive rear wing that is customary for Lambo vehicles.
If so, it will be equipped with a 4.8-liter V12 engine under the engine compartment that had a 385 horsepower capacity when it was brand new. If it had a five-speed manual transmission, it could sprint from 0 to 62 mph in 5.6 seconds and reach a top speed of 186 mph. Due to its limited production, it might be valued at about $375,000.
---
The Ferrari 308 might require a little more effort. Any aspiring restoration will need to find four genuine new wheels, as it was observed by Eriegin that the wheels had been stolen while the Fezza was parked on a trailer in a barn for years somewhere else.
This one is a GTS Targa type, just like the one Tom Selleck famously drove in the popular 1980s television series Magnum, P.I.
It is equipped with a five-speed manual transmission and a 2.9-liter V8 engine that generates 214 horsepower in US specification and 237 horsepower in European specification.
The cost of pristine US-spec cars currently ranges from $75,000 to $85,000, so it could be more challenging to turn a profit.
---
According to Eriegin, a late 1930s MG T-Type convertible is also concealed in the garage-find images, and she also informed readers that her grandparents formerly possessed a 1955 Mercedes 300SL Gullwing.
Although it wasn't confirmed, if this was still owned by the family, the automobile alone would be worth almost $1 million.
What is the story's lesson? Because you never know what you might inherit in the future, be kind to your grandparents.
---
Source: u/eriegin | All the information and photo credit goes to respective authorities. DM for removal please.
---
Related:
Barn Find Cars: Abandoned Garage Packed With Lamborghinis, Ferrari, Porsche, '67 Shelby GT500… and More Worth of $2M
1961 Chevy Impala: Saved From Sitting In A Garage For 3 Decades