1961 Chevy Impala, which eventually got rescued after being locked up in that garage for almost three decades.
From time to time, we hear of incredible barn finds; here, we'll tell you about a 1961 Chevy Impala that had been sitting for 28 years.
The video was uploaded to YouTube by the channel known as Dezzy's Speed Shop. In it, the author records the travel to the vehicle, which appears to be quite a distance away.
He gets to know the owner, and they begin talking about the automobile. The owner relates the tale of how he only drove the car once after he originally purchased it, and after that, he let it sit in the garage for almost 28 years.
The Chevy Impala is covered in dust, and the owner claims he has no idea what kind of engine it has; however, the carburetor seems missing.
Even though both the interior and exterior are covered in dust, the automobile does not appear to be in terrible shape, particularly when one considers the length of time it has been stored in a garage.
After that, the hood was opened, and although they did not know what kind of engine was below it (it had the ram horn exhaust thing on it), they speculated that it was either a 283 or a 327.
It took an hour to bring Chevy Impala from the garage into the house and load it, but the effort was well worth it because it was such a fantastic find.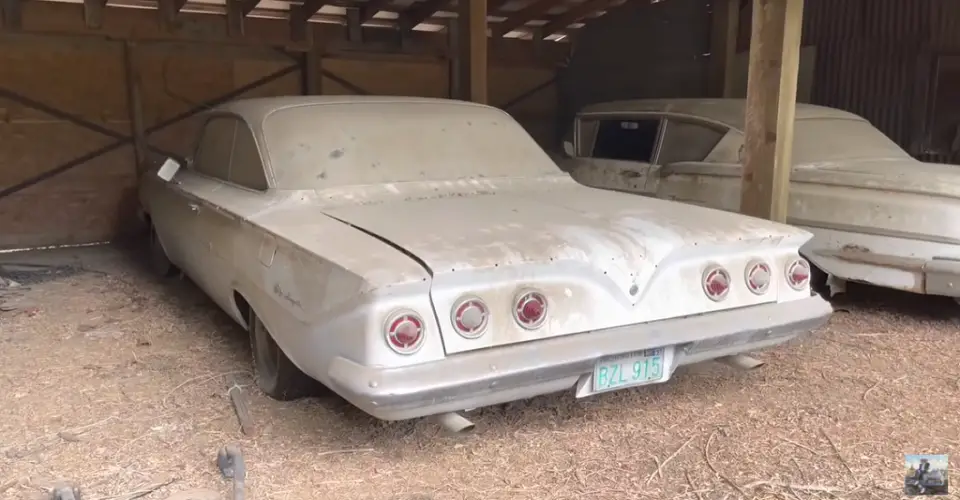 You can watch the video footage here
---
All the information & photo credit goes to respective authorities. DM for removal please.
---
Related: 1971 Chevrolet Camaro Z28 – Amazing Restoration Process, Technical Specifications And Analysis