Chris Porsz, a British photographer, is best recognized for his groundbreaking "Reunions" project, which documents people's daily lives in Peterborough, Cambridgeshire. Porsz has been working on his project for more than 40 years and is seen to be a reference to plain street photography.
His project is distinctive in that it depicts the same people posing in the same locations years after the initial shot was taken. For the past fifteen months, Chris has been hard at work on Part 2 of his "Reunions" project. The first photos date back to the 1970s.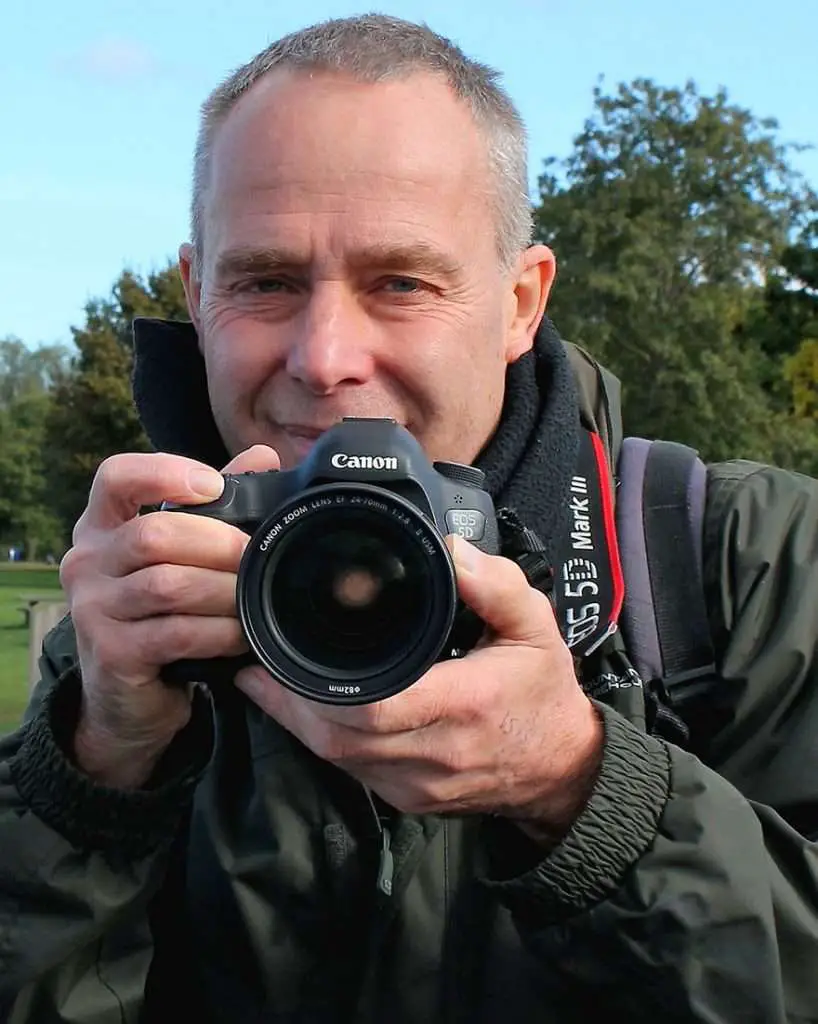 "For many, seeing a snapshot of their younger selves brought back great thoughts of a day they had forgotten," Chris said in his photography book, "Reunions 2." Many people were happy to have a picture taken of them at an important time in their lives that they wouldn't have had otherwise.
Thank you so much to the strangers who have become friends and who have allowed me to share their fascinating lives with you in order for Reunions 2 to take place.
In 1972, I acquired my first camera, a Kodak Instamatic, to chronicle a frantic three-week hitchhiking trip across Europe and North Africa with my then-girlfriend, Lesley. Because the photos were awful, I purchased a better camera to take images of my family, and I quickly acquired a passion for photography.
I dropped out of my social work school and spent thirteen years working as an A&E porter in a hospital. Rather than writing long, tiresome pieces, I spent my free time in the early 1980s traveling the streets looking for inspiration and documenting everyday life by pointing a camera at society. I still find it amazing that with the push of a button, I can capture a moment in time and satisfy a creative impulse.
01. Gluttons, Vikings, and Frogs (Original 1989 – August 2020 Reunion)
Paul Yates worked as a street sweeper for 20 years in Peterborough before being medically retired in 2006. In 1989, he was captured on camera utilizing the "Green Frog" cleaning device on Lower Bridge Street. Paul, a married father of three, went back to the same street for the reunion shot with "The Glutton," the city council's latest cleaning tool. Paul, who continues to reside in Peterborough, has been leading the Viking reenactment organization Clan Wulfhar for 30 years and frequently speaks at educational institutions across the nation. They also stage large fights across the nation and set up encampments with 20 tents.
02.Twelve Psychobillies (originally formed in June 1983; reformed in August 2020)
Greg Brown, Dave Kennedy, Dave Baines, and Neil Tucker, four young men, were seen on camera at Peterborough's Cathedral Square. Over time, they have all kept in touch with one another.
Now we're on Facebook
03. Lesley and Chris Porsz (Original 1971 – January 2021 Reunion)
When they were seen in the Peterborough Evening Telegraph in 1971 after travelling over 6000 miles across Europe and North Africa in just three weeks, Chris was a student, aged 18, and Lesley was a BT administrative assistant, aged 20. Since their 1976 wedding, three children and seven grandkids have been born to them.
04. Scoop Purchase (Original 1980–Reunion April 2021)
In Peterborough's Bridge Street, brothers Mark and Matt Court (from left to right) were captured on camera munching on chips while their mother was out buying shoes. We had no idea the photo had been taken, but a friend who saw it on Facebook recognized me, according to Matt. My mother cried and adored it when she first saw it. In the picture, Mark was about two and a half and I was probably around a year old.
We believe that mom was buying our dad's cowboy boots. Both Mark and Matt attended the same school as Chris Porsz's kids. They currently reside in Birmingham, where Mark, a married father of three boys, is the head teacher of a primary school, and Matt works as a carpenter. Matt will shortly return to Peterborough.
"It was wonderful to go back and recreate the photo and meet up with the family," he continued. I currently have a copy of the image up on my wall. Nowadays, the shoe store is Ladbrokes. Thank you very much to Sally Wells for letting us use her stroller and to the Salvation Army Superstore in Long Causeway for the props for the reunion picture.
05. Dad and Daughters, (Original 1994–Reunion April 2021)
In 1994, a picture of Dr. Richard Scott and his three daughters was taken in Peterborough's Bridge Street. The man claimed: "I believe it was a Saturday, and my wife would have been working in the hospital while I would have taken the girls out in Peterborough," the man claimed.
At Peterborough District Hospital, Richard worked as a general practitioner and performed endoscopies on the weekends and in the evenings. In 2019, he retired, although he has recently come back to assist with COVID vaccines. Caroline Scott, his wife, quit her job as a radiographer at PDH and Peterborough City Hospital and became a stay-at-home mom.
06. Andy Ireland (Original 1981 – 2020 Reunion)
Andy Ireland, a former physiotherapist to Sir Andy Murray, donned a chimney sweep costume for the Gladstone Street Carnival fancy dress contest in 1981. Today, he serves as a consultant at a facility in the heart of London.
07. Snoggers! (Original Christmas Eve 1980 – Reunion October 2020)
On Christmas Eve 1980, Rhyder Hunt and Julie Gracey (née Davies) were photographed kissing in Peterborough's Cathedral Square. They belonged to a group that socialized at scooter rallies and enjoyed Northern Soul.
08.Tea Time (Original Circa 1983 – September 2020 Reunion)
Anita Downs, Jane Kew, Maggie Moore, Karen Belson, and (left to right) the friends would frequently take their tea break at around one in the morning because they all worked evenings.
09. Madhouse (Original 1991–Reunion August 2021)
In a 1991 photo taken in Peterborough's Bridge Street, Emily Wright (née Adams) and her brother Jimmy Adams are seen sitting in the doorway of the Madhouse store. Along with their two other siblings, Emily and Jimmy were raised in Werrington Village and went to The King's School in Peterborough.
10. Boy To Man (Original 1982 – Reunion February 2021)
In 1982, when he was just four years old, Mohammed Mustafa was spotted hiding behind the wall of his house at 64 Cromwell Road. He has five kids and is currently employed in the Peterborough Tesco warehouse. His mother still resides in that home.
Chris said: "It was great to see how he now towered above that wall and to be able to stop and converse about those intervening years. When I shot Mohammed's picture nearly 40 years ago, I never believed I would ever see him again.
11.The Famous Five (Original 1980 – May 2021 Reunion)
The Gladstone Street sign shows friends Nasar Ali (left), Ali Shauqat (center), Mohammed Shanawaz (right), Khalid Mahmood (crouching on left) and Mohammed Riza (crouching on right). In 2010, they got together again for a photo, but Khalid Mahmood was not there, so Mohammed Shanawaz's twin brother Muhammad Shazad filled in. In May 2021, all the boys showed up again for the fresh reunion photograph.
12.Emma and Abbey (Original 1996 – March 2021 Reunion)
Friends Emma Porsz, daughter of Abbey Gordon and Chris Porsz, was captured in 1996 while shopping in Peterborough's Westgate. "I've known Emma all my life," Abbey remarked. "Our mothers were best friends, and we were born a month apart. We attended the same preschools and elementary institutions after that.
In the original photo, I believe I was around 14 years old. We would meet up every Saturday at 9 am and wouldn't get home until 5 pm. We would travel to Westgate to go shopping and meet up with other buddies. Abbey is currently a Morrisons employee and resides in Stanground. She is getting married the next year and has three kids.
"Abbey and I used to go to town every Saturday, shopping and watching the boys," Emma said. When my dad spotted us and called our names, we quickly turned. It was wonderful to reconnect after so many years. It appeared as though nothing had changed. Emma, who is now a mother of two, was a devoted athlete in school and then went on to become a PE instructor and personal trainer. In order to stay in shape, she likes to go boxing, go camping, go trekking, and work out in the garden.
---
Source: 121clicks | Please dm for further credit or removal
---
Read more: Bodybuilding Grandma, Janice Lorraine only eats "nude food menu" to stay in shape