In November 1973, the Ferrari Dino 308 GT4 made its debut at the Paris Motor Show. The "Prancing Horse" emblem, which replaced the Dino insignia on the hood, wheels, back panel, and steering wheel while keeping the Ferrari Dino 308 GT4 logo on the rear boot lid, was ultimately applied to the Ferrari Dino 308 GT4 in May 1976.
Over the years, this has greatly muddled owners, aficionados, and judges. Many potential buyers were apprehensive about purchasing such an expensive vehicle not badged "Ferrari" during that time's energy crisis since they didn't understand the significance of the Dino moniker. Dino was the name given to the vehicles in honour of Enzo Ferrari's son, who passed away in 1956.
The history of Ferrari Dino 308 GT4
Dino was used up to the end of 1976, when, on account of public demand, Ferrari was adopted. The vehicle was still being produced as of late 1980. The Ferrari Dino 308 GT4 was unveiled at the 1973 Paris Salon as a 2+2 model to go along with the two-seater 246 GT/GTS in the Dino lineup. Like its brother, it was designed with the purpose of being a separate brand from Ferrari and did not feature any Ferrari badges.
The chassis numbers for the 308 GT4 vehicles were in the specific Dino even number series, which they kept even when they were produced alongside the 308 GTB/GTS series, which was the real 246 GT/GTS replacement and had chassis numbers in the typical Ferrari road car odd-number sequence.
The Mondial 8 model replaced it after a seven-year production run that lasted until 1980. Due to differing statutory restrictions, which were becoming more common, left-hand drive and right-hand drive were available, with model specifications varying for various countries.
Ferrari Dino 308 GT4 evidently believed that this model's compliance with various laws was desirable because it was produced in very large volumes compared to 12-cylinder automobiles of the era, which were only offered in markets where compliance was reasonably simple.
Similar to the 246 Dino, the model title's numerals indicated the engine's total cubic capacity, number of cylinders, and number of liters, in this case 3 liters and 8 cylinders, with the number 4 indicating the number of seats. The new vehicle was Ferrari's first mid-engined 2+2 model and their first V8-powered production road car, even though it was initially sold under the Dino moniker.
---
Related: "Three Million Mile Volvo Man" Irv Gordon's Amazing Story
---
Due to the country's harsh tariffs on vehicles with engines larger than two liters in size, the 208 GT4 was introduced in 1975 as an exclusive model for the Italian market. There was also a version for the US market, which could be recognized by its large, bulky bumper units and side marker lights mounted in the front and rear wings.
There was just one noticeable cosmetic modification to the major European market models during the model's production, and that was in the radiator grille's design and driving lamp placement. These are typically referred to as series 1 and series 2 vehicles informally. Series 1 cars had a rectangular grille that was narrower, deeper, and had the driving lights outboard of them, whilst Series 2 cars had a full-width grille with the driving lights behind it at the extremities.
Due to intermediate alterations with the bumpers and badging, the cars sold in Italy and the USA did not have driving lights, and in the USA, they typically refer to three series of vehicles.
In an effort to increase sales prior to the formal re-badging in 1976, Ferrari released factory update #265/1 on July 1, 1975, with numerous mechanical and aesthetic changes in an effort to increase sales. Dealers executed some of these changes separately. Some only made a few revisions, while others made all of them. So, many 1975 GT4s have a wide range of changes that make it hard to prove that they are "right" for car fans who may not know about the complicated chain of events that led up to this model year.
Prancing Horse emblems were added, the bottom half was painted matte black, the Boxer two-tone paint scheme was applied, and other changes were made to the vehicle's air conditioning system, among others. For North American versions, it also included revisions to the bumper and exhaust. In 1975, the year Niki Lauda won the Formula One Drivers' Championship and Ferrari won the constructors' title, the Ferrari Dino 308 GT4 was the only Ferrari that could legally be imported into the United States. The GT4 was the only 2+2 Ferrari to have factory backing in a race.
Ferrari Dino 308 GT4 Designed by Bertone
Surprisingly, the new model was dressed in a Bertone design rather than a Pininfarina one because of their long-standing tight ties with Ferrari. The Fiat Dino coupé is said to have been designed by Bertone, and he says that Fiat suggested that they be given the design brief for the new car.
The 308 GT4 was the last Dino model still in production when the 246 GT/GTS variants went out of production in 1974. Due to the 365 GT4BB and 365 GT4 2+2 models' lack of market homologation, Ferrari dealers in the United States of America could only offer this model to customers.
As a result, the sole "Ferrari" they offered for sale didn't even have a Ferrari emblem, and to make matters worse, the performance was slightly constrained by the pollution control technology. This hurt sales, so in the middle of 1975, the factory told USA dealers to put new Ferrari badges on the cars they already had in stock.
---
Related: 1948 Norman E. Timbs Buick Streamliner Got A Second Chance After Wildfire Scorch
---
After that, cars left the factory with Ferrari badges, and the only sign of the name Dino was a script badge on the trunk lid.As a result, certain vehicles sold in the USA bear both Ferrari and Dino badges, and at the same time, bumper alterations were made there.
So, the USA versions of cars with a deep radiator grille can have different badges and bumpers, which led to the three model series that have already been talked about.
A total of 2826 308 GT4 cars were created during the production era, while 840 208 GT4 models moved through the manufacturing process.
Bertone made a mid-engined 2+2 vehicle with a wheelbase that was only 210mm longer than that of the two-seater Dino 246 GT. They did this despite having to work with very limited dimensions.
Ferrari Dino 308 GT4 has angular body shape
While the 208 GT4 chassis carried type reference F 106 CL 100, the Ferrari Dino 308 GT4 had a tubular chassis with manufacturer type reference F 106 AL 100.
All four wheels were equipped with disc brakes, independent suspension using wishbones, coil springs, and hydraulic shock absorbers, as well as front and rear anti-roll bars. Some really good design elements were included in the angular body shape, such as the air intakes in the shape of a boomerang on the sail panels that surrounded the rear quarter glass and the tunnel effect created by the inner sail panels on the flat vertical rear screen.
The cooling air from the left side intake was ducted to the oil radiator, and the right side intake was ducted to the carburetor air filter. The overall form was extremely balanced and compact, and it has endured the test of time much better than some of its contemporaries. Even though the engine was in the middle of the Ferrari Dino 308 GT4, the back seats were usable, much more so than those of the 365 GTC4. However, legroom was tight unless the front seats were moved far forward.
Even while the back seats were "cozy" for the passengers, there was still plenty of room for extra luggage. On mid-engined cars, having enough usable luggage room has always been an issue.
The Ferrari Dino 308 GT4 had a separate, intelligently formed boot at the rear of the engine, just like the 246 Dino, but unlike that vehicle, even with an insulated floor, it was heated by the exhaust silencers underneath it. If a space-saving spare wheel was installed in place of the conventional one, there would be additional luggage room beneath the front lid for delicate items.
Ferrari Dino 308 GT4 has V8 engine
The 90-degree arranged V8 engine had twin overhead camshafts that were powered by belts in each bank, a total displacement of 2926cc, 81mm of bore and 71mm of stroke, and factory type reference F 106 AL 000. The 12-cylinder engines from the 365 series of the time shared the same bore and stroke.
The engine for the Italian market was of nearly the same design, but it had a 1991cc displacement, the same bore, but a shorter 66.8mm stroke, and factory type reference F106 C 000.
Following the principle established on the Dino 206 GT and 246 GT models, the engine was transversely positioned in conjunction with the all-synchromesh five-speed transmission, which was below and to the rear of the engine's wet sump. The exact specs depended on the market and how many distributors were installed, but it had a bank of four twin-choke Weber 40 DCNF carburetors in the middle of the vee.
Early series twin distributors were driven from the left end of the inlet valve camshafts in early series European vehicles, as well as all vehicles sold in the USA and Australia. Beginning in 1978, second-generation European vehicles had a single distributor that was powered by the forward inlet camshaft together with an electronic ignition system.
The claimed power of early European cars ranged from 255 horsepower (hp) to 205 horsepower (hp) in late-series US cars with catalytic converters. The 2-liter Italian market version was said to have 18 bhp.
Ferrari Dino 308 GT4 Review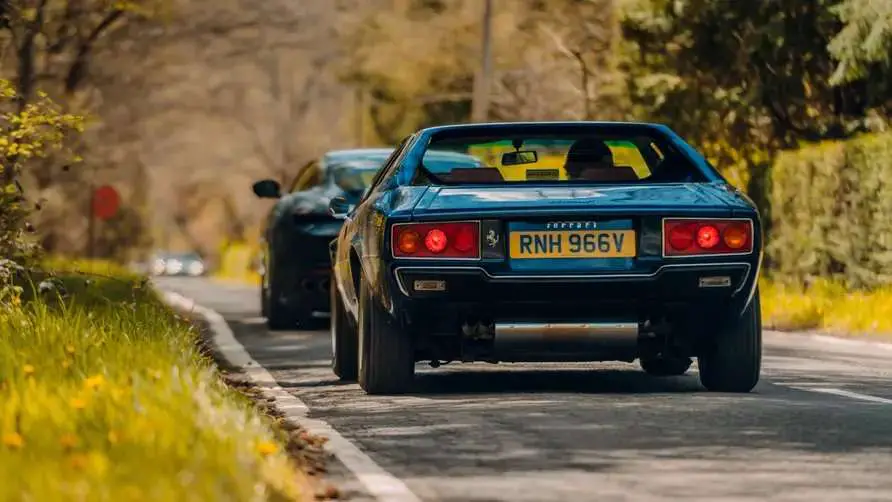 Finish with practicality and get back to performance.
The Ferrari Dino 308 GT4's performance might be fairly characterized as "of its time," but that doesn't mean it's sluggish. How confidently you handle its magnificent open-gate, dog-leg five-speed manual gearbox will largely determine the acceleration figures. To get the most out of a seventies supercar like this, you need a precisely balanced blend of strong limbs and delicate control. No whip-crack twin-clutch sorcery will spare any blushes here.
But although it weighs only a tonne, it moves quickly enough. Expect a 0-62 mph time of slightly less than seven seconds and a top speed of 158 mph. When you're in a Ferrari Dino 308 GT4, the world comes at you quickly enough and is really not bad at all, with the driving position basically directing you at the center of its goldfish-bowl windscreen.
What were the results?
Since the beginning, Ferrari Dino 308 GT4 has been one of the least expensive ways to purchase a Ferrari. Despite this, don't be fooled; it's still a mesmerizing automobile to manage, much less drive.
It used to be possible to browse classified ads for F355s if you had £50,000 to spend on a used Ferrari, but no longer. The Ferrari Dino 308 GT4 is one of the few cars that can brag about being so cheap, which isn't a good thing, but we'd argue that you want one of these more than the replacement for the Mondial, which costs a few thousand dollars less.
Not the least of which is that it has a 1970s supercar vibe. It's unique at all speeds and carries a feeling of occasion with it everywhere it goes, making it much more alluring to be around than you might anticipate of a Ferrari that wasn't even originally advertised as one. If you shop wisely, with a professional, and with a thorough inspection, you can get a fascinating piece of exotica for less than the cost of an awkwardly equipped Audi TT. Additionally, one has roomier back seats.
---
Related: La Marquise: The World's Oldest Running Car Sold for $4.62 Million
---
What is driving like?
Therefore, Ferrari Dino 308 GT4 yearns for positivism and self-assurance. But once you get inside and realize all those clichés about offset pedals on seventies supercars are true, you'll understand. Man, you have to bend your body to use this device properly.
On the plus side, you might be driving a single-seater with your legs canted so far towards the center of the vehicle that your torso appears to do the same, giving you an unmatched view of the road ahead. Additionally, you have a strong sense of being at the front of the car, which heightens the sense of speed beyond what you might anticipate given its six and a half second 0-62 mph time.
Oh, did it feel quick?
The fact that you can feasibly rev out a few of its gears makes it more than speedy enough to be exciting (freeing a fully mechanical V8 symphony in the process). That is still feasible in a contemporary Ferrari, but your nerves are a little bit calmer in this situation. and much safer for your license.
The non-assisted steering is heavy at most speeds, the transmission is laborious, and even with the optional air conditioning flowing, this is a very uncomfortable atmosphere in which to conduct business. In the end, though, that is what makes the experience. Any worries that one of the used Ferraris for sale would be one of the least powerful are immediately allayed. By the first corner, you'll be panting and puffing but smiling.
Is that corner frightening?
No, not at all. Although Side-Slip Angle Control and a suite of initialisms were not even thought of when this Ferrari (sorry, Dino) was designed, the comparatively low torque ensures that oversteer is not a problem without the aid of a computer. The 308's thrill is that it seems alive and alert without you needing to fling it around—a trick Ferrari has kept up to date—and that older-generation brakes and tyres are more than capable of keeping your stomach in check when you do. Phew.
How does it feel on the inside?
So the interior of Ferrari Dino 308 GT4 is little stuffy. With its abundance of dials, toggle switches, and temperature sliders arranged like the confusing controls of a starship, it is also intensely thrilling and intriguing. At first glance, it's delightfully bizarre and serves up authentic supercar drama, yet it's quite simple to understand. In sharp contrast to the mind-boggling touch-sensitive pads in the Ferrari Roma, its contemporary equivalent.
One advantage of not having a ton of airbags inside or any other genuine gestures to occupant safety other than "much visibility" is that it is also far roomier than the Roma. There is enough room in the front if you get used to your legs sticking out too far from your body, and there is plenty of space in the back if your legs wrap around a seat like you need an intimate inspection.
Also easy to see out of?
The requirement for large amounts of active safety equipment in current cars is rendered unnecessary by the abundance of glass. You won't notice the beeps and bongs of a computer brain keeping an eye out for you at intersections thanks to the Ferrari Dino 308 GT4's enormous wraparound windscreen and so thin they're hardly there A-pillars.
Any additional highlights?
Yep. A nerdy benefit of the Ferrari Dino 308 GT4's small pedal box is that the long, slightly intrusive, hinged throttle pedal changes the art of "heel and toe" to "any part of your trainer you like and toe."
Scalpel-sharp reaction ensures that you almost always make the appropriate choice; this is impossible with today's clumsier, more environmentally conscious throttle pedals. The Ferrari Dino 308 GT4 isn't so ancient that it absolutely demands blipped downchanges, but it will motivate even the most clumsy driver to make them.
Q & A
How much is a Ferrari Dino 308 GT4?
A Ferrari Dino 308/208 GT4 costs, on average, $63,393.
What is a Ferrari 308 worth?
According to the Hagerty price guide, Ferrari 308 prices range from $43,000 to $200,000. They are a great way for new collectors to start out with Ferraris, and they are also a good choice for collectors who want to move up.
What's the cheapest Ferrari?
The Portofino is the least costly Ferrari currently on the market, yet no Ferrari can be classified as entry-level. The base price of this classy roadster is around $215,000 before options, and like any Ferrari, there are many choices available. Most Expensive: The SF90 Stradale is a display of Ferrari's performance prowess.
What is better Ferrari or Lambo?
Ferrari has a rich racing history, a certain sense of status, and nostalgia that many drivers desire. Lamborghini stands out as a car manufacturer that captures your attention and doesn't let go by offering greater power and innovation. Both provide excellent driving sensations, speed, and elegance.
Which car is only 1 in the world?
1962 Ferrari 250 GTO. There are many valuable Ferraris that money cannot purchase, but the 250 GTO is the best of the best. The car is hard to find now because only 39 of the original 1962 model were ever made.
---
Source: Wikipedia, Ferrari, Topgear | All the information & photo credit goes to respective authorities. DM for removal please.
---
Read More >>> 93 Aged Florida Woman Reached 567,000 Miles In Her 1964 Mercury Classic Car