Brutus the Giant Crocodile become a local celebrity due to fight with a shark.
If there is a fight between a crocodile and a shark, who will win? You think that this is a very stupid question. But a group of tourists were able to witness such an experience while touring the Adelaide River.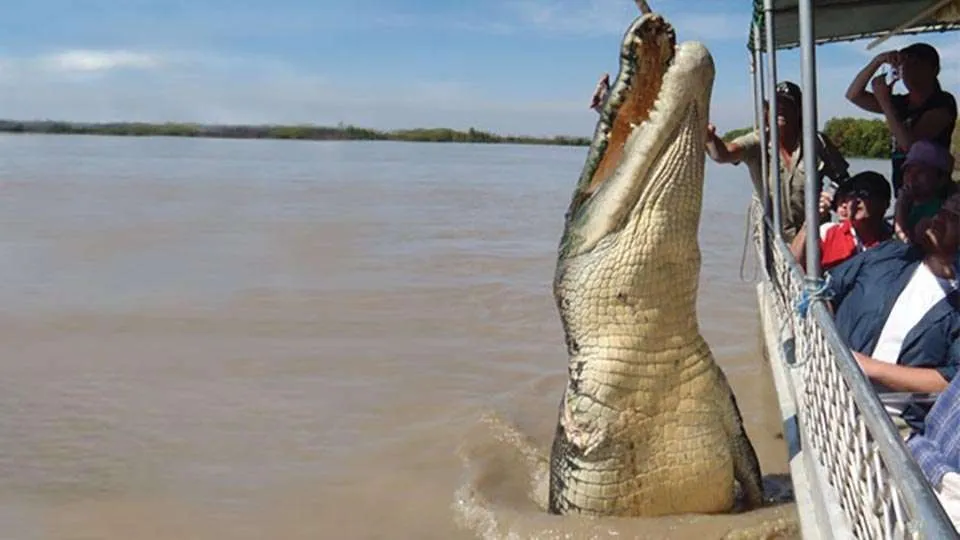 The crocodile gained international attention when images surfaced of it eating a shark in Adelaide. Brutus crocodile is believed to be 80 years old and missing a front leg that was reportedly lost in a fight with a shark.
Andrew Pice, who lives in Sydney, described his experiences. During this family trip, they have seen a large crocodile holding something big in its mouth. About 5.5 meters long, 80 years old, this crocodile weight about two tons. It is hard to believe that such things are happening in River Adelaide.
"We were on our way back to the jetty.  When we saw it, it was hard to believe at once. We never really thought that we would see sharks in this river. We came on this trip by thinking of watching crocodiles. Specially this Big Croc A.K.A. Brutus crocodile. Very clearly we saw that the shark trapped inside the crocodile's mouth was still alive. Then he took the shark some more in to the mouth and went to the mangrove. I think he was too old to hit it with his teeth".
According to Mr. Pice, the shark's length is between 1 and 1.5 meters. There were 25 tourists on the boat at that time and they thought it was the last moment of their lives because of the sudden turbulence in the water. Mr. Pice has been traveling across Australia with his wife, Nikki, and daughter for four years and also a photographer. "I always try to capture hard things. Ask my wife.. I've captured everything she sees. I've taken about 6,500 photos in the last four months."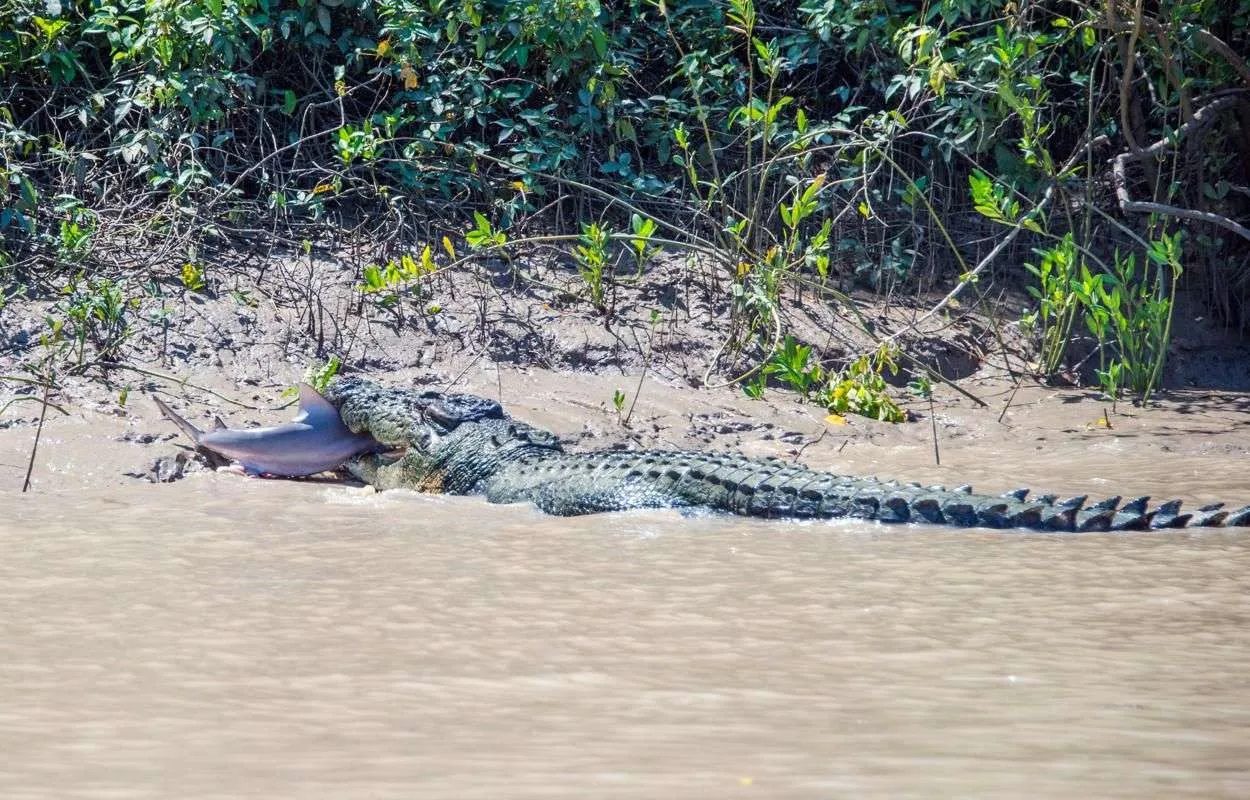 Brutus Crocodile's sudden attack is one of the most significant on this river to date. A spokesman for the Tauranga Zoo said a shark could normally avoid a crocodile in deep water, but at shallow depths it could "completely" surpass a shark."Crocodiles are a bit opportunistic.
They will eat anything they can get their hands on. When you deal with a five-meter crocodile, they have great potential. Here you have a meeting of two top predators, this time the crocodile managed to catch the shark." It uses its great strength to win".
Harry Bowman, the owner of Adelaide River Cruises said that "We get a lot of inquiries regarding Brutus," We get a lot of phone calls, are you the one who looking after Brutus? Can we have a boat tour to see Brutus Crocodile? You could say he's a local celebrity now. "He's been with us for quite a few years, we can't guarantee he'll be on all cruises, but he makes appearances quite regularly." Brutus' appeal, he says, is his "tall stature and the fact that he is missing a leg."
When tourists see it, "they're quite astonished," Bowman said. It's pretty horrible for them. Many people who come on these cruises have never seen a crocodile before. Seeing them so close in nature, I think they are amazed. It's like seeing a dinosaur, that's what a lot of them say. "There are some amazing sites to see here. Seeing the jumping Crocs was pretty amazing, but then seeing that…? I think it's going to be pretty hard to get over it," he said.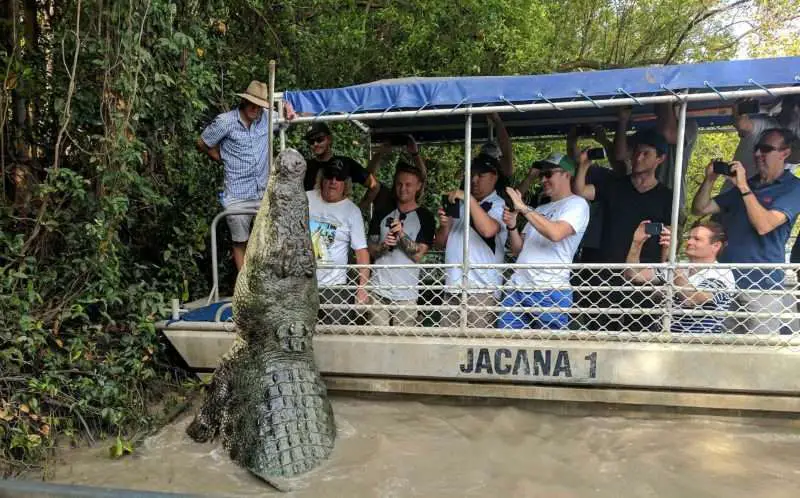 There is an untold story also hanging around behind this. In this Adelaide Cruise tourism, people can see another giant Croc also. He identified as a Dominator of Brutus Crocodile. Regular tourists of cruise believe only Dominator could be responsible for Brutus's new battle scars.
And also Adelaide River Cruises co-owner Morgan Bowman believes it is more likely an outsider trying to muscle in to Brutus's patch who was responsible. Mr Bowman said that "Dominator doesn't like Brutus Crocodile, that's for sure, but we take care to keep them separately,"
"The Dominators certainly don't like it, but we make sure to keep them separate," Bowman said. "He's recovering well, but it's actually going to take a while … We are very careful in feeding him. We are not doing anything which cause to his injuries worse." Finally he said the two hawks in the legend had learned to stay apart for years and respected each other.
---
Brutus, the Giant Saltwater Crocodile of the Adelaide River
---
All the Photo and information credit goes to all respective owners. DM for removal please
---