The Cleveland deaf dog's story is entitled "DEAFinitely Awesome: The Story of Acorn." Acorn's book helped other dogs like him find their forever homes while also making him an international celebrity.
Acorn's story begins in a shelter, which is where many dog stories begin. As a young puppy, he was picked up and brought to Cleveland Animal Care and Control (known today as City Dogs). Acorn, an American Staffordshire Terrier, had a stunning snow white coat and was very attractive, but his manners were not the best.
Acorn was only four months old when he was taken to Cleveland Animal Care and Control (CACC) by a Good Samaritan, so it's understandable that he quickly became bored in his tiny concrete and steel cage that lacked a bed, toys, and blankets.
"When Mary contacted me regarding Acorn, I reassured her that being deaf is really not a big deal." Simply teach Acorn-like dogs a little bit differently. Furthermore, the inability to hear is sometimes a benefit rather than a flaw.
"Thunderstorms will not wake up deaf dogs. When the doorbell rings, they won't panic. They have restful sleep. I regularly bring my deaf Dalmatian to the fireworks displays because they don't mind loud settings".
"It has been wonderful to watch Acorn grow and develop into a global ambassador for deaf puppies. And I'm overjoyed that he keeps helping other CityDogs who are still up for adoption". CityDogs representative Said.
Acorn's Old Days
"They weren't allowed to have toys at the old kennel. They were unable to have a bed. Mary Motley, a volunteer at the kennel and a dog owner with a lot of experience, says that's why he was bored.
They would fill up his water bowl, and when someone passed by, he would wait for them to pass by before picking it up and sprinkling the water on them. Then, he would keep hitting his stainless steel water bowl against the concrete walls of his kennel.
The mischievous puppy was driving the other dogs and kennel staff crazy. In order to give everyone a break, the shelter manager asked Motley if she would take Acorn home for just one night.
I imagined how much fun having a puppy for the weekend would be. "I wanted to return him as soon as I got him home because he was terrible," Motley recalled.
Before he exhausted himself, Acorn consumed an air horn, a seat belt, and a comforter. "He enters the house and starts tossing things around. He is insane. "I'm yelling at him," said Motley. Despite my best efforts, I am unable to catch him, and despite my yelling at him, he will not stop moving.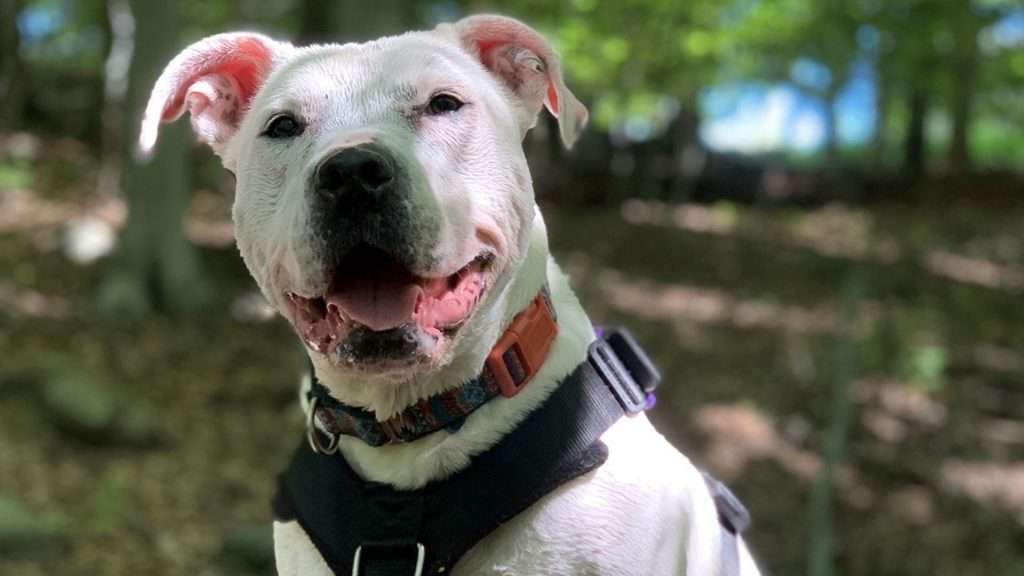 He eventually exhausts himself. "I'm going back to the kennel at 8 in the morning because I can't handle this," I told him as I put him in the crate. So I went to the room in the morning and opened the door, but he doesn't look up.
Acorn didn't react until she touched his shoulder. Motley then understood that it wasn't that he wasn't willing to listen. Acorn actually wasn't able to listen.
Acorn was deaf dog from birth
A veterinarian soon backed up Motley's suspicions. Acorn was deaf from birth. Sad to say, deaf dogs in shelters are frequently or always the last to be adopted. Their hearing loss may not always be recognized.
And, just like in the case of Acorn, people misinterpret their behavior. There are far too many deaf dogs being put down when they would make wonderful companions for someone.
According to Motley, there are many misconceptions about them, including that they are unintelligent and aggressive. Many people are hesitant to adopt a deaf dog because they are unsure of what they will do with it.
This dog lover fervently opposed it. In order to rewrite the history of canines with hearing loss and to help Acorn realize his full potential, she would collaborate with him.
Acorn enrolled for training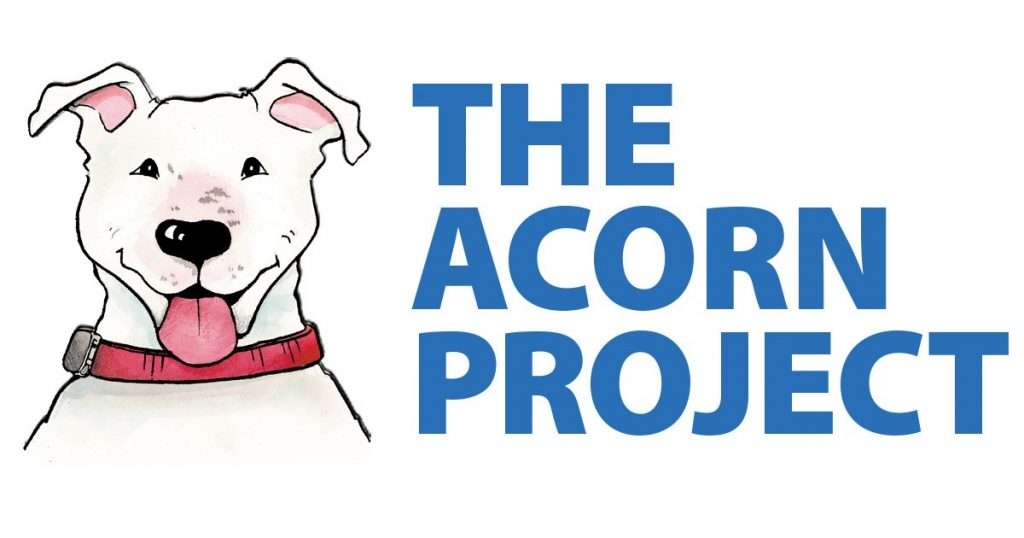 Carol Peter, the creator of Cold Nose Companions Dog Training, stepped in to help. Acorn was enrolled in Motley's "teenage terrors" course at the school.
Therefore, it was evident right away that Motley is an expert handler who knows what she is doing. But she was a real handful at Acorn," Peter chuckled as he recalled those early days.
Acorn did have one thing going for him, though. The barking of other dogs or the raucous motorcycles passing the school didn't draw his attention away.
Acorn had made progress, so Motley and Peter began working together to teach Acorn to sign. "A hearing dog and a deaf dog are essentially the same." Just use your hands to speak instead of your mouth. "And I still speak to him verbally," Motley continued. "
The American Kennel Club has some signs that they have adopted. Others were made by Motley and Peter, following the rule that they had to be easy enough to do with one hand and simple enough for Acorn to understand. Motley had to continue holding Acorn's leash with the other hand, after all.
Peter said, "We felt it needed to be very accessible, a very intuitive kind of sign language." About 30 signs are now recognized by Acorn. He has emerged as a global spokesman for hearing-impaired dogs.
For dogs like Acorn, Moltey, and Peter, they knew they could do more. They asked fellow animal rescuer Timy Sullivan and children's book illustrator Jenny Campbell, who made the comic strip Flo & Friends, to help them write and draw Acorn's story.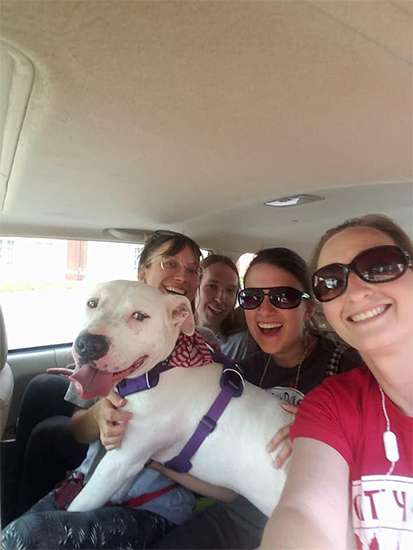 Sullivan is also the founder of Petfix, a non-profit offering low-cost spay and neuter services in northeast Ohio since 2006. Another passion is stopping avoidable euthanasia and rehoming animals in shelters.
"I'm very interested in it and have written extensively about it" (City Dogs). Acorn's story was written by Sullivan, who also drew on her experience as a journalist for the Chagrin Valley Times. "And then, when the opportunity came along to focus on a particular individual, a wonderful dog and a wonderful dog mom, I was really excited to be involved with that," Sullivan said.
Book "DEAFinitely Awesome: The Story of Acorn"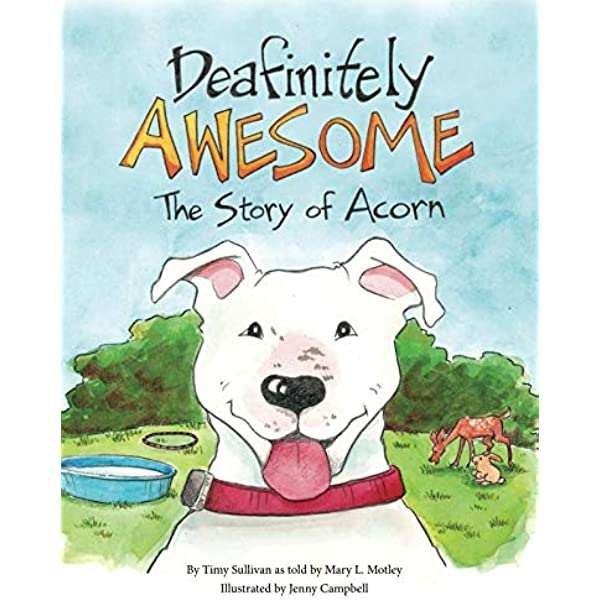 "Deafinitely Awesome: The Story of Acorn" is the title of the book, and it has been distributed to readers all over the world. On the Acorn Facebook page, they express their love for the narrative. Currently, he has friends in 14 different nations and 49 different states.
You Can Buy Here :
A paperback version of "Acorn's Dictionary of Signs," which lists and describes the signals used by Acorn, is also available in addition to the book. It can also be used by readers to teach their own dogs to sign.
The ultimate objective is to train and place more deaf dogs in loving homes. The Acorn Project is a toolkit of materials made to help shelter and rescue workers and volunteers who work with deaf dogs get them in the best shape possible so they can be adopted into loving homes.
"We've provided them with this really easy, straightforward method of getting that dog ready for adoption and success," said Sullivan.
The rewards are e-mails and letters from people who were moved by Acorn's story. Motley is thrilled with the effect he's had and is now Acorn's adoptive mother.
If you find yourself saying "This dog just doesn't listen," it's a good idea to ask why.

–Mary L Motley
Resourced books from Amazon as follows:
  Printable poster of Acorn's basic signs
---
Source: Petco, Acorn Project | All the information & photo credit goes to respective authorities. DM for removal please.
---
Related: It Took 1250 Days To get Justice For Dogs And A Cat