This 1953 Glasspar G2 Roadster, which the Smithsonian Institute claims "initiated the use of fiberglass in automotive assembly and opened the way for the kit car industry," is just one example of the rare automobiles that can be seen at the Elegance.
The Glasspar G2 Roadster body was made of one piece of fiberglass. It was sometimes sold as a ready-to-drive sports car called the Yankee Clipper. Other times, it was sold as a kit with a separate body. The basic shape of the body came from a model called the Brooks Boxer that was made for the Los Angeles Motorama in 1951.
These roadsters were also very popular in Hollywood, and stars like Humphrey Bogart, Gary Cooper, and Rosemary Clooney all bought them. This is because the car was published in numerous car magazines at the time, such as Road and Track, Motorsport, and Motor Trend.
How glassfibre material came in to the industry?
Owens Corning, an American company that makes composites, was founded in 1935. During World War II, they came up with a material that changed a lot of industries, including the car business. Glass-reinforced plastic (GRP), also known as "glassfibre," was lightweight, didn't rust, could be shaped into almost any shape, and was simple to repair if it was damaged.
Related: Volkswagen has converted the iconic VW Beetle into an electric car
In the 1950s and 1960s, the use of glassfibre bodywork led to a boom in the specialty car industry on both sides of the Atlantic (NB: glassfibre is the generic term, while Fibreglass is a brand name). This miracle material was light and could be shaped into any shape. It was much more flexible than aluminum or steel and also much cheaper to work with.
Do You Know Who Bill Tritt Is?
Bill Tritt, who was born in 1917, was the one who started it all. Thirty years later, in 1947, he started making lightweight boats with fiberglass hulls. Before that, he had worked for Douglas Aircraft.
Tritt and a business partner started the Green Dolphin Boat Works to build boats. A year later, John Green asked another friend, Tritt, to build him a racing sailboat called the Green Dolphin.
In the end, four of these boats were made. This gave Tritt's company some financial security, so they could offer more boats, and Tritt could start a new company called Glasspar to make glassfibre car bodyshells and offer a wider range of boats.
In 1949, Air Force Major Ken Brooks, who lived in Newport Beach, was building his own hot rod, like many other people at the time. Brooks's car was based on a modified Willys Jeep frame and had a Willys six-cylinder engine with a lot more power.
He was trying to figure out what kind of body to put on the car when he showed it to his friend Bill Tritt. Tritt had a great idea that would make Brooks' car a big deal. Brooks thought about making his car's body out of steel or aluminum, like many other hot rod builders were doing all over America.
After all, what else could they do?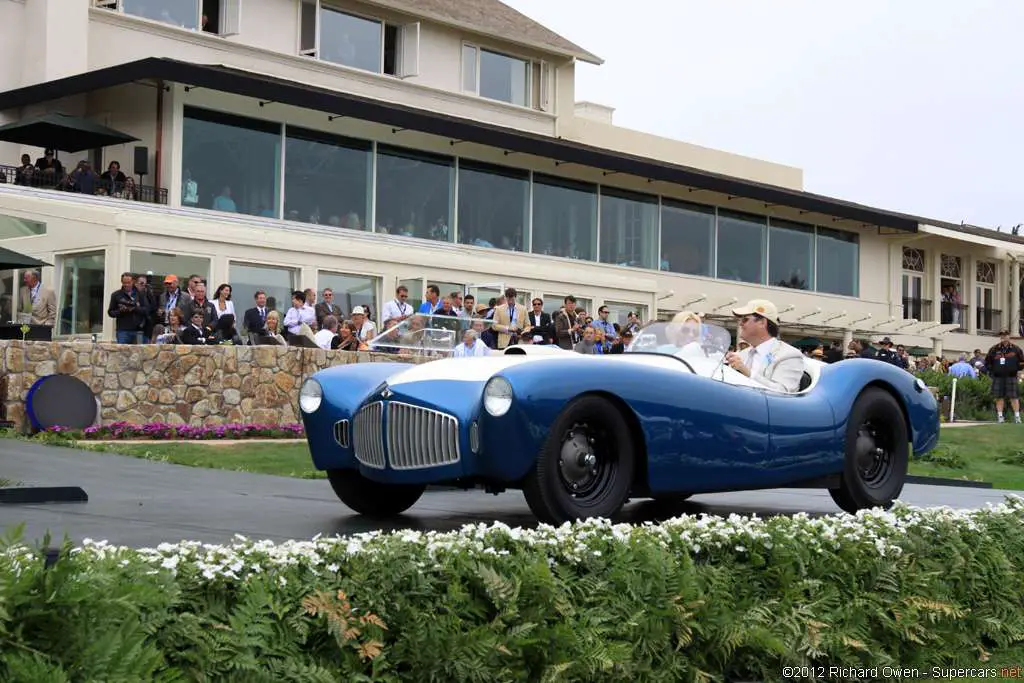 But once Brooks started talking to Tritt, everything changed. Tritt persuaded Brooks to make the bodyshell of his car out of glassfibre, and Brooks did so. Tritt made a few designs that were influenced by both America and Europe. Since the new material didn't have the same limits as metal, it was easy to make beautiful compound curves.
Ken Brooks and his wife, Dolly, saw Tritt's sketches and loved what they saw. They approved of the car right away, even though it didn't have a name yet, so work on it could begin early in 1950.
Tritt put wooden stations on the Jeep's chassis before making a body plug, but things went wrong when one of Tritt's employees sprayed the Jeep's chassis with release coat, which made the mold stick fast. Then came weeks and weeks of chiselling, which wasted valuable time that could have been used to finish the car.
What was supposed to take three months turned into an 18-month project. The glass-bodied hot-rod was finally finished in mid-1951, just in time to be unveiled as the Brooks Boxer at the 1951 Los Angeles Petersen Motorama, where it was an instant hit.
Meeting Of Naugatuck's Bob Crawford
By this time, the Korean War was in full swing, and all the polyester resin was being used by the military. This made it hard for the new industry of making plastic boats to grow. But Tritt got lucky when he heard that the Naugatuck Chemical Company was going to open a new plant in Los Angeles.
Tritt drove to Los Angeles and met Naugatuck's Bob Crawford. Crawford was very kind, but he told Tritt that he couldn't help because the law said it could only be used for military purposes.
But when Tritt got into the Boxer to leave, Crawford was mesmerized by the car and called his sales manager, Earl Ebers, in Connecticut, to tell him about it. Ebers promised Tritt a month's worth of resin, a lot of publicity across the country, and a large line of credit to get the project started.
Tritt couldn't believe his good luck, but what he didn't know was that Ebers had been looking for someone to build a car with a body made of glassfibre because he was sure that this light, rust-proof material was perfect for car bodyshells.
In March 1952, Naugatuck asked Tritt to make a glass-fiber car that could be shown at the International Plastics Exposition in Philadelphia. The two-seater roadster, called Alembic 1, made a big splash. Harley Earl, who is in charge of styling at General Motors, was one of the people who saw it. He used the Alembic 1, and 10 months later, Chevrolet released the Corvette, which had a body made of glass fiber.
The Alembic 1 caused so much of a stir that Tritt got more attention than he could have ever imagined. It was written about in Life Magazine, the New York Times, the Wall Street Journal, and many other well-known publications.
Start Making of Glasspar G2 Roadster
The response to this publicity was huge, and it was clear that there was a chance for him to start making the car himself. So, he made the Glasspar G2 roadster, which came as a basic body kit or with a tubular frame to fit Ford running gear from 1939 to 1948.
The Glasspar G2 Roadster's body was not mass-produced like later glass-fiber cars. Instead, it was laid by hand, which made it surprisingly strong and durable given how light it was. Many of the G2s that are still around (about a third of those made) are said to be in the same good shape as when they were first made. This is because the glass fibre is about 1/8″ thick, which makes the build quality very good.
The G2's looks were impressive, but what really wowed people, besides the quality, was how well it moved. The Glasspar G2 Roadster was faster and more agile than anyone might have thought it would be because of its low kerb weight, which was caused by its glassfibre bodyshell. Even better, since the engine was set far back in the chassis, the weight was said to be evenly distributed between the front and back.
The wheelbase of the Glasspar G2 Roadster was set at 101 inches, and the buyer could choose almost any engine to put in it. Complete cars cost $2950, but there was also a kit with a bodyshell that cost $650 for those with less money.
A chassis could be bought separately for $200, and there were also a lot of other parts you could buy, like a molded dashboard for $18 and a second door for $75. The car came with only one door, so the driver had to climb over the side. Among the other options were a glass fiber hard top and bucket seats.
Following the G2, Glasspar produced full bodies for the Volvo P1900, Kaiser-Darrin 161, and the Willys-based Woodill Wildfire.All of these spinoffs are talked about separately, but it's worth adding a footnote here about another car that could have been based on the G2, but wasn't.
Related: FERRARI DINO 308 GT4 History, Specs and Reviews
In 1952, Billy Vaughan, who was 41 years old at the time, decided to start a new career by making and selling cars. Vaughan, who was based in New York, asked Bill Tritt to put a Glasspar G2 Roadster body on a Singer SM1500. This took a lot of work because the Singer had a 91″ wheelbase and the G2 was made for a 101″ chassis.
Tritt made the one car that was ordered, which was shown at Grand Central Palace's first International Motor Sports Show. Even though the car didn't run, Vaughan said it had been driven 3000 miles to get there. To get people interested, he had leaflets printed that said his new sportster was for sale for $2995. We don't know anything else about Vaughan or his rebodied SM1500, except that it was a one-off.
Even though the Glasspar G2 Roadster didn't sell many cars, its biggest success was that it started the kit car industry, which grew rapidly as a uniquely American mix of hot rodding and sports cars later in the decade. But the story doesn't end there. In 1954, Tritt decided to move on to a brand-new car with a new chassis.
---
Source: Super Cars , Wikipedia | All the information & photo credit goes to respective authorities. DM for removal please.
---
Related: Bugatti Type 57 Roadster Grand Raid Usine is one of rare and beautiful cars in the world