Sometimes beautiful abandoned places and items throughout the world become so lovely they attract your sight immediately. These 15 photos of abandoned places and stuff will wow you.
An Abandoned Supersonic Tu-144
A supersonic passenger jet in the backyard is rare. Those who saw this Russian supersonic passenger airplane up close were lucky. This airplane was sighted at the Institute of Aviation at Kazan National Research Technical University.
The plane sat in this courtyard for 32 years before someone posted a photo on Reddit. It quickly spread over the internet with some stating it was abandoned.
This plane wasn't abandoned; it was waiting to be restored and was on public display. Hopefully, the plane was rebuilt and sent to Kazan to become a memorial.
Fukushima's abandoned supermarkets still have food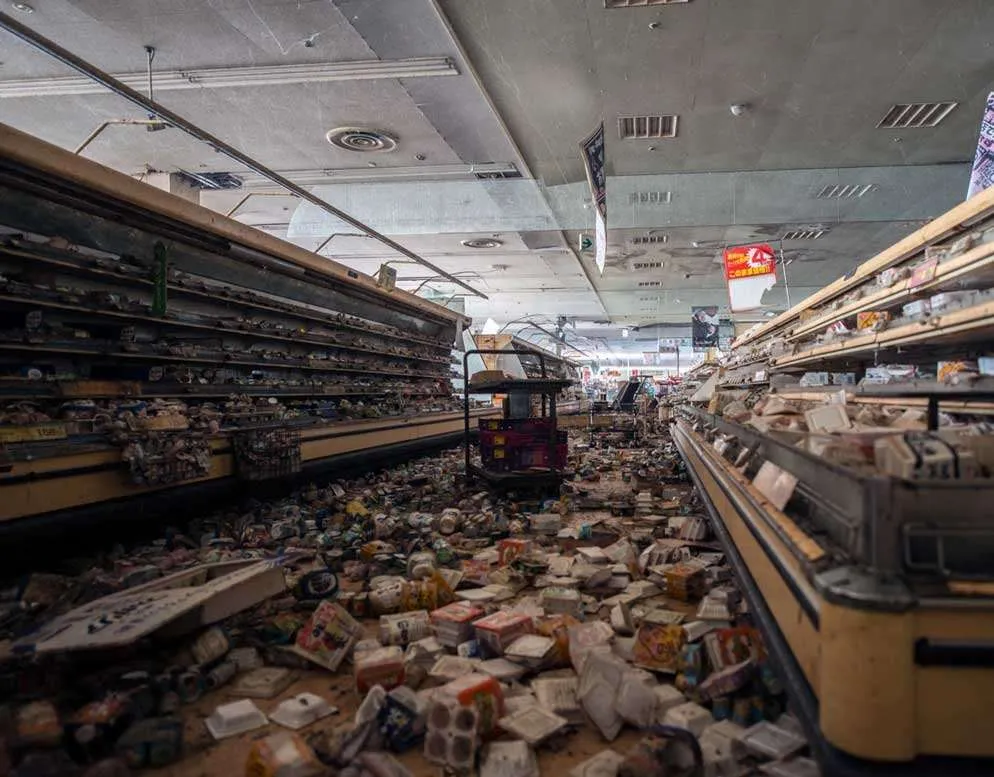 In March 2011, an earthquake and tsunami devastated Fukushima and created the 2nd worst nuclear disaster after Chernobyl. Fukushima Daiichi Nuclear Plant in Japan was damaged.
Around 154,000 individuals were evacuated from the city from a 20-km radius, abandoning its markets, houses, schools, and infrastructure.
Some portions, notably near the plant, are currently off-limits, but officials expect it will stay inhabitable for a decade.
Abandoned Russian space shuttles
These Russian spacecraft were abandoned at the Baikonur Cosmodrome in Kazakhstan after one of the roofs collapsed, killing 8 people and destroying the spacecraft. When the catastrophe happened, the other spacecraft was almost ready to launch.
Insufficient government financing led Russia to abandon the factory where 2 Buran spacecraft are stored.
Rio's Abandoned Restaurant
Belvedere do Grinfo, a 1950s disco restaurant, is currently a viewing point in Petrópolis, Rio de Janeiro, Brazil. With the one-way ascent track, the location closed.
Abandoned Japanese Planes from WWII
Japanese planes are also submerged in shallow water, abandoned. A tourist in Palau discovered a Japanese Aichi E13A long-range reconnaissance seaplane.
McDermott's Castle
McDermott's Castle in Lough Key, Ireland, is a 12th-century castle that was destroyed by lightning.
An English family rebuilt it 200 years ago. In a conflict, the McDermotts lost the castle to an unnamed Irish family.
The sale of this castle for $80,000 USD in 2018 was later annulled. This half-acre property could have been a beautiful holiday home if someone had acquired it.
Presidents' Heads Left in Virginia
Howard Hankins liked photographing abandoned locations and stuff, but in 2010 he encountered something unexpected. These 43 gigantic presidential skulls were in Virginia's middle of nowhere.
These masterpieces were made by Houston artist David Adickes for his Presidents Park. The park lost enough visitors to go bankrupt.
Hankins offered to transport the sculptures to his 400-acre property after being requested to destroy them. These are on Hankins' private land, and he doesn't accept visitors.
Dark Hashima Island
Hashima Island, Japan, was home to 5259 people in 1959. This 16-acre island harbored Korean and Chinese POWs in its coal mines.
Hashima Island was rejected as a world heritage site in 2009 at Japan's request because thousands of forced workers died there under inhumane conditions.
When oil supplanted coal, the island was abandoned. The tourist-friendly ship-shaped island.
Mark Twain Library in Detroit
Mark Twain Library in Detroit was originally designed to provide room for social meetings and functions. The library was an active community hub for decades until Detroit's financial woes arose in the 1990s.
Turkish Ghost Town
Burj Al Babas, a $200M residential complex in Mudurnu, Turkey, is now a ghost town. These 732 houses resemble mini-chateaux.
The developer went bankrupt after failing to sell 587 of these 732 houses. Miniature mansions constitute a Turkish ghost village.
Bahamas' Abandoned "Nazi" Castle
This abandoned castle was once held by a British hotelier alleged to be a Nazi sympathizer, Sir Guy Baxter.
With a peculiar history, an abandoned airport, and 554 acres with 14 beaches, you can buy this castle for $46 Million.
Decaying Great White Shark at Melbourne's Aquarium
Wildlife Wonderland in Victoria, Australia, looks like a horror movie. This Great White shark didn't die or go. Rosie, a great white shark, was caught in a net in 1998.
Wildlife Wonderland's director, John Matthews, bought Rosie's body and preserved it with formaldehyde. The park closed in 2012 because it lacked necessary licensing.
Tom Kapitany, director of Crystal World & Prehistoric Journeys, bought and displayed this decomposing shark in 2019.
SS America abandoned in the Canaries
Eleanor Roosevelt financed the SS America in the 1940s. SS America was created by William Francis Gibbs and transported army men, Red Cross members, children, and more.
In 1992, the ship was sold to become a 5-star hotel in Phuket, Thailand. New propellers and paint were added. A Ukrainian tugboat, Neftegaz-67, towed the ship for 100 days in the Atlantic.
In a storm, the tow line broke, and emergency deployment failed. SS America was adrift at sea. The ship's crew was rescued by helicopter on January 17, 1994, leaving it floating.
The ship was abandoned in Playa de Garcey, off Fuerteventura in the Canary Islands.
After being abandoned for 48 hours, a pounding wave smashed the ship in half. Last seen on Google Maps in 2013, the ship has now sunk.
Colombia's Abandoned Submarine
Submarines are also sometimes abandoned. This one? A Reddit user submitted a photo of an abandoned submarine in Colombia's jungles.
PapelDeFumar said narcotics dealers used the submarine. What a find—if it's not hazardous!
An Abandoned PZL TS-11 Iskra Jet
This abandoned thing is the most mysterious. The user who claimed to have taken this photo on Imgur couldn't be found. Polish Airforce operated 424 PZL TS-11 Iskra Jet trainers from 1963 until 1987.
We discovered that this airplane is in Wólka Nosowska, Poland, at a farm. Deeper inquiry found this was in Kluczewo Airfield, a former Soviet airport that holds additional aircraft artifacts, including a MiG-21.
---
All the information & photo credit goes to respective authorities. DM for removal please.
---