Jacob's Well is a karstic spring that comes out of the bed of Cypress Creek in the Texas Hill Country. It is located at northwest of Wimberley. The underground water system in the park known as Jacob's Well Natural Area extends at least 4,500 feet below ground. At least nine people have died while attempting to explore its depths.
---
Here are some guidelines for remaining safe at Jacob's Well :
If you can't swim well, don't dive into Jacob's Well; unless you have experience, stay out of the well.
To prevent slipping on pebbles while swimming in the well, wear water shoes.
Due to the small aperture, don't dive into the water.
Follow the rules established by the Hays County Parks Department, which is now in charge of regulating tourism in the area and protecting the well.
Jacob's Well facts
Over 81 acres make up Jacob's Well Natural Area.
Every day, thousands of gallons of water flow out of the artesian spring called Jacob's Well.
The second-largest entirely submerged cave in Texas is called Jacob's Well.
The Trinity Aquifer, which originates from a vast network of underground caves, is where the water is obtained.
The cavern system's deepest section is 140 feet underground. The secondary cavern, which branches off the main cavern, is 1,314 feet longer than the main cavern, which measures 4,341 feet long.
The water's temperature never changes and is always 68°F.
Cypress Creek starts at Jacob's Well and flows through Blue Hole Regional Park before joining the Blanco River.
The Coahuiltecans were a confederation of over 200 Native American tribes who lived in Central Texas. The Tonkawa, the Jumano, and the Comanche are three of the most well-known Indian tribes to have inhabited this region.
---
History of the Jacob's well
The five land surveys that make up the Jacob's Well Natural Area all use the spring as a cornerstone to connect them. These surveys were carried out in 1847 by Bartlett Sims, a well-known surveyor.
Early Wimberley pioneer William C. Winters, a veteran of the Battle of San Jacinto, walked up Cypress Creek in search of the creek's source and discovered an overflowing spring. According to reports, Mr. Winters cried out "like a well in Biblical times." Jacob's Well was given as a result. It is also known as the well of Jacob, Jacob digging wells, bible Jacob's well etc…
Over the next 100 years, the property went through a number of ownership changes and developed into a well-liked vacation spot. Jacob's Well Natural Area is still a well-liked vacation spot today.
Jacob's Well Natural Area, interesting yet risky
The mouth of an underwater tunnel system that can carry brave divers more than 130 feet below the Earth's surface may be seen, despite the fact that it initially appears to be a large puddle.
Many people have been drawn to this amazing piece of nature, and some have died while trying to explore its dangerous depths.
In the Texas Hill Country in Central Texas, a spring called Jacob's Well emerges from a 12-foot-wide opening in the creek bed of Cypress Creek.
Jacob's Well is an example of a karstic spring, which is one that is situated at the end of an underground cave system and serves as a key entrance to these submerged caverns.
Such caves make exploring karstic springs, like the one at Jacob's Well Natural Area, interesting yet risky.
Jacob's Well is a popular place for both locals and tourists to go to escape the heat of Texas. This is because the water that flows into the well from the nearby Trinity Aquifer is always about 68 degrees.
The spring's expansive, unsettling aperture that goes down into the depths below, however, is what draws most people to Jacob's Well.
Local thrill-seekers dive into the gap from the cliffs above, but diving into Jacob's Well requires a real daredevil. The cave goes down 30 feet vertically, but only the top 30 feet can be seen from the outside.
The tunnel then makes a sharp curve and descends for another 100 feet or so. And that's not the end of it.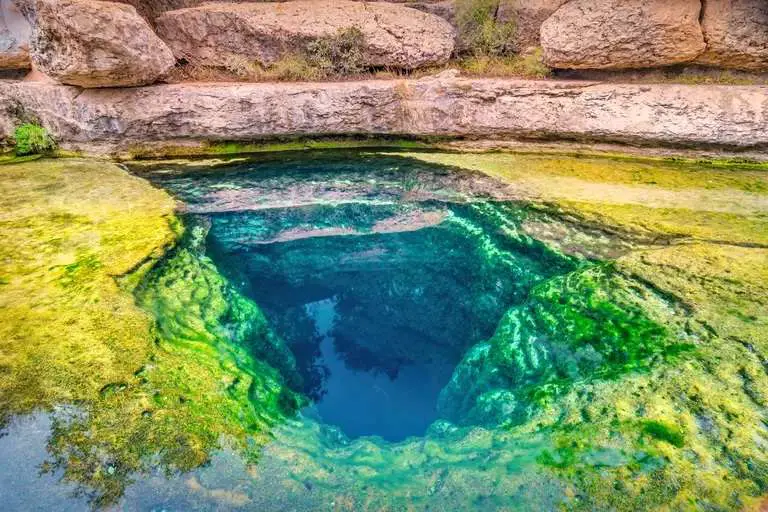 A Project to Explore Jacob's Well
Divers have been investigating Jacob's Well since the early 20th century. Divers in the 1930s tried to make a diving helmet out of a milk bucket and a rubber hose, according to a story.
Professional cave drivers using the correct dive equipment didn't start exploring the caves until 2000, though.
The Jacob's Well Exploration Project, the culmination of their efforts, was established in 2007. The project's straightforward but ambitious purpose was to map the entire cave system that runs beneath the well.
The investigation revealed that Jacob's Well's principal passage eventually splits into two major tunnels. One of these branches off in an amazing direction for 4,500 feet (0.85 miles), while the other splits off by 1500 feet.
Jacob's Well is 120 feet deep on average but descends as far as 137 feet at its deepest point as the tunnels branch out in either direction. Watch this video.
The Dangerous Situation In This Big Underground Cave
There have been nine fatalities at this location between 1964 and 1984 due to the fact that the cave is also a popular destination for open-water divers, some of whom are untrained with the specific skills and equipment needed for cave diving (eight men and one woman).
The depth and large cave system, along with the excellent water temperatures and clarity, have made Jacob's Well a well-liked diving destination. Jacob's Well is a favorite spot for freedivers, who dive by holding their breath and don't use scuba gear.
Jacob's Well has reportedly seen some freedivers descend up to 100 feet. It makes sense that this kind of diving would be risky, especially in a region where it would be easy to get lost or stuck.
That is undoubtedly the case for Jacob's Well, where the cave below is challenging to manage due to its numerous turns and severe angles. Additionally, because of how small the cave entrances are, it is easy for divers to become stranded in the murky depths with their gear.
According to legend, the entrances to some of the deeper caves in the well are so small that you must take off your oxygen tank to enter.
Since the early 1900s, countless divers have perished in the caves beneath Jacob's Well as a result of these perils. In spite of this, it still draws new divers each year.
---
Diego Adame, a daredevil freediver who peered down into Jacob's Well
Diego Adame, then age 21, had a close call with death at Jacob's Well in 2015 when he tried to freedive into the cave. The Texas thrill seeker recorded the entire terrifying experience on camera.
Adame can be seen in the video diving into Jacob's Well without any additional air. At about 100 feet below the surface, after descending to the bottom of the first aperture, he loses one of his flippers as it detaches from his foot.
It can be quite challenging to swim back up to the surface after losing a flipper; in fact, several divers have passed out while attempting to do so. Adame reacts by turning around right away.
To make matters worse, he drops his flashlight while pushing against the cave walls. He subsequently remembered, "For a short second I thought about death and myself dying that day."
Fortunately, Adame maintained his composure and controlled his breathing to avoid using up the priceless oxygen. Before running out of air, he quickly made his way back to the surface after cutting off his supply belt to reduce excess weight.
Despite the close call, Adame's zest for perilous dives persisted. He quickly added, "I don't have plans to stop freediving anytime soon, and I'll be back at Jacob's Well later this summer.
These kinds of stories show how dangerous it still is to dive at Jacob's Well.
The Jacob's Well deaths
Unfortunately, compared to Adame, other divers have not been as fortunate. At least a dozen fatalities have reportedly happened at Jacob's Well over the years, earning it a reputation as one of the most hazardous diving locations in the world.
Additionally, some remains have been lost for years due to the well's depth. For instance, it took divers two decades to accidentally come across the remains of Kent Maupin, a diver who entered the caves in 1979 on a survey mission.
But despite the well-known risks, Jacob's Well Natural Area remains a popular diving location. We don't anticipate this changing anytime soon because many people choose to dive for the thrill of the potential danger.
---
Before You Travel, Keep these hints in your mind
The public can currently visit the Jacob's Well Natural Area during open hours (8am–6pm daily).
Jacob's Well requires reservations in order to access water.
Drones, dogs, glass, and alcohol are not allowed in the natural area.
Hikers don't need to make reservations to go on a hike. The best time to go trekking is from 8 to 10 am every day.
We advise all visitors to the park to adhere to the most recent CDC recommendations.
---
Source: Wikipedia, Hayscountytx | All the information & photo credit goes to respective authorities. DM for removal please.
---