Are you ready to turn your dreams into reality? Imagine playing golf on a picturesque green lawn or experiencing the thrill of driving an off-road All Terrain Vehicle (ATV) on golden sands.
Get ready to be amazed because we bring you the perfect combination of a golf cart and an ATV! Whether you're a passionate golfer or an adventure seeker, our innovative vehicles will take your experience to new heights. Let's delve into the world of these extraordinary vehicles and discover the wonders they have to offer.
---
What is Shan Dong EV Company?
---
Shandong Qiaoke New Energy Vehicle Industry Co., LTD is a new energy special vehicle company located in Dezhou City, Shandong Province, China. It was one of the first companies in the city to introduce and receive approval for new energy vehicles. The company is involved in research, development, design, manufacturing, sales, and after-sales services. It operates in various sectors such as tourism, education, public security, environment, medical, and military.
Over the years, the company has made significant progress and become a prominent player in the domestic industry, competing with well-known foreign brands. It represents the national independent brand and promotes self-improvement, self-reliance, and self-confidence. The company was registered in 2018 with a capital of 3,000 yuan and is strategically located in Dezhou's Canal Economic Development Zone, which provides convenient transportation links and serves as an important economic hub in the region. (Go to the website)
---
The Golf Cart: Your Personal Sanctuary
---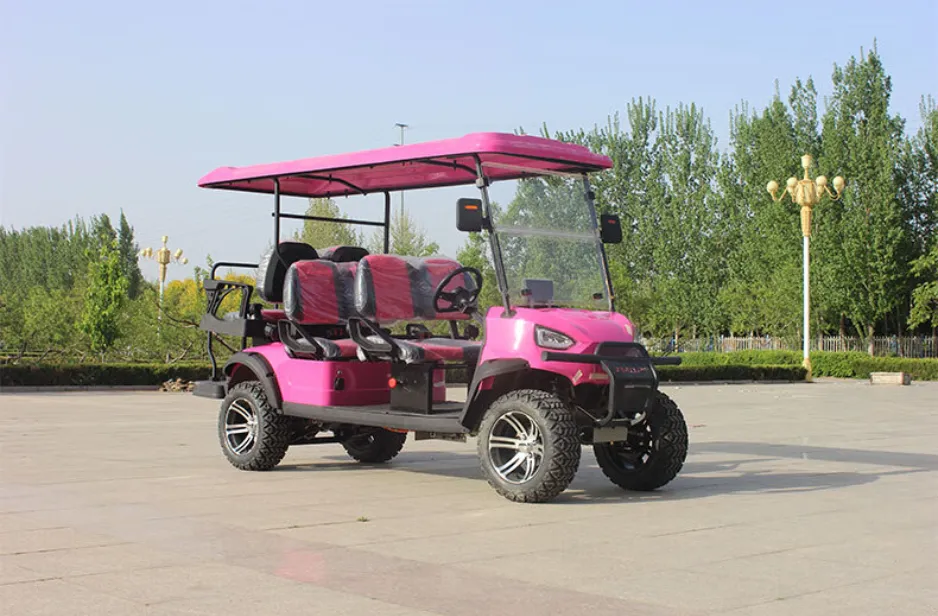 Electric Golf carts are not just ordinary vehicles; they are your private haven to indulge in the sport of golf. With the ability to effortlessly navigate every corner of the golf course, these compact yet spacious carts make transportation a breeze.
You can comfortably carry your golf clubs and other essentials, making every round a seamless experience. Whether you're enjoying the company of friends or savoring the serene beauty of the surroundings alone, a golf cart will be your faithful companion.
---
Introducing New Electric Golf Carts
---
---
The ATV: Unleash the Adventure
---
For those seeking thrills and excitement, our ATVs are here to fulfill your desires. These powerful mechanical beasts can conquer any terrain, from soft sandy beaches to rugged hills and dense forests. With their robust horsepower and height-adjustable suspension, they effortlessly tackle any challenge thrown their way.
Brace yourself for a heart-pounding adventure as you harness the power of nature and witness breathtaking landscapes. Whether it's a family vacation or an extreme sport, ATVs guarantee endless fun and unforgettable memories.
---
The Perfect Fusion: Golf Cart meets ATV
---
Prepare to elevate your experience to a whole new level with the perfect fusion of a golf cart and an ATV. Imagine driving a specially designed golf cart on a pristine beach, enjoying your swings while feeling the refreshing sea breeze against your face. With our powerful manufacturing expertise from China, we bring you the ultimate solution to enhance your golfing and outdoor experiences.
---
Shang Dong Electric Glof Cart – Products Gallery
---
---
Safe Driving Tips for Golf Carts
---
To ensure your safety and the safety of others, please adhere to the following guidelines when operating a golf cart:

1. Drive responsibly: Always prioritize responsible driving and keep your arms and legs inside the vehicle. If your cart is equipped with seat belts, fasten them before driving.
2. Passenger capacity: Only carry the number of passengers for which you have available seats. Avoid squeezing in extra passengers beyond the cart's capacity.
3. Respect traffic laws: Never drive recklessly or engage in joy rides. Be courteous to other drivers and follow all vehicle traffic laws and rules of the road.
4. Stay sober: Never operate a golf cart while under the influence of alcohol, drugs, or any narcotics.
5. Minimize distractions: Avoid distractions while driving your golf cart. Stay attentive and refrain from talking, texting, reading, reaching for objects, applying makeup, or eating.
6. Passenger safety: Prohibit standing in the vehicle or on the platform at the back. Ensure all passengers are inside the vehicle and properly buckled before starting the motion.
7. Use hand signals: Always use hand signals in addition to turn signals to indicate upcoming turns. Hand signals can provide additional visibility to vehicles behind you.
8. Check blind spots: Before making a turn, check your blind spots to ensure there are no obstacles or oncoming traffic. Yield to through traffic when making a left-hand turn.
9. Caution while reversing: Exercise caution when backing up. Always check behind your golf cart before reversing.
10. Adjust speed: Avoid excessive speeds, sudden starts and stops, and sharp turns at high speeds. Adjust your speed based on driving conditions, environment, and always yield to pedestrians.
11. Secure your cart: Do not leave keys in the golf cart when unattended and always engage the  parking brake to prevent unintended movement.
12. Yield to pedestrians: Always give the right of way to pedestrians and ensure their safety.
13. Inclement weather caution: Exercise extreme caution in inclement weather conditions. Golf carts may be susceptible to lightning strikes, so it's advisable to avoid driving during severe weather if possible.
---
How To Buy? Connect with Us
---
We are a renowned golf cart manufacturer based in China, specializing in creating exceptional vehicles. If you're interested in purchasing our golf carts or becoming a dealer, we promise to provide you with the best quality and service.
---
Contact Information: WhatsApp: +8619026061476 | Facebook: Peter Parker – KK Golf Cart
---
We eagerly await your inquiries and are always dedicated to serving you with the most detailed and up-to-date information. Get ready to embark on an extraordinary journey with our exceptional golf carts and ATVs!
---