The affectionate elderly couple, who have shared 60 years together, have recreated their wedding and taken wedding photos to address the regrets of the past.
Stepping into a church adorned in a magnificent wedding dress is the dream of every girl and a cherished memory for a lifetime among lovers. In Brazil, there exists an elderly couple who have spent six decades in each other's company, yet their wedding was a simple affair devoid of wedding photographs. Now, the pair has made the decision to don their wedding attire once more and reenact their nuptials, seeking to amend the past's regrets.
Rosa and Russo, hailing from Brazil, are now parents to 9 children, grandparents to 16, and great-grandparents to 4. They exchanged vows in 1957, though their wedding was a modest event held in the confines of their backyard. With a few close relatives and friends in attendance, a homemade wedding cake, Rosa's hand-sewn skirt, and heartfelt "I do's," the ceremony radiated with love and tenderness. This modest event marked the inception of their joyful marital journey, spanning six decades.
Just recently, the couple took steps to rectify the absence of wedding photographs from their earlier celebration. Determined to mark their 60th anniversary, they orchestrated a small-scale wedding, donning their wedding attire once more. Collaborating seamlessly, photographers, makeup artists, and wedding dress designers came together to fashion a splendid 60th-anniversary celebration for the couple.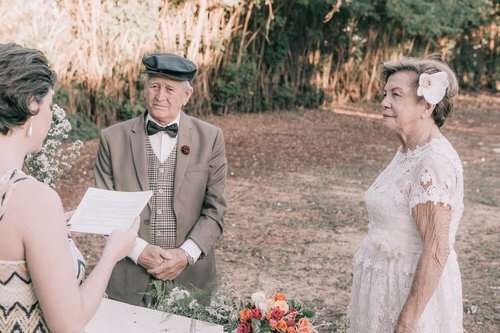 Resplendent in an elegant wedding dress and adorned with tasteful makeup, Rosa gracefully approached her "groom," Russo, who was himself clad in a stylish gray suit. The two affectionately held hands, exchanged loving glances, shared kisses, and embraced, evoking a profoundly romantic atmosphere. Though the passage of time had etched its marks upon them, their radiance remained undiminished.
This time around, rather than a backyard affair, the couple reaffirmed their vows to each other in the picturesque setting of Chácara Terra Prometida. Finally, they had the opportunity to capture photographs that bore witness to their enduring commitment, encapsulating these heartwarming moments and revisiting the grandeur of their wedding day from 60 years prior. At the ceremony, they clasped hands, exchanged adoring looks, shared affectionate kisses, and embraced, recreating an atmosphere brimming with romance.
Despite the silver strands that now grace the heads of Rosa and Russo, and the visible imprints of the years etched on their skin, their love remains as vibrant as that of newlyweds. The photographs not only encapsulate their endearing interactions but also immortalize their timeless and unwavering love.
Photo courtesy: TOPick.hket
---
You may also read: Letter in the wallet – A happy ending for a love affair