Commercial aviation has advanced significantly since the "Golden Age of Travel," which was characterized by glitz, fine dining, and dapper travelers, the "Golden Age of Air Travel."
A look at the history of commercial aviation reveals that, despite widespread complaints about cramped seats and expensive tickets today, the customer experience may not be as bad as some think.
While looking at pictures of commercial aircraft from the past, it is important to keep in mind that, despite the fact that seats are unquestionably smaller, aircraft safety, speed, ticket prices, and in-flight entertainment have all improved.
Legroom of Golden Age of Air Travel
The "clippers," or flying boats, that were first built in the late 1920s, were unmatched in terms of legroom both then and now.
The primary goal of flying boats, according to Professor Dan K. Bubb of the University of Nevada, Las Vegas, was passenger comfort.
The Air Mail Act of 1925 was utilized in 1928 by Juan Trippe, the creator of Pan American Airways, to ship mail and later passengers to Central and South America. Throughout the 1930s, he used a variety of flying boats, such as the Sikorsky S-38, the Martin M-130 (which featured a 16-seat dining lounge), and the Boeing 314 Clipper. According to Bubb, the Boeing aircraft could travel 4,000 miles at a speed of 183 miles per hour.
Flying boats were well-liked because they could land on water without the need for costly runways, in addition to having the fuel to travel great distances. Later, as faster, pressurized planes were developed, the design fell out of favor.
This has been a recurring theme in commercial aviation history, according to Bubb. "The commercial aviation industry adopted the military's constant design of larger, faster aircraft."
The Boeing 307 Stratoliner was the first pressurized passenger aircraft in history, allowing it to fly above inclement weather at an altitude of 20,000 feet.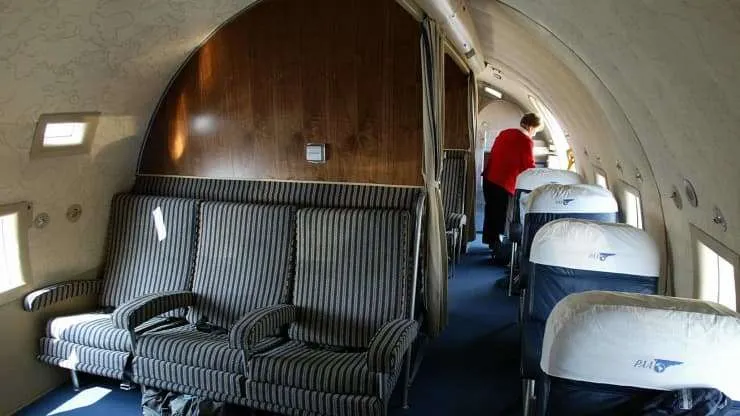 The aircraft, a variation of the Boeing B-17 bomber used by the American military, entered commercial service in 1940. Due to the cost of flying at the time, the 33 passengers who could fit on it were typically wealthy or business professionals, according to Bubb.
According to him, the seats in the upper left corner of the picture would have cost more because they had more legroom.
Regulations and laws of Golden Age of Air Travel
Between 1947 and 1950, Boeing built 56 Stratocruisers, each with a 100-passenger capacity and equipped with bunk beds, dressing rooms, and other amenities. Bubb said that even though the Stratocruiser was big and nice, it was known for having engine problems.
On those flights, as they did for the following 40 to 50 years, passengers also had to breathe in other people's smoke. In 1977, the American government outlawed the use of pipes and cigars. After a series of limitations based on the length of the flight, smoking was finally outlawed on all American flights in 2000.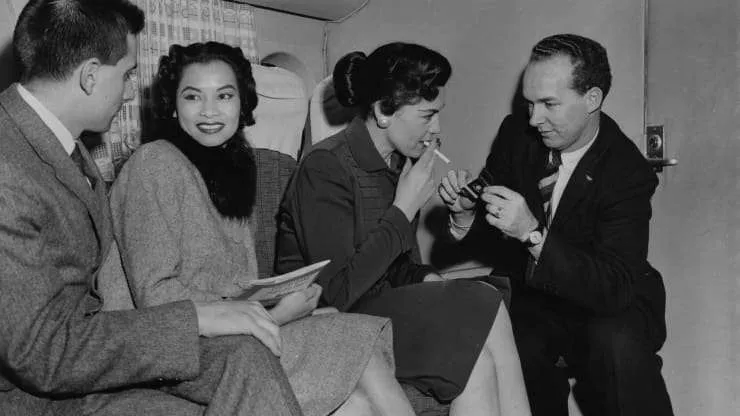 Although Stratocruisers had more roomy seats and sleeping berths, they could only cruise at 300 miles per hour, an impressive feat in their day but a far cry from the nearly twice as fast passenger planes of today.
For passengers who purchased more expensive seats, Stratocruisers offered observation areas. In those areas or in unbelted seats, passengers could unwind. According to Bubb, seat belt usage wasn't mandated until 1970.
Seating Arrangements of Golden Age of Air Travel
As shown in this image from around 1929, despite complaints from many modern passengers, the size of airplane seats has not decreased over time.
Airlines tried to add as many seats as they could when coach class first appeared, he claimed, but this led to decreased seat width and pitch. "Over the past 20 years, this has become particularly true."
However, "others argue the 'Golden Age' of commercial air travel took place in the 1940s with pressurized, faster planes such as the Boeing 307 Stratoliner, the Boeing 377 Stratocruiser, Lockheed Constellation, and Douglas DC-6," Bubb said. Some historians believe the "Golden Age" began in the 1930s.
He said, "I tend to agree with the latter."
Over time, first-class seating has significantly improved in comfort. Although it didn't become widely known as a separate section until the 1980s, business class also offers a roomier ride.
Some seats in airplanes had tables, a feature now more frequently found on trains. According to Bubb, those were fairly typical at the time, particularly for wealthy travelers.
The aisle
There isn't much room to pull that off gracefully, as anyone who has attempted to pass the beverage cart in flight can attest.
However, the width of the aisle above is comparable to that of contemporary aircraft, a measurement that is subject to Federal Aviation Administration regulation. The flight attendant may be smaller, and the cart may be for reasons that are no longer acceptable.
Initially, airlines had restrictions on the height and weight of flight attendants, according to Bubb. They couldn't have been more than 100 pounds overweight and 5'4″ tall.
Many airlines also demanded that "stewardesses," a term that has since lost favor, be single women because it was then thought that women were better suited to attend to the emotional needs of passengers.
Following a string of discrimination lawsuits that began in the 1970s, those limitations were first loosened and then eliminated.
The first-class cabin of the Boeing 747, which Bubb refers to as the manufacturer's "hallmark achievement," has a lot of aisle space.
The jumbo jet, also known as the "Queen of the Skies," is available in versions that can carry 500 passengers and travel at a speed of 600 mph while cruising at an altitude of 40,000 feet, according to Bubb.
They contributed to the jet revolution, which reduced the size of the world in terms of speed, space, and time, he claimed. It is incredible how engineers created a 900,000-pound object with wings, engines, and a tail to take off.
Headroom
Another crucial aspect for passenger comfort is headroom. According to Bubb, more openness is preferable because some passengers experience claustrophobia on airplanes.
According to Bubb, the Concorde simply could not compete with the Boeing 747 in terms of "luxury, prestige, and speed." The Boeing 747's top speed was more than doubled by the Concorde.
Bubb remarked that the Concorde was a phenomenal supersonic transport aircraft that was far ahead of its time. A monumental feat for a commercial passenger flight was being able to cruise at 60,000 feet while traveling at 1,350 miles per hour.
Bubb says that people paid between $10,000 and $20,000 to fly on a Concorde, which is a very inefficient plane when it comes to using fuel.
Despite having a 3.5-hour flight time from New York to London, Concorde ceased operations in 2003 due to high maintenance costs, declining passenger demand, and the highly publicized crash of Air France Flight 4590 in 2000.
Meals provided during the Golden Age of Air Travel
According to Bubb, meals and dishware during the "Golden Age of Travel" could be expensive.
On open-top pushcarts, tuxedo-clad attendants pushed food through the first-class cabins. Plates of food were served, as seen in the photos, along with meat cut from carving stations.
Uniforms Designs during Golden Age of Air Travel
The uniforms worn by flight attendants have undergone significant changes over time.
According to Bubb, the first flight attendants were nurses. He said that airlines hired nurses as flight attendants to help passengers feel better because they often got travel anxiety, felt sick, and had other problems related to flying.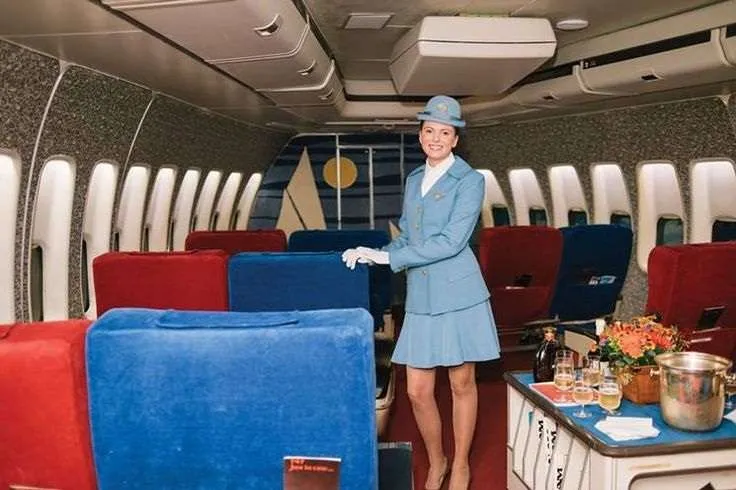 Their uniforms changed often to match the popular styles of the time. In the 1960s, they wore go-go boots, in the 1970s, they wore striped pants, and in the 1980s, they wore pastel colors and shoulder pads.
According to Bubb, today's uniforms are more traditional. He claimed that the uniforms of the flight attendants "changed from a stylish, risqué appearance to a more conservative one." Passengers started to view and treat flight attendants with more respect as a result of the more conservative approach.
---
Credit : @MONICAPITRELLI
All the information & photo credit goes to respective authorities. DM for removal please.
---
Read More >>> 13 Interesting San Francisco Facts You Probably Did Not Know