According to the actress and internet personality, it should be "socially acceptable" to be "preparing for the apocalypse."
• Julia Fox shared a meme about going to the grocery store in her underwear.
• On Sunday, the "Uncut Gems" star went grocery shopping in Los Angeles wearing jean jackets and underwear.
• Fox posted on Instagram, "If it's socially acceptable at the beach, it should be the same everywhere."
You may have thought to yourself at one point or another while observing Julia Fox's parade of increasingly outrageous outfits over the past few months, "How will she ever top this one?" So let Fox figure it out, I guess. The actress never seems to run out of ways to shock the public, and her most recent appearance just took it to another level. Fox wore her most outrageous outfit to date on Sunday, when she went grocery shopping in her bra and underwear. It was the most boring thing you could imagine.
In an Instagram story explaining her decision to do so on Sunday, Julia Fox stated that it should be "socially acceptable" to wear underwear to the grocery store.
Julia Fox the "Uncut Gems" Actress
The "Uncut Gems" actress, who gained notoriety earlier this year for her romance with Ye, the rapper formerly known as Kanye West, was spotted entering and leaving the Los Angeles grocery store Pavilions while donning black-and-white undies, heeled denim boots, and an oversized denim blazer. According to E! News, the bra and underwear set were created by fashion designer Alexander Wang.
The majority of the clothing she wore for the outing was designed by Alexander Wang, who claimed that the black set was "not underwear, it's bodywear." On his Instagram, the designer posted a picture of Fox in an effort to publicize what appears to be a new line of "bodywear." No matter what you want to call it, when most people look at Fox, they see a woman shopping while still wearing her underwear.
The actress made an effort to dress up the set with a denim blazer and her two favorite accessories, a pair of Wang-designed denim slouchy boots and a bag made from a pair of jeans, but it's difficult to ignore the basis' obvious undergarment status.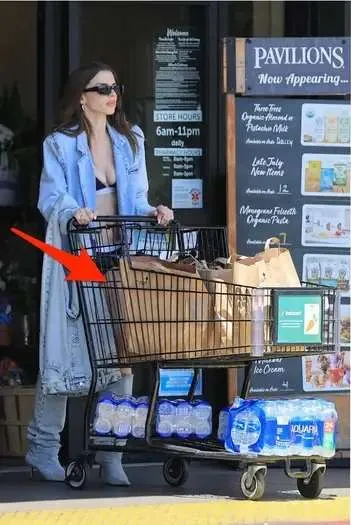 Her striking ensemble was completed with sunglasses and what appeared to be a pair of jeans tied at the legs to make a handbag.
Fox, 32, reposted a meme that made fun of the fact that her outfit was what someone would wear to run errands "when it's laundry day" in an Instagram story she posted on Monday.
"I just think if it's socially acceptable at the beach, it should be the same everywhere," Fox wrote in her own caption for the image. She obviously does not run afoul of the "no shoes, no shirts, no service" rule at the market where she shops.
Fox has previously been spotted pushing the limits in edgy denim attire. She shared several images of herself wearing a jean-on-jean ensemble, including low-rise pants, a bandeau top, a pair of Alexander Wang jean heeled boots, and what appears to be the same bag made out of a pair of tied-up jeans, on Instagram on March 18.
Fox revealed in the caption that she made the low-rise pants herself: "Coming soon will be a tutorial on how I made these pants." I made this top as well, but I didn't record it because I genuinely didn't think it would be successful. "
Another of Fox's most daring outfits was the leather dress by Han Kjbenhavn with the skeletal hand gripping her neck that she wore to the Vanity Fair Oscar Party in March. The outfit was accessorized with a Charlie Le Mindu bag made entirely of human hair.
---
All the information & photo credit goes to respective authorities. DM for removal please.
---
Read More>>> Amy Winehouse's Death & Life Story