A Tale of Compassion: The Double Dane Inn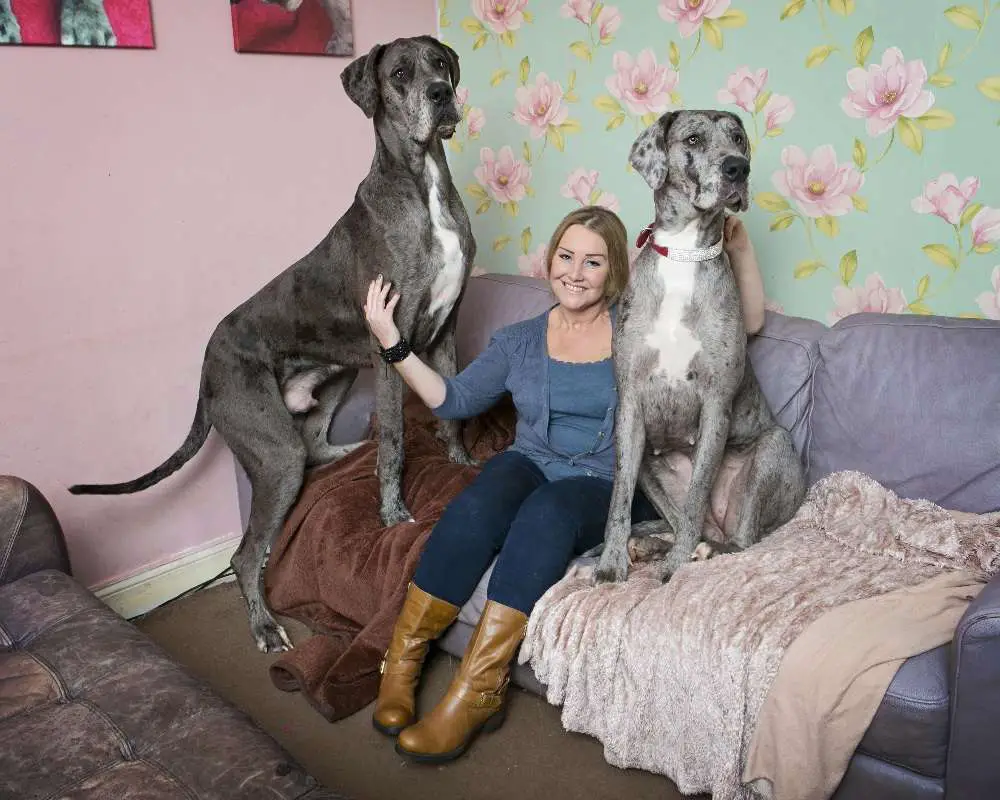 Greetings, I'm Jennifer Cordosi. My husband and I have opened our hearts to the incredible world of rescue, fostering over 16 Danes in a span of five years. At one juncture, our home was graced by the presence of five rescues simultaneously – two fosters and our beloved three adopted Danes. While family and friends amusingly dubbed us "crazy" and likened our abode to a zoo, the truth is, their lively presence never overcrowded our space. Rather, it's the emptiness they leave behind that truly resonates. It's not physical voids, but the parts of our souls they've occupied.
As each foster embarks on their onward journey, they leave behind remnants of themselves – well-loved toys, the cherished sunny corners of our yard, signs of their playful chewing on the chair rail, or the absence of their comforting presence by our bedside. In our cozy abode, a newer version of "home," we find less time, less money, more slobber, and fur that seems to defy imagination – a delightful contradiction for a person with a penchant for cleanliness. Amid it all, there's contentment.
Our journey has enriched us in ways we could never have imagined. Fostering isn't simply about breathing life into beings; it's about nurturing and healing souls that deserve to love and be loved once again. It's not a monetary endeavor, but rather an embodiment of the purest human kindness. Taking care of these creatures, discarded or abandoned by others, elevates foster families to a divine level of compassion.
The compassion required to welcome a massive unknown giant, whose very appearance might intimidate, isn't merely bravery; it's a raw form of compassion. We don't see their size, color, or lineage; instead, we're drawn in by the echoes of neglect etched into their faces.
Our journey isn't one of expertise or endless wealth. Rather, it's a realization that some of our friends and family view us differently now. They've likely never encountered challenges like the ones posed by these dogs. This is why the "rescue code" might remain perplexing to them. It's not about us; it's about the orphans and their journey towards recovery. Only when they're well enough and ready to find their forever homes does the focus shift to us – a knowing that we've sheltered and cared for them until the perfect forever family is found.
For those who opt for breeders, a unique and enriching experience eludes them – an experience that money simply can't buy. Our choice to invest our hearts and time in aiding these displaced dogs led us to our own "fab four." Fostering offered us, or rather "the pack," the chance to select each new addition. Surprisingly, our choices resulted in two sets of bookends – two black and two fawn dogs of each gender.
Our household carries the moniker "Double Dane Inn," not because our dogs run a hotel, but to signify that our Danes share this space with us. Visitors are greeted by floating fur, exuberant barks, and entertaining tricks or toy-begging. Our house might be full, yet it brims with uncontainable joy and boundless laughter.
Katie AKA Cassidy
A tale of resilience and inspiration unfolds with Katie, a remarkable eight-week-old Great Dane puppy. The story began with heartache as her left hind leg was brutally broken, prompting our foster coordinator to share her photos and narrative with a select few. Another rescue took her in, but couldn't bear the financial burden of her leg surgery. Without hesitation, a collective decision was made to bring Katie into our care and ensure her medical needs were met.
Katie's past is one of pain and cruelty. At a mere six weeks old, she endured the impact of brutal kicks or beatings that shattered her hind leg in three places. The cruelty extended further – nerve damage in her other hind leg due to swelling along her spine. Shockingly, the person responsible failed to seek any medical aid for her. For almost two weeks, she bore the excruciating pain before she was rescued from her dire situation and placed under the care of the previous rescue group.
The images we received from the rescue painted a heartbreaking scene. A frail figure with drooping eyes and a bruised, swollen hind leg – her pain and sadness were palpable. Those images resonated deeply within me, and I eagerly shared them with my husband, Brad. A vision of beauty with striking blue eyes, Katie's deafness didn't deter us, especially since we already had another deaf Great Dane at home. After discussions with our vet and the adoption coordinator, we knew we wanted to adopt this special pup and offer her a loving sanctuary.
Katie's path led to the amputation of her injured leg, followed by time in a foster home for her recuperation. The name "Katie" was lovingly bestowed upon her, and under her foster parent's watchful eye, she thrived and gained strength. Brad and I eagerly awaited weekly "pupdates" that chronicled her progress. Amid our deliberations, we settled on the name "Cassidy" (inspired by "Hop-Along Cassidy").
Each passing week, Cassidy exhibited unwavering determination that stirred our hearts. Images of her attempting ordinary tasks, regardless of her disability, moved us deeply. One particular snapshot stands out – her determined ascent of the steps to the house, showcasing her unyielding spirit. Her resolve to keep up with her canine companions was truly inspiring.
Upon delving into this book, you'll discover that our sentiments are far from unique. Fostering and adopting Great Danes add an extraordinary dimension to life, a sentiment familiar to those who've welcomed these gentle giants into their hearts. By the time you reach the final page, you might find yourself inspired to make a positive difference too. I encourage you to open your heart to these stories; the outcome might just be something extraordinary.
---
Please note that these stories have been adapted from the book "LOST SOULS: FOUND! INSPIRING STORIES ABOUT GREAT DANES" authored by Kyla Duffy and Lowrey Mumford, available for purchase on Amazon.