While there have been many instances of photo editing gone wrong in the past, it's important to remember that there are Photoshop pros that take their profession seriously. Adrian Sommeling, a Commercial Conceptual photographer/digital artist from The Netherlands, is undoubtedly one of them. He takes beautiful pictures of his son in strange places by combining great composition with amazing photo editing skills.
Sommeling is unquestionably granting his son's imaginative wishes, including riding a rhinoceros and changing the time on Big Ben, among other things. Although he prefers to focus on his son, he occasionally joins in the fun by illustrating their epic father-son escapades. See more of his devious collages by scrolling down!
Sommeling initially worked in the advertising sector, concentrating on visual and website design. Later, the onset of the financial crisis inspired him to broaden his knowledge and concentrate on presenting stories through photography. He works as both a creative director and a commercial conceptual photographer for an international company right now.
This Photoshop expert makes amazing pictures of his son in situations that could only happen in movies.
Sommeling has had a number of possibilities thanks to photography, including working with prestigious advertising agencies and attracting clients from throughout the world. In fact, he now also provides courses for photographers who want to understand the ins and outs of the business. Visit his website to learn more about his course offerings if you want to learn his tricks for making amazing composites.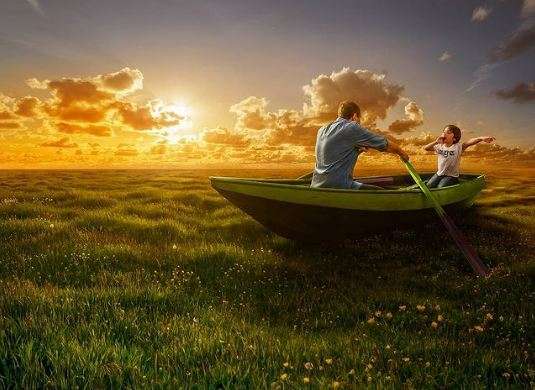 Check out his Instagram profile now to see more of his incredible creations and unreleased behind-the-scenes photos. He also posts quick summaries of his creative process on his YouTube account.
Because Sommeling is so good at Photoshop, his son is sure to have a full and interesting childhood.
---
Source: Adrian Sommeling Website | Instagram | YouTube, DM for removal please.
---
Read More>>> Funny dad helps his daughter to dress up every day to inspire children's imagination