Barn Find Ferraris: Embark on a captivating journey into automotive history as we unveil the allure of barn find ferraris. In this article, we delve into the fascinating stories of two iconic Ferraris that lay hidden for years, waiting to be discovered.
Witness the resurrection of the 1976 Ferrari 308 GTB and the legendary Ferrari 365 GTB/4 Daytona, as these forgotten Barn find Ferraris resurface to captivate enthusiasts with their timeless beauty. Prepare to be enthralled by the allure of these remarkable barn find ferraris and the tales they hold.
---
Restorable 1976 Ferrari 308 GTB Barn Find with Fiberglass Body
---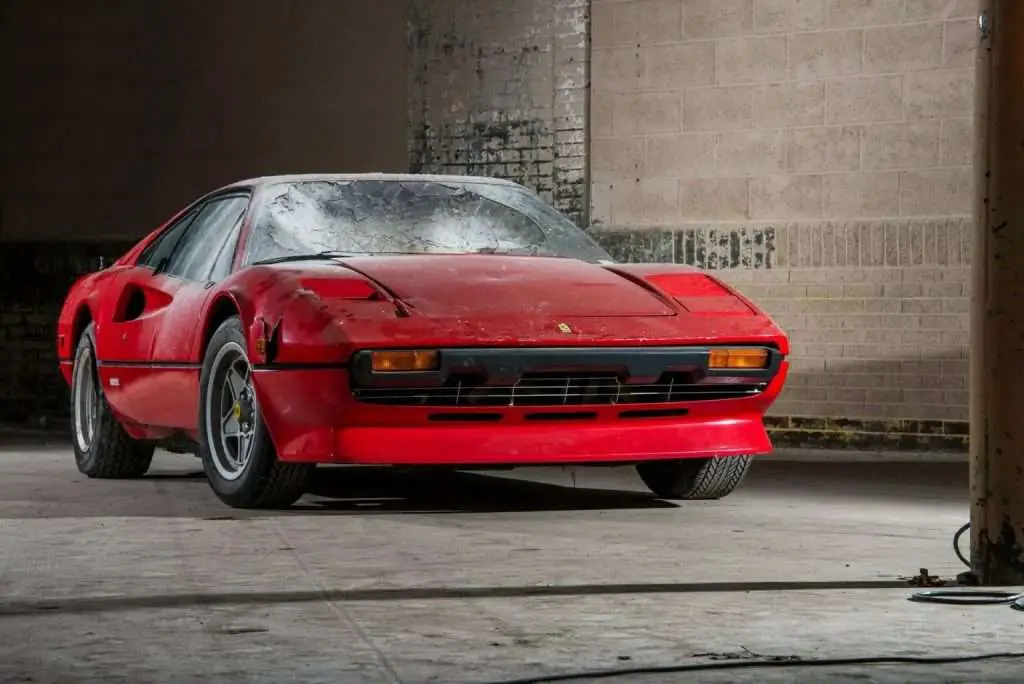 Unveiling an extraordinary find, we present the 1976 Ferrari 308 GTB Barn Find, a truly exceptional and highly sought-after gem. As an esteemed successor to the Dino 246, this model holds a significant place in the Maranello company's lineup.
What sets it apart, however, is its fascinating history during the early production years when the body was crafted from lightweight fiberglass. Only a limited production run of approximately 712 units worldwide boasted this distinctive feature, making this upcoming auction a momentous event.
1976 Ferrari 308 GTB Body: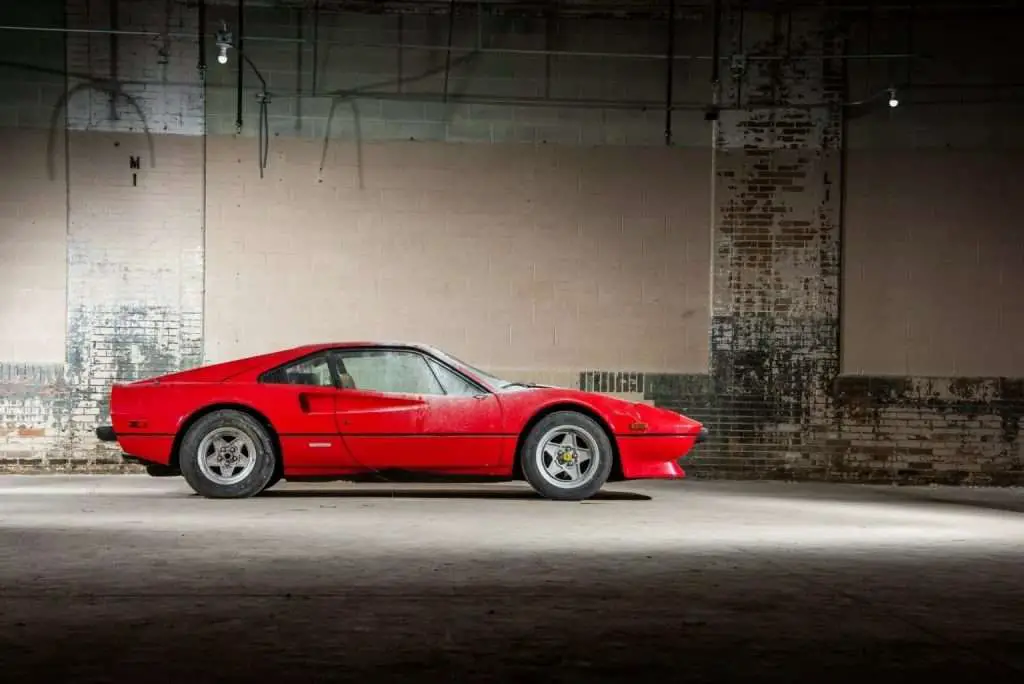 Originating from Carrozzeria Scaglietti, the initial 308 GTB models were constructed entirely from glass-reinforced plastic (GRP), resulting in an astonishingly featherweight build, tipping the scales at a mere 2,315 pounds (1,050 kilograms).
Notably, in June 1977, Ferrari transitioned to steel bodies, inevitably adding about 331 lbs (150 kg) to the vehicle's overall weight. Consequently, these earlier iterations, cherished by Ferrari aficionados, are highly coveted for their lightweight and agile nature.
1976 Ferrari 308 GTB Performance: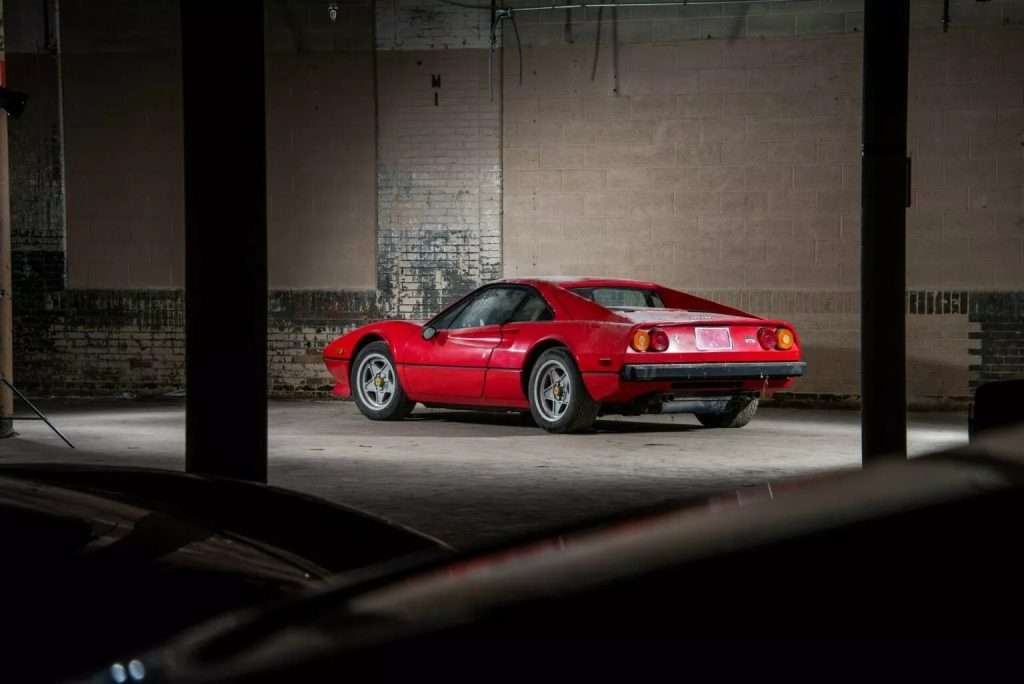 Paired with its impressively light body, this early 308 GTB houses a transverse rear-mounted 2.9-liter V8 engine, perfectly matched with a five-speed manual transmission.
While complying with US emissions regulations, American models, including the one showcased in the accompanying gallery, delivered a respectable peak output of 237 horsepower (177 kilowatts) at 6,600 rpm.
Unique Find and Auction Details:
Manufactured in June 1976, approximately a year before Ferrari ceased fiberglass body production for the 308 GTB, this particular vehicle holds a storied past. Passing through the hands of several owners, it now stands before you, boasting a remarkably low mileage of just 9,587 miles.
In anticipation of its upcoming sale at the prestigious RM Sotheby's Monterey Auction scheduled for 17-19 August, this rare find presents a promising opportunity for restoration. Notably, it retains its original numbers-matching engine and gearbox, enhancing its value and desirability.
---
Related: Vintage Ferrari Barn Finds: 20 Remarkable Classics at Monterey Car Week Auction
---
Unveiling an extraordinary piece of automotive history, the 1976 Ferrari 308 GTB Barn Find represents an exceedingly rare discovery. With its original fiberglass body and a host of enticing features, this vehicle encapsulates the essence of Ferrari excellence.
Don't miss your chance to be part of the remarkable story surrounding this magnificent find as it seeks its rightful place in the hands of a passionate new owner of barn find Ferraris.
1976 Ferrari 308 GTB Photo Gallery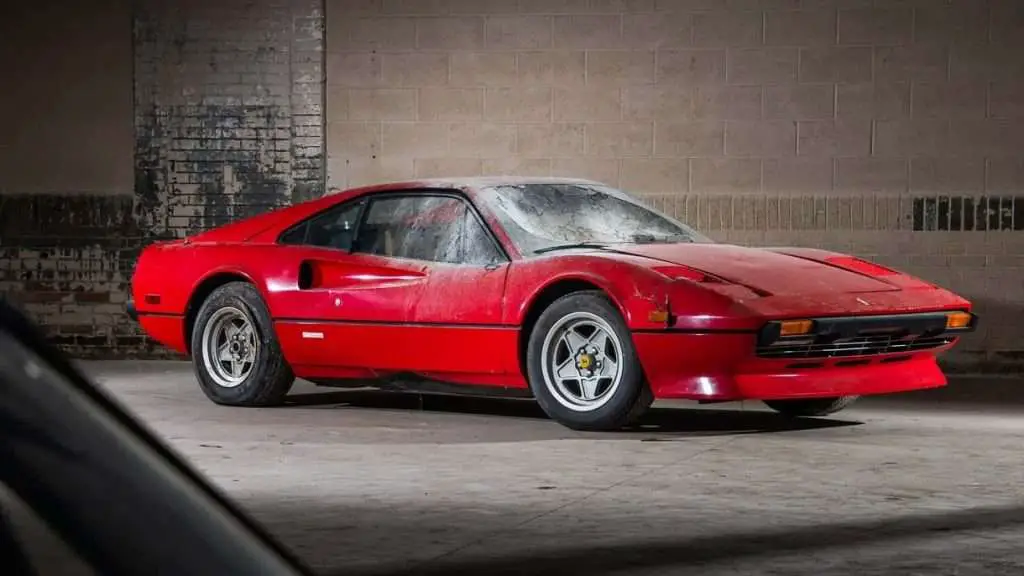 ---
Ferrari Showcases Barn-Find Alloy 365 GTB/4 After 40 Years
---
Within the remarkable collection at the Ferrari Museum in Modena, one treasure stands out as a testament to the allure of barn finds. We present the extraordinary alloy-bodied Ferrari 365 GTB/4 Daytona Berlinetta, recently unearthed in Japan after an astounding four decades of hibernation.
What sets this particular vehicle apart is its captivating state of preservation, as it proudly retains its original dust, adding an extra layer of uniqueness to its story.
The Unveiling of a Dusty Legend:
In 2017, the world became captivated by the story of this long-forgotten Ferrari. Found tucked away in Japan, the Ferrari 365 GTB/4 Daytona gained instant fame.
While any Ferrari 365 GTB/4 from 1969 to 1973 is already a highly sought-after piece of Maranello history, this specific model holds even greater significance as the sole surviving example with an aluminum body crafted by the renowned Scaglietti.
A Journey Through Time:
Chassis number #12653, initially acquired in 1969 by a close friend of Enzo Ferrari himself, embarked on a fascinating journey. Imported to Japan in 1971, it changed hands three times over the years.
Fast forward to 2017 when this neglected masterpiece was auctioned by RM Sotheby's, still draped in its "original dust," ultimately fetching a staggering €1.8 million ($1.86 million). Subsequently, the new owner generously loaned it to the Ferrari Museum, allowing enthusiasts to marvel at its raw beauty up close.
---
Related: FERRARI DINO 308 GT4 History, Specs and Reviews
---
Unveiling the Time-Worn Beauty:
Witnessing the haunting allure of the 365 GTB/4 is an experience in itself. Its hand-formed alloy body panels, adorned with plexiglass covers protecting the iconic headlights (albeit one with a slight crack), speak volumes of its storied past.
Aged and weathered chromework, dusty wheels, rusted exhaust pipes, and a dent on the side sills add to its undeniable charm. Inside the cabin, a thick layer of dust gracefully covers every inch, except for the beautifully preserved steering wheel, which has been thoughtfully replaced.
A Road to Restoration:
The allure of this extraordinary find prompts a desire to witness the meticulous cleaning and restoration process. If documented, it would undoubtedly become one of the most satisfying restoration videos to date. Nevertheless, restoring a unique Ferrari to its original factory specifications demands substantial resources and ample time.

The Ferrari Museum proudly presents a once-in-a-lifetime discovery: the barn-find alloy Ferrari 365 GTB/4 Daytona Berlinetta. Having emerged from four decades of seclusion, this time-worn treasure, bearing the weight of history and retaining its original dust, epitomizes the enduring allure of vintage automobiles.
Whether it embarks on a journey of meticulous restoration or continues to captivate visitors as a testament to its bygone era, this exceptional Barn Find Ferraris will forever hold a special place in automotive enthusiasts' hearts.
---
All the information & photo credit goes to respective authorities. DM for removal please.