After voting to accept the regulations, board members spent less than two hours listening to public comments.
According to guidelines approved by the Florida Boards of Medicine and Osteopathic Medicine, doctors will no longer be permitted to treat transgender patients (gender affirming treatments) under the age of 18 with therapies like hormone therapy, hormone-blocking medicines, or surgery.
In July, the Florida Department of Health asked for a rule-making process to be made about how to treat people with gender dysphoria, which led to the boards' actions on Friday.
The federal government defines clinically diagnosed gender dysphoria as "significant distress that a person may feel when the sex or gender assigned at birth is not the same as their identity." The petition, which was backed by Governor Ron DeSantis and pushed by the state's Surgeon General Joseph Ladapo, said that doctors shouldn't be able to use medical treatments like surgery and drugs to help young people with gender dysphoria.
DeSantis, who is running for re-election and is thought to be one of the leading candidates for the Republican presidential nomination in 2024, has brought attention to the problem of how to treat transgender children. Even though experts say that procedures on transgender teens are very rare, the governor often calls them "genital mutilation."
Ladapo said in a statement that the decision made by the medical boards on Friday "will protect our children from irreversible procedures and very experimental therapies."
"I respect the Board's honesty for acting in Florida's children's best interests despite intense pressure to approve these hazardous and unproven treatments. Florida will continue to fight for kids to be kids, and children deserve to learn how to navigate this world without negative pressure," he stated.
On Friday, the medical boards met together to talk about the same topic as they had before. "Detransitioners" criticized the therapies for children and teens, while LGBTQ activists said that the interventions can save people's lives.
Many medical groups, pediatric endocrinologists, and parents have criticized the state's limits and asked the boards to keep letting health care professionals treat gender dysphoria using generally accepted standards of care.
At a meeting on Friday at a Holiday Inn in Lake Buena Vista, Board of Medicine Chairman David Diamond, an oncologist from Winter Park, told a sometimes rowdy crowd that the boards looked at feedback from doctors and researchers.
"It is just inaccurate to claim that there is a single standard of care," he said. "The main thing that all the experts agree on, and I want to stress this, is that we need more high-quality clinical research right away."
For patients under the age of 18, the regulations enacted on Friday forbid physicians from prescribing puberty-blocking, hormone, and hormone "antagonist" therapy. Children who are currently getting such treatments would not be subject to the guidelines.
Additionally, doctors won't be allowed to operate on children under the age of 18.
The boards disagreed on a proposal to make an exception for teens who want gender-affirming treatment. The Board of Medicine said no, but the Board of Osteopathic Medicine said yes.
An exception that would allow minors to start getting treatments like puberty blockers if they take part in a federally approved clinical trial at a center with a university affiliation received preliminary approval from a joint committee of the boards last week. According to a preliminary investigation, there aren't any such studies going on right now in Florida.
The exemption was scheduled to be included in regulations that both full boards would vote on on Friday, but the Board of Medicine removed it. The exemption was incorporated into a rule that was accepted by the Board of Osteopathic Medicine, resulting in what the boards' longtime legal counsel described as an uncommon division.
According to attorney Ed Tellechea, "I actually haven't met this issue before where you have one board that's going to have a regulation that would be in conflict with the second board on such a matter."
According to meeting records available on the Board of Medicine's website, individuals and organizations on both sides of the controversy sent thousands of pages of correspondence to the state boards.
After voting to accept the regulations, board members spent less than two hours listening to public comments.
Male and female are the only two sexes. We can rationally explain this using medical knowledge, common sense, and biblical truth, according to Bay Pines physician Diane Gowski, president of the Florida Catholic Medical Association. We are God's creation. He alone is our Creator. Sadly, I believe that what transgender ideology has produced is a fraud.
Someone who attempted to scream down Gowski was removed from the conference room by security officers on Diamond's orders. "Proud transsexual woman!" was yelled as she was being brought away.
Diamond chastised the crowd, adding that such behavior was inappropriate "in a civilized society."
State Representative Anna Eskamani, a Democrat from Orlando, charged that the boards had taken the counsel of "Internet trolls" rather than that of doctors who had supported gender-affirming medical procedures. She additionally asserted that the boards were advancing DeSantis' political objectives.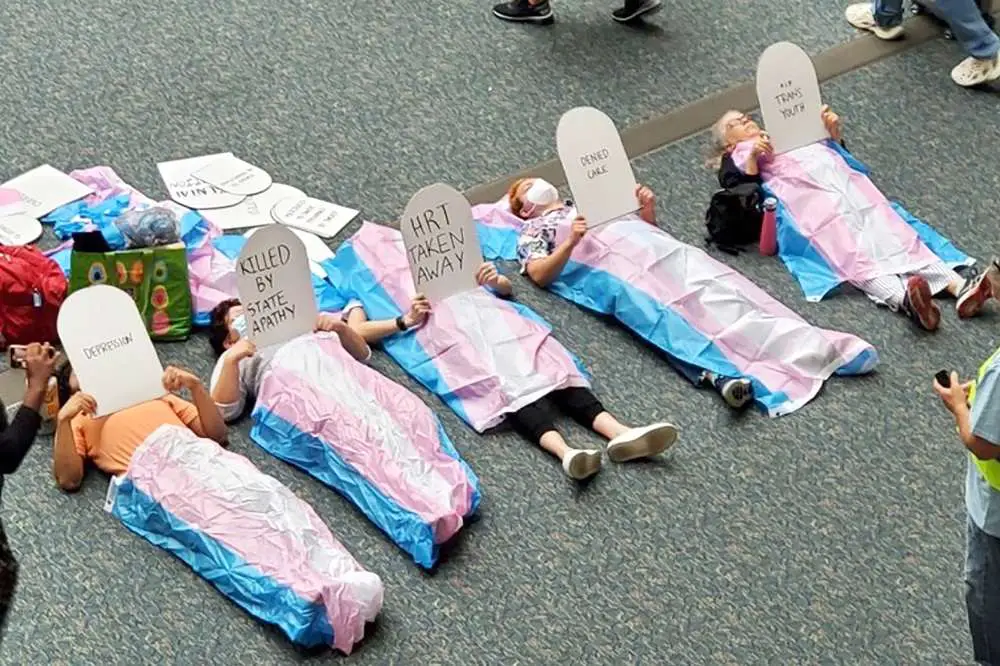 We are not standing here today, on the Friday before Nov. 8, by accident, she said, adding that if you're going to do this four days before a significant election, you should also be aware that the Republican Party of Florida is inundating the entire state with anti-queer mailers. "I anticipate that the Legislature—not the Board of Medicine—will be a political body."
The rules' opponents have vowed to submit administrative challenges within the allotted 21-day period.
The provision of gender-affirming therapy to children has been outlawed by lawmakers in a few other jurisdictions, but experts say Florida appears to be the only state where medical boards have taken such action.
LGBTQ rights organizations criticized the boards' judgments.
"These regulations, as drafted, increase the likelihood of despair, anxiety, and suicidality among transgender youth." Nikole Parker, director of transgender equality at the Equality Florida organization, says that the DeSantis political appointees on the Board of Medicine have chosen to ignore these facts and put their toxic politics ahead of people's health and well-being.
The treatment of transgender people, particularly young people, has become a contentious political issue in Florida and other states.Many Republicans say that people under 18 shouldn't be able to get treatment for gender dysphoria, even though major medical groups and the Biden administration agree with this.
The DeSantis administration also put out a rule this year that says Medicaid can't pay for gender-affirming care for transgender people of any age.
In federal court, that regulation is being contested.
---
Source: CBC | All the information & photo credit goes to respective authorities. DM for removal please.
---
Related: LGBTQ Actor Chris Salvatore Invited 89 Year Old Neighbor To Live With Him To Spend Her Last Days