the hazy distinction between self-defense and murder.
Netflix aired the three-part documentary series Killer Sally in October 2022. It details the life, marriage, and murder prosecution of bodybuilder Sally McNeil, who was found guilty in 1996 of killing her husband, fellow bodybuilder Ray McNeil. The three Killer Sally episodes each cover a unique part of Sally's life, her crime, and the trial that determined her fate. They are all directed by Nanette Burstein, who is best known for documentaries including the Academy Award-nominated On the Ropes, The Kid Stays in the Picture, and Hillary.
But who was Sally McNeil, exactly, and how did she go from potential bodybuilder and US Marine to murderer? We've done our best to address all of the questions surrounding this well-known instance, along with many others, in this article.
Who was Sally McNeil?
Sally McNeil (née Dempsey), who was born in Allentown, Pennsylvania, started out in high school as an athlete. She enlisted in the US Marine Corps, where she served for eleven years, following in the footsteps of her brother and uncle. During that time, she won the US Armed Services Physique Championship twice, once with her husband Ray McNeil.It was the only time ever that a married couple won the title in different categories.
References : 11 Chilling True Crime Books About Female Killers
Despite rising to the level of sergeant, she eventually lost her job because of her "consistently terrible behavioral record." Sally said that her "difficult" upbringing was to blame for this. Sally recalls experiencing violence at home so frequently that she came to accept it as a normal part of family life in the Netflix documentary, saying, "My stepdad beat the heck out of us."
Ray McNeil, Sally's second husband and eventual victim, was someone she met while serving in the Marines. Within three days of their wedding, Ray allegedly started abusing Sally, according to her. Right up to the moment she shot him, according to Sally, Ray was abusive throughout their eight years of marriage.
Who was Ray McNeil?
In addition to being a former Marine, Ray McNeil also competed in bodybuilding and invested a lot of his family's money in it. Ray, who has been referred to as "one of the most muscular pros alive," had the chance to advance and eventually participate in the Mr. Olympia competition in 1993.
Sally McNeil, who made a living performing private wrestling matches for men who paid her up to $300 per hour to be manhandled by a muscular woman in hotel rooms, their homes, or even Sally's apartment, had also left the Marines while Ray was competing. This practice is referred to in the industry as "muscle prostitution." She also captured and offered for sale videos of similar staged "wrestling" matches. While the rest of the family was struggling, a large portion of her income went toward Ray's bodybuilding.
Sally started using anabolic steroids, which she occasionally drove to Tijuana to buy, while Ray got more and more into bodybuilding. Ray had five different kinds of steroids in his system at the time of his death.
Sally claimed that although Ray already had what his friends referred to as a "short fuse," the "roid rages" he would have as a result of steroid use only served to intensify his abuse. His brutality was not limited to her. The two children Sally had with her first husband share horrifying details of the violence they endured at the hands of their stepfather in the Netflix documentary. John, her son, claims that "I genuinely despised him." He literally reminded me of the devil.
What did Sally McNeil do?
Sally McNeil dialed 911 on Valentine's Day in 1995. She informed the operator, "I just shot my spouse because he just beat me up." The couple kept the sawed-off shotgun as a security measure. She used it to fire two shots at Ray McNeil: one in the face and one in the stomach.
According to the police report, Sally's husband "slapped her, pulled her down on the floor, and started choking her" after an altercation because he had been out with another lady with whom he had an ongoing affair."McNeil squirmed away, raced into the bedroom, and pulled her sawed-off shotgun from its case in the closet," came the next line.
---
---
Sally McNeil entered a plea of self-defense, stating that she was in danger while Ray McNeil choked her, but new information revealed during the trial—which got underway on Valentine's Day in 1996, exactly one year after she shot her husband—called that into question. In the documentary, when the reporter asks Sally if she ever worried that Ray might shoot her with the shotgun, she responds that she never did since she knew he wouldn't need a weapon to hurt her. She claims that "he was a weapon."
What was the verdict in her case, and how did her own shady past come into play?
Sally tells the interviewer in the Netflix documentary series, "I've been taught that I'm the violent one." This isn't just gaslighting, according to the evidence given at Sally's trial. Sally may have experienced abuse, but she was also capable of serious violence. Sally's service record, which described her as "argumentative and disrespectful," as well as proof of earlier arrests for assaulting and attacking police officers, were also presented by the prosecution.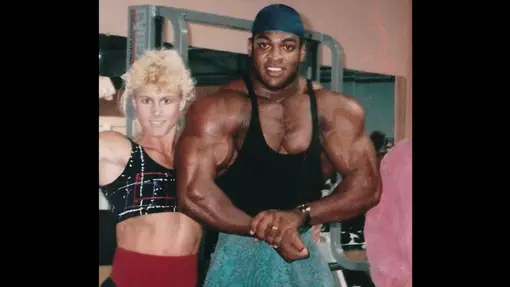 This, along with Sally's involvement in "muscular prostitution" and wrestling films where she went by the ring name "Killer Sally" (a moniker Netflix would later reuse for its docuseries), assisted in persuading the jury that Sally was not in immediate danger from her husband. But the last nail in her argument's coffin was forensic evidence that showed she shot Ray a second time after he was already down and then went back to the closet to get another bullet to reload. 
The trial's transformation into a media circus didn't help. "I simply feel horrible that we in the media—me included—didn't investigate Sally McNeil's background deeper. Beyond the steroid use and the greased-up muscles, who was she really? In the Netflix documentary series, trial reporter Diane Dimond notes, "We didn't do that then." "I might apologize to her if I could meet her for that."
She was ultimately found guilty of second-degree murder by the jury. After serving 25 years of her 19-year prison term in jail, she was ultimately granted release in 2020.
Where is Sally McNeil now?
The Netflix documentary series features a catastrophic circumstance, but it does not have a tragic conclusion. In fact, it culminates in a wedding when Sally McNeil weds a third time, this time to a guy she met while residing in accommodations given by the Veterans Transitional Center upon her release. She is seen meeting one of her grandchildren and making amends with her older children.
Her words are, "Life is good." "Freedom is delicious."
---
All the information & photo credit goes to respective authorities. DM for removal please.
---