This is the narrative for you if you're looking for a different way of living that will ease your financial concerns and let you live the life of your dreams. Shutterbulky will share Jenna's tale of living in a tiny house, show you how other people are doing it, and motivate you to go on your own adventure.
Five years ago, Jenna, a tiny house girl, was employed at a horrible job and living paycheck to paycheck. She was never able to put money down, settle her debt, or take a trip. She was floundering and delaying her aspirations.
We asked, "Why?" "Because society told me that I needed to live this way." "It's what you do after college." It's the "norm." Then, in 2013, I did something radical. I quit my stable job and built a tiny house on wheels. The goal is to live simply, pursue my dream of becoming a writer, and travel the world. "Tiny House Giant Journey was born." Jenna said.
Jenna's tiny house traveled 25,000 miles in its first year!
She traveled with her little house in tow to more than thirty U.S. states and five Canadian provinces between 2014 and 2015. In her blog, she published dozens of others living alternative lifestyles along the way who shared her views.
She was motivated by them since she was aware of how challenging it can be to depart from the usual. Jenna started telling their tales and discussing the advantages and drawbacks of living modestly.
HGTV and other major media sites have covered her blog on multiple occasions. The concept of shrinking and obtaining independence through alternatives received a strong response from the public.
The site began to generate income in less than a year, and she was able to save some small savings. She paid off all of her student debt four years later. Jenna is now financially stable enough to take numerous annual trips abroad!
Jenna learned so much from downsizing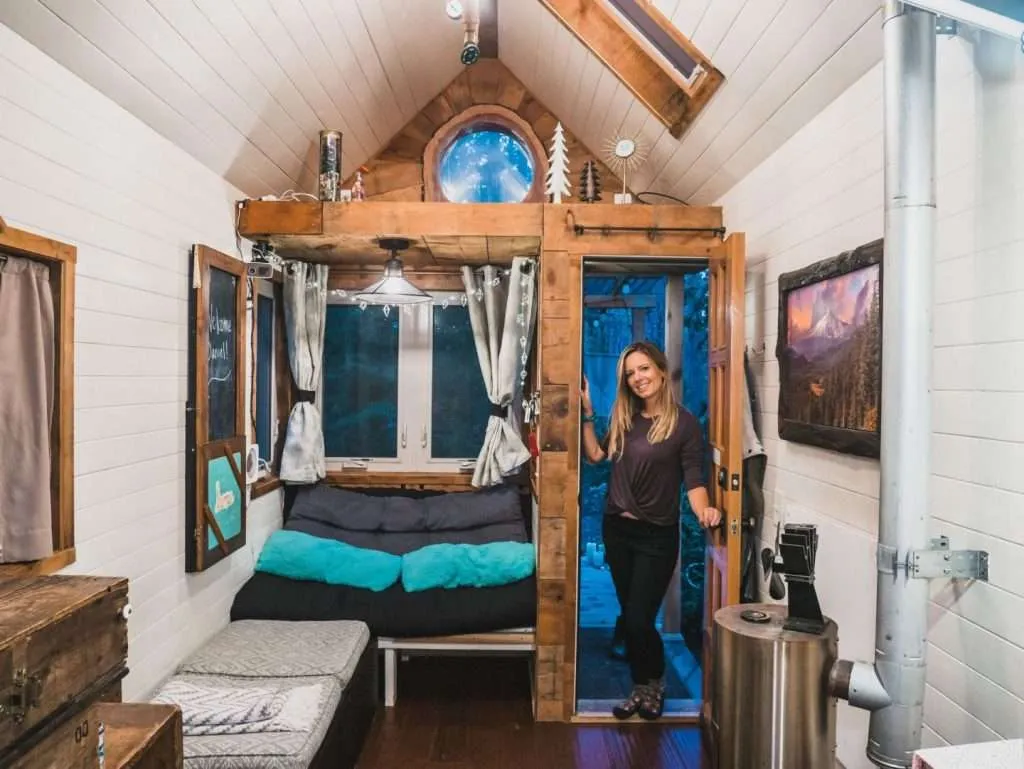 Living tiny makes life bigger. The American Dream a big house, a white picket fence, a luxury automobile, etc. is not the secret to happiness. In fact, this idea will lead you to spend your life seeking something that doesn't actually exist for the majority of people. It's better to be content with less. Happiness is all that really matters.
Jenna values her time, interests, and experiences more highly than she values her belongings. Jenna's modest home, which could appear sparse to some, has given her more joy than any other place she has named "home."
Jenna also thinks there are many advantages to making room—not just in our homes but also in our lives and minds—even if she is aware that living in a little house is not for everybody.
Jenna purchased a 60-square-foot vintage camper in January 2018, refurbished it, and then drove it across the nation. She learned even more about what she really needs in life while spending the summer in a fiberglass box.
Jenna displayed her camper at the Oregon Tiny House Festival in October 2018. Hundreds of guests took tours of the interior and were astounded by how creative and inventive people could be in such a little living space.
Small And Consistent Growth And The View Of Home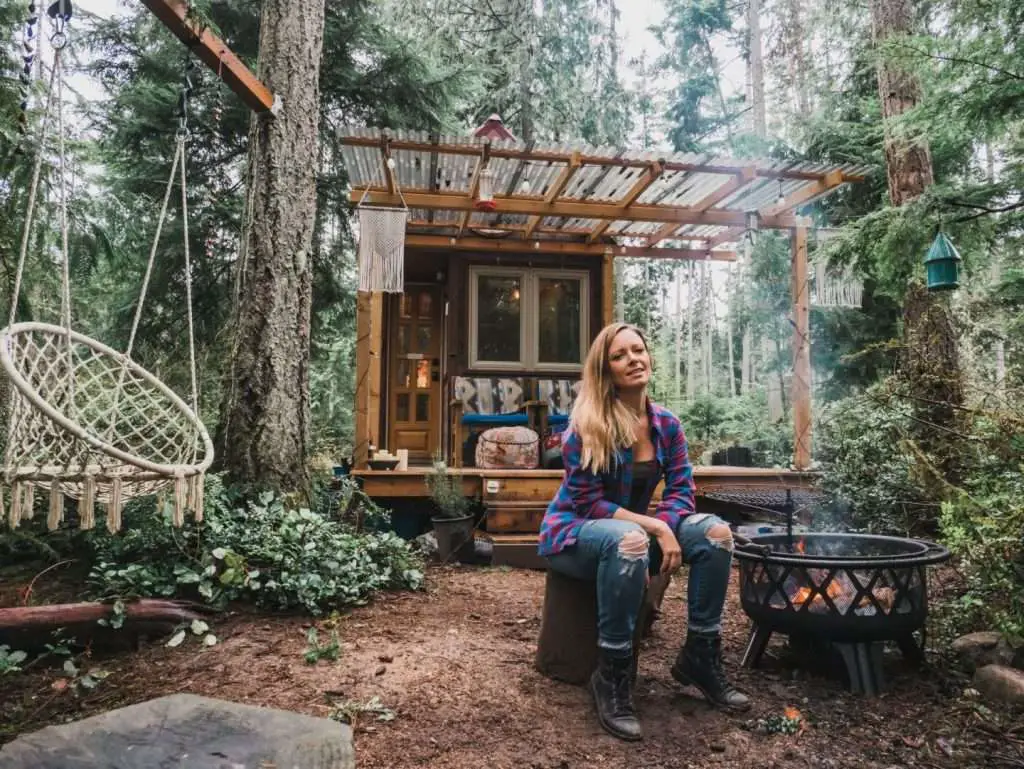 Currently parked on Whidbey Island in Washington, Jenna lives in her tiny house part-time. When she's not using it, it's for rent. Aside from that, she either travels internationally or resides in Seattle with her lover in their 500-square-foot cottage.
She is currently putting money aside to buy a slightly larger house (ideally 600–700 square feet), so she can start a family and perhaps even a homestead. "I'd prefer to pay cash or, at most, take out a small loan to buy or build my future house. "Free from debt is just too sweet!" said Jenna.
"We could all live the life of our dreams if we all lived within our means."
She is gradually progressing toward a healthier lifestyle. However, she will always live in a tiny, straightforward, and low-maintenance home. The vast majority of Americans act in the exact opposite way. They take out a 30-year mortgage to buy a sizable home, only to discover that they are now house poor. Jenna thinks this is a catastrophic, life-changing error.
Living in a Tiny House Stinks (Sometimes)
---
Source: THGJ | All the information & photo credit goes to respective authorities. DM for removal please.
---
Related: A Woman Turns An Old Railroad Carriage Into A Stunning Off-Grid Tiny House