What is Flurona?
When a patient has both the flu and COVID, this is known as Flurona.
Although the name may appear to be a joke, the World Health Organization reports that incidences of influenza and COVID-19 are extremely real.
According to The Times of Israel, Israel just confirmed its first case of so-called flurona on Thursday. The dual infection was discovered in an unvaccinated pregnant woman with minimal symptoms, according to specialists at Beilinson Hospital.
As soon as she came, she was diagnosed with the flu and coronavirus." Even when we checked again, both tests came back positive, "Prof. Arnon Vizhnitser, director of the hospital's gynecological department, told Hamodia. "They're both viral diseases that cause trouble breathing because they affect the upper respiratory tract."
According to The Times of Israel, she was released in good condition on Thursday, but the Health Ministry is investigating the case to see if the mix of illnesses made the illness more severe.
While some stories claimed it was the world's first case, the WHO says it's also been seen in the United States and Asia.
According to Nexstar's WJW, the prevalence of influenza co-infection among COVID-19 positive patients in America is 0.4 percent.
Co-infections, according to the WHO, are not uncommon when viruses, such as COVID-19 and flu, are widely transmitted in populations and rate of co-infection is substantially higher in Asia, with 4.5 percent of COVID-positive patients becoming ill with influenza at the same time.
The CDC advises that anyone who wants to acquire immunizations for both the flu and COVID-19 can do so at the same time.
According to the CDC, COVID-19, in comparison to the flu, can cause more serious sickness in certain people, take longer to display symptoms, and keep people contagious for longer.
Fever, cough, shortness of breath, exhaustion, sore throat, runny or stuffy nose, muscle pain or body aches, headache, vomiting, and diarrhea are all common symptoms of both, according to the CDC, as is a change in or loss of taste or smell, which has been more common in coronavirus cases.
The Israeli health ministry is investigating the flurona case, according to The Times of Israel, to see if a combination of the two viruses caused a more serious disease.
In 2020, Dr. Neal told the Health Talk podcast that there were many unknowns about the impact of COVID-19 and flu on those who got them at the same time or back-to-back, but that "it's quite logical to believe getting two significant respiratory infections in the same winter would be awful."
Flu cases have been a source of concern this year, with the CDC reporting an increase in seasonal flu activity in the United States for the week ending December 25, 2021.
Furthermore, the European Centre for Disease Prevention and Control (ECDC) reported that the number of flu cases in the European Region in the week beginning December 13 was higher than predicted.
What is Twindemic?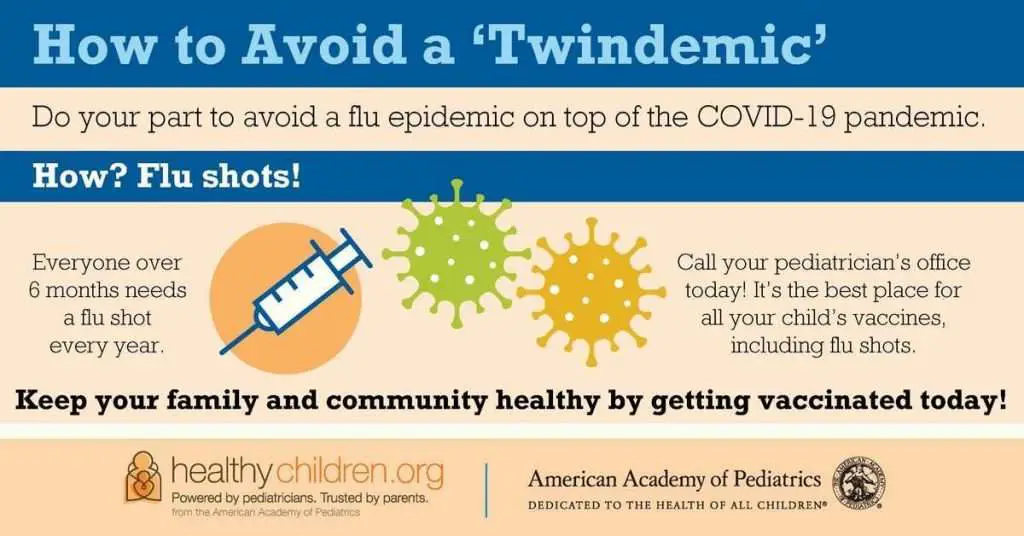 Twindemic is a term used during the COVID-19 pandemic, referring to the possibility of a severe flu season happening alongside an increase in cases of COVID-19 during the fall and winter of 2020 and 2021. The term is a portmanteau of "twin" and "pandemic".
It has sparked fears of a so-called "twindemic," in which health facilities are forced to deal with both flu and COVID-19 patients.
This didn't happen in the United States in the winter of 2020 or 2021 because public health measures in place to combat COVID-19 at the time effectively prevented the spread of the flu, according to Eili Klein, Ph.D., associate professor of emergency medicine at Johns Hopkins University School of Medicine, in a press release.
People are being urged to get vaccinated against the flu in order to avoid becoming ill.
While it's best to get vaccinated in September or October before flu spreads quickly, the CDC adds that people can still get vaccinated later because flu activity typically peaks in February and can last into May.
Experts indicate that regardless of whether immunizations are spaced out or administered together, they tend to perform as intended with identical adverse effects.
Source: WHO
Read More >>>
CDC Support to Increase of COVID boosters for all adults